Saltoro, a popular seafood and landfood staple on the outskirts of the Broadview neighborhood, has recently opened its doors for weekend bunch from 9 a.m.-1:30 p.m.
Since 2003, the restaurant has served as a local dinner destination, offering an upscale experience in an otherwise inconspicuous location at 14051 Greenwood Avenue North — right at the border where the city of Seattle meets Shoreline.
Saltoro is a three-minute drive south of SCC, and a five-minute bus ride on the 5 or 345 will take you to a stop conveniently located right outside the restaurant.
If you live close enough, like I do, it may serve as a pleasant morning walk from your house.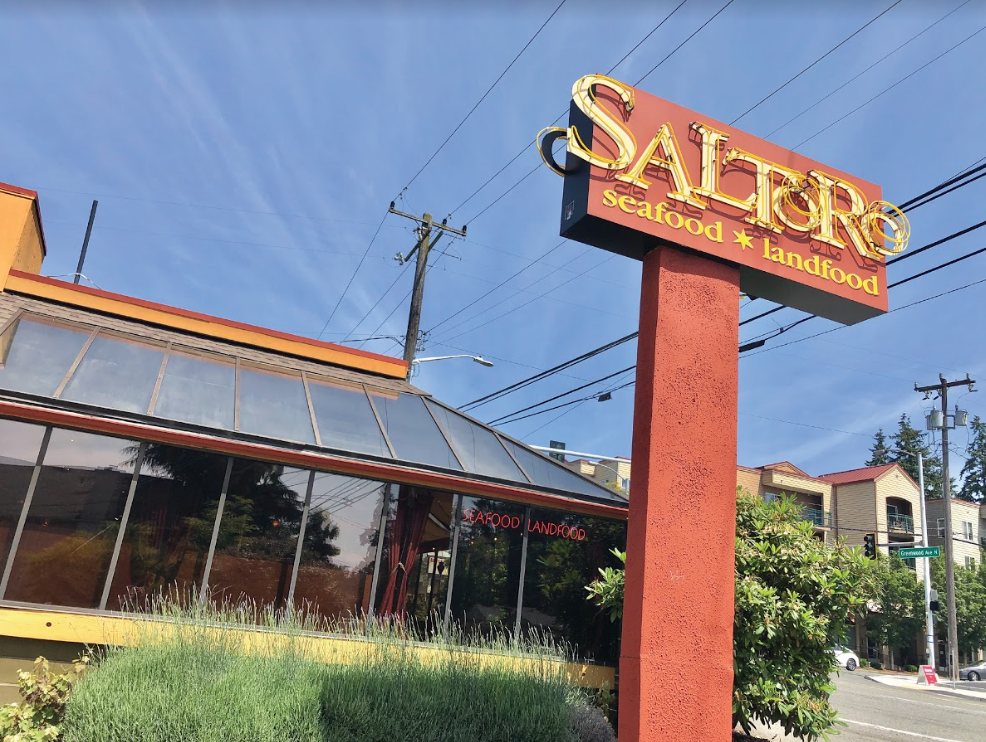 Ambience

Saltoro offers a diverse playlist of music featuring Latin-flavored tunes, new-age jazz and classics that seamlessly blends together to create a laid back atmosphere.
The spacious, dimly lit restaurant features a good mix of booths and tables, paired with a classy bar that occupies half of the room to complement its semi-formal surroundings.
The table I selected at the far end of the restaurant was filled with natural afternoon sunlight provided by large windows. As a result, the refreshing atmosphere was enhanced by a pleasant street view to my left shrouded by the foliage outside.
This section of the restaurant felt like an old-fashioned train car, complete with each window donning heavy, regal, red velvet curtains to complete the elegant effect.
Depending on the weather, patrons may also be able to enjoy their brunch on Saltoro's shaded, outdoor patio at the top of the steps near the entrance.

Hospitality

Upon walking into Saltoro, I was met with a welcoming and friendly greeting from a hostess who instructed me to sit anywhere I liked.
The hospitality continued to be great as my waitress, Mandy, was informative, helpful and willing to tailor my order to exactly what I was looking for.

Food

Saltoro's brunch menu is divided up into three sections: small plates, larger plates and sides.

Mascarpone beignets: $9

From the "small plates" section, this dish serves up a bite of traditional New Orleans fare with six piping hot beignets (pronounced "ben-yays") encrusted with powdered sugar and cinnamon.
Their fried exterior was crispy, giving way to a soft inside that was reminiscent of freshly-cooked donut holes.
The beignets were served with a small dish of rich, blueberry marmalade jam, making for an excellent dip.
Should you only wish to order a small portion for brunch, the beignets are filling enough to stand on their own as a satisfying main course.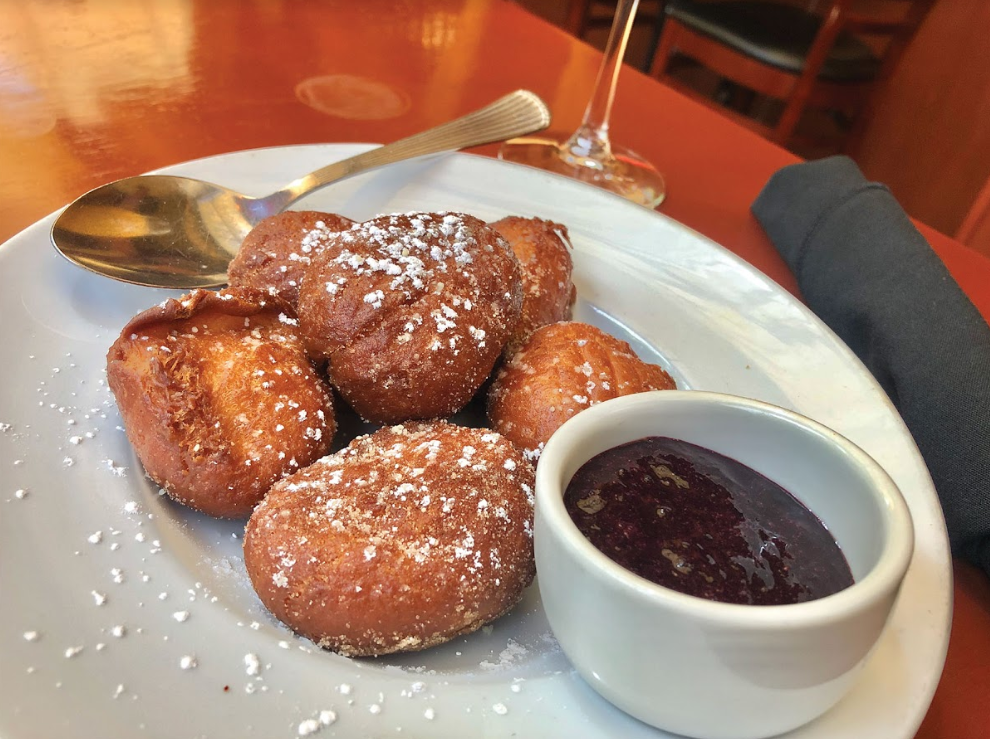 Virgin Mimosa: $4

For those of you who are not yet 21, try a virgin mimosa. Although it is not on the menu, Saltoro will prepare one for you if requested. Mine was incredibly refreshing.
Served in a wine glass, it was made with fresh orange juice and seltzer water poured over ice with an orange peel floating in the glass — making for a perfectly fizzy result.
A splash of puréed carrot shrub was also added but was hardly detectable as perhaps it only served as what was adding a hint of refreshing aftertaste to the drink.
I highly recommend the beverage for its tartness, which will act as the perfect antidote to balance out any sweet plates you order.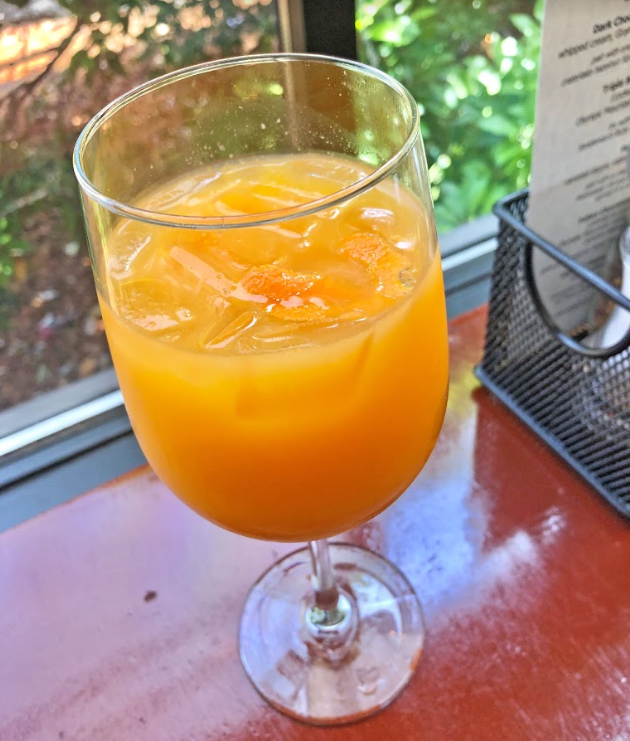 Chimichurri steak and eggs: $22

Although Saltoro offers sweet breakfast items such as buttermilk pancakes with orange whipped butter and French toast with salted caramel sauce (which you can order with bacon and eggs), I opted for savory and tried the chimichurri steak and eggs from the "larger plates" section.
Upon the arrival of the dish, the colors jumped right off of the plate.
The scrambled eggs were fluffy with a home-cooked feel; the oven roasted potatoes were satisfyingly seasoned and soft, also serving as one of the many sides you can order with any other dish for $5.
The steak was perfectly grilled with a great zesty kick to it. Being pink in the middle with brown edges, its seasoned taste evoked large chunks of carne asada smothered in fresh green chimichurri sauce, which my waitress described as "Mexican-style pesto."
The lightly sautéed vegetables tasted very garden-fresh, and included yellow and green zucchini, thinly sliced mushrooms, small halves of heirloom tomatoes and just a trace of spinach.
When made it to the bottom of the plate, I noticed that everything appeared to be sitting in a layer of delicious olive oil.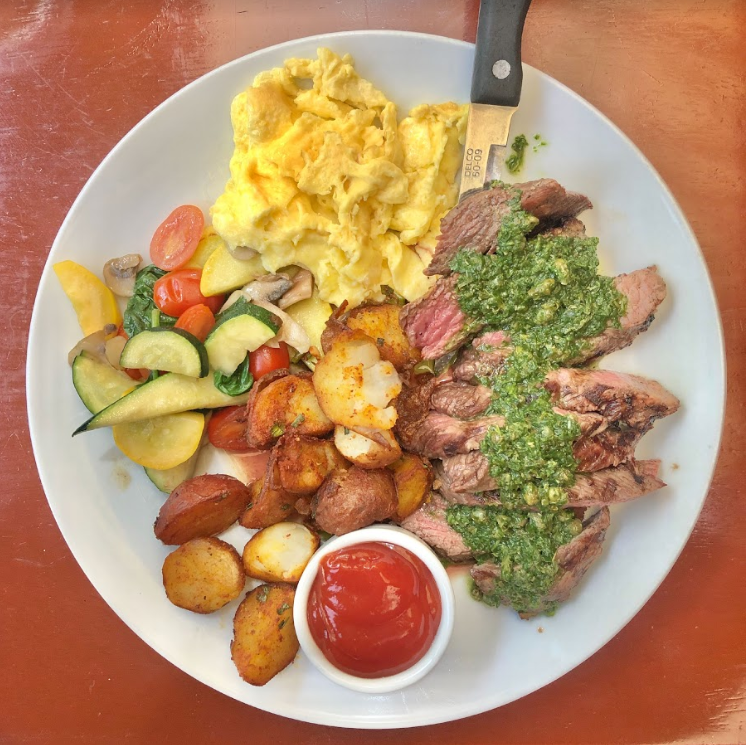 Biscuits: $5

In all the excitement, I nearly forgot about the biscuits I had ordered from the "sides" section of the menu.
Cut in half with a knife and topped with butter and jam, the top of the biscuit evoked scones you'd get at the state fair. The bottom half was browned and sturdy.
These biscuits are perfect for fans of sturdy scones, but perhaps lack luster for those longing for fluffier counterparts found in other diners.

The Verdict

Considering Saltoro's semi-upscale nature, the prices were perfectly fitting considering the quality, service and experience. If you're looking for a dining experience above the average breakfast or brunch destination, you will find it is worth every penny.
The dishes were not only delicious, but left me walking away feeling healthy, nourished and fulfilled.