At 85 ℃, there's a world of pastries waiting for you.
After the huge success of the Alderwood Mall location, which opened in 2017, the Euro-Asian fusion bakery expanded to Edmonds this summer. The new store is just off U.S. Highway 99 and only about a ten-minute drive from SCC.
This popular bakery chain, established in California in 2008 by Cheng-Hsueh Wu, has a simple goal: to create delicious, high-quality baked goods at an affordable cost. And the cost is affordable: Most of their goods go for $1.25-$2.25, with only a few reaching the $3 mark.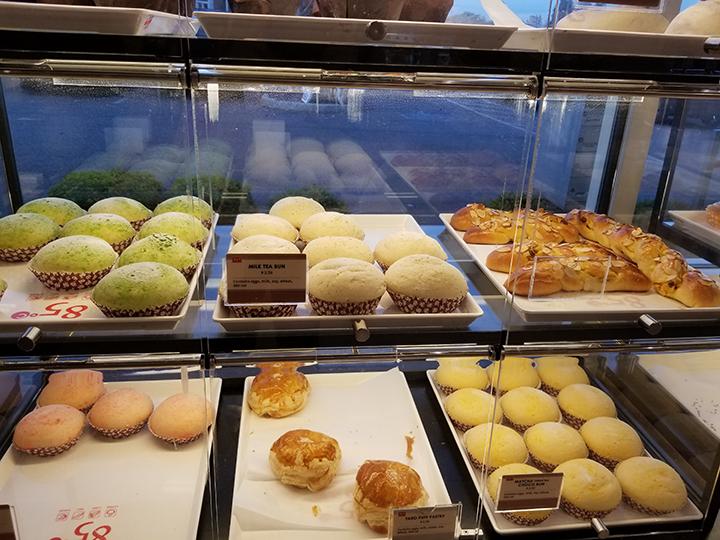 The Food
A huge part of the appeal is the sheer variety of menu items. 85 °C offers pastries and breads in the style of different Asian and European countries. Once you are through the door, you pick up a tray and tongs and embark on the difficult task of not piling your tray with every goodie you see.
Do you choose a tarot swirl bun or (my favorite) a milk pudding bun in the Taiwanese style? Or perhaps a bacon and cheese pastry, or a choco bun (another favorite) in the Japanese style? Or maybe a French garlic cheese bread or a healthy, walnut raisin multigrain loaf in the European style? And those are just what's in the self-serve cases.
Equally tempting are the cakes in the display case, glossy and colorful and almost too pretty to eat. Here you can find a black forest cake, a classic tiramisu or perhaps a French fruit tart.
The Drinks
The bakery also offers an assortment of drinks, ranging from coffee to milk tea and boba. If you love a good salty/sweet combination, try one of the sea salt beverages; a personal favorite of mine is the sea salt caramel coffee, which you can get hot or iced.
I prefer the hot version, half-sweet because it's a little too sugary for my taste. The coffee is high quality, the foam and sprinkled sea salt on top melting into a rich and creamy delicacy. Pair it with a chocolate croissant (perfectly crispy on the outside, light as air on the inside), and your tastebuds will be in heaven.
The Experience
If you think a café/bakery with this many options at such low prices would be really popular, you would be right. There is usually a line for the registers, but don't worry: The line goes fast, especially if you take advantage of the station in the middle of the line, where you can bag your goodies yourself and save the cashier some time doing it for you.
The drinks take a bit of time to prepare (usually about a five minute wait), but they're worth it.
As for the atmosphere, the bakery is spacious and inviting with warm wood tones and catchy music, which is kept at a comfortable volume. While you peruse the cases or wait in line, workers emerge from the kitchen at regular intervals, carrying trays of food and yelling out, "Fresh bread!" — a phrase which will quickly trigger a Pavlovian response if you go there often enough, making your mouth instantly water.
If you have a hankering for a Danish pastry or a bun and some good coffee, but don't want to travel to Seattle or break the bank for some quality pastries, head down to 85 ℃ and take advantage of an affordable array that's sure to satisfy.
7 a.m.-10 p.m., seven days a week; 22611 76th Ave. W, Edmonds, WA