Bike to the Future
AN ELECTRIC ALTERNATIVE
See all those cars lined up from the four-way stop the whole way up to SCC's parking lot? The problem is simple geometry.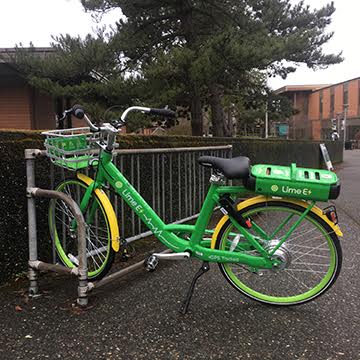 Most cars are wide enough for two but usually carry only one person. Think of being in a crowd trying to get to the door, and then imagine you were surrounded by a steel cage. That makes it take longer for everyone.
This is called congestion, and in traffic — just like in your nose — it's gross.

Why Ride A Bike?
On a bike, you can ride right on past the jam.
Don't get me wrong, cars are useful. They get us where we want with minimal effort. They're just too big.
Most people drive single-occupancy vehicles. Increasingly, they're not just big cars, but even-bigger SUVs or trucks. We also mainly drive short distances. The National Household Travel Survey found that half of all trips are under three miles, and we still mostly drive for trips under a mile.
It seems like we need something the size of a person, but with the advantages of cars.
Enter the e-bike.

Why Electric?
Electric or "e-bikes" give you a battery-powered boost to help with the biggest barrier to biking here: hills.
People often think of weather as the biggest barrier, but is it really? The rain doesn't usually last long, and we've even hit 60 degrees in the last few winters.
The State Route 99 Viaduct is finally getting torn down and "Viadoom" is upon us, but you don't actually have to look any further than SCC at lunch hour to see the problem. And a commute on a bike may take a bit longer than driving, but it will be consistent. My 30 minute commute isn't that much more than driving, and in Viadoom traffic it looks to be about the same.
Electric bikes are here, and if you're interested, you can give one a try.

Why Not Now?
Thanks to bikeshare, trying an e-bike is easier than ever, and they're closer than you might think. Brands like the green Lime-E and and red Jump bikes are relatively easy to find, at least in high-traffic areas.
The Lime bikes can be found all over, the electric ones with their visible "E" and battery on the rear rack. They've had a little more time for people to get used to and have been spread where people could use them most.
The Jump bikes are a new venture of Uber, and they can only be found in a limited area in central and south Seattle. You may find, however, that a version of surge-pricing applies, which means that Jump bikes taken outside of their specific "zones" are charged a $25 fee.
But you know, every time I fill up at the pump, my wallet feels a bit lighter, too.
Lime have been more lenient with their service area, and their bikes have occasionally been found on SCC campus.
These bikeshare e-bikes have introductory deals, but they aren't cheap either. You can jump on a bike and ride to your bus stop. E-bikes can get you up that last hill home.
Riding an electric bike can become an alternative mode of transportation. You'll show up exhilarated, not sweaty. An e-bike in addition to a bus ride can help take advantage of getting to an express route.
You might just have a good time.
---
#Viadoom is a term for our existential dread due to the State Route 99 Viaduct along the waterfront being closed and torn down. "Viadoom" reigned previously during several planned and unplanned closures.

#SeattleSqueeze is the quaint term that the City of Seattle is trying to brand on the situation.

#JennyJam, targeting Seattle Mayor Jenny Durkan, calls out a perceived lack of action toward solutions that could actually help.

That's about it, baby. #ByeByeVi proves that you can roll your own hashtag even if you you aren't rolling anywhere.

Any way you do it, be safe out there.