Have you ever reflected on your life? My life has been defined as being primarily monotonous, with a perpetual lack of excitement throughout the year. I found myself repeatedly engaging in the same activities without much variation, and I was well aware that I tended to remain in my established comfort zone in which I often avoided exploring new experiences.
Back in the day, I aspired mostly to remain disciplined and maintain a high GPA in a classroom. Academic achievement served as the ultimate goal. This mindset was so ingrained that I resisted social outings until I completed my assignments. One question loomed in the background, "What do you see yourself or your life to be in the next five or 10 years?" I wanted to be a success.
Until one day, someone shared words of wisdom that profoundly altered the course of my life. The journey that was once vacant and dull has now transformed into a path filled with joy, a readiness to explore new adventures, and a deep appreciation for every moment along the way. He said in a text, "Collecting memories. That's the most beautiful thing in life. Bad or good memories lol they are just part of your life. One day you're gonna sit with your friends or family and be like remembering this and that. Or you are going to laugh it out loud with whoever you share the stories with."
"Adventure is out there, there are many new places to see, as well as a stranger that will potentially be your cherished friend." His speech was like a click in my head. I was questioning myself the whole time: "Have I made any memories? Where have I been this year and how many strangers have I talked to?" Beside school campus and grocery stores, I have never been anywhere or seen myself participating in any extraordinary/new experiences.
In December 2022, I learned that there was an upcoming trip during winter break, organized by International Students Inc., a Christain non-profit. The trip was called "Mt Baker Christmas Ski Trip," and it had been a tradition for the past 60 years. The trip was four nights and five days at Mt. Baker east of Bellingham.
At the very last minute, I made a spontaneous decision to register and embark on this new adventure alone. And, I'm grateful for that choice because every moment felt like I was an eager spectator, escaping the confines of the ordinary and capturing the magic of each passing second. Waking up each day to the stunning surroundings, the sense of falling snowflakes, the smell of Christmas spice candles, the sound of people talking, laughing, running down the stairs. It was as if I had found myself in a paradise, where every day felt like, "Oh, just another day in paradise."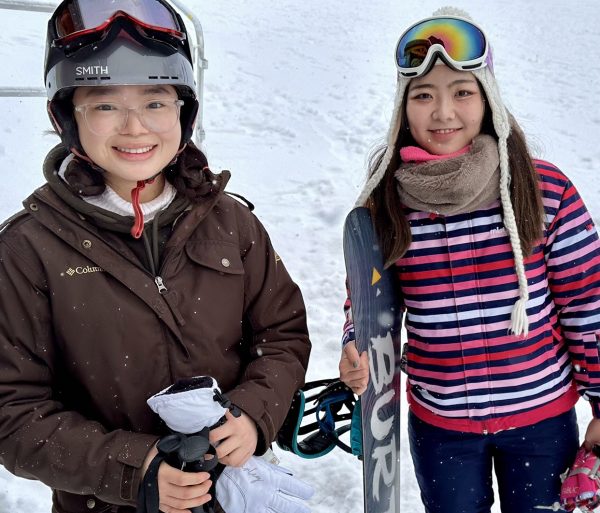 In addition to the enchanting scenery, I had the opportunity to meet new people, strangers who quickly became friends. It was a delightful experience as I connected with fellow international students from various colleges in different countries.
The organization had a well-structured agenda with a multitude of engaging activities. The best part was that attendees could decide what they wanted to do. This annual adventure unfolds on the same days every year from Dec. 18 to 22, providing comfortable bus transportation, a delightful four-night stay at a cozy lodge, and a total of 11 delicious meals. The event was packed with a wide array of enjoyable activities, ranging from skiing, snowboarding, snowshoeing, as well as indoor activities namely: ping pong, pool, a talent show, a hat-making challenge and more.
I spent the first two days skiing and wrapped up the trip with a day of snowshoeing. It was undoubtedly the highlight of my 2022, even though the year was drawing to a close. It became my most memorable and shareable experience. I couldn't stop talking about it to everyone I knew. Coming from Cambodia, a tropical country, it was so different to be on a snowy mountain and learning how to ski.
Collect memories, write those moments down. And, the beauty of life lies in taking risks and exploring new experiences, which become an integral part of those wonderful stories.
If you want to try this adventure yourself, now is the time to sign up. More information about Mt. Baker Ski Trip can be found here.
P/S: For those who are concerned about skiing or snowboarding: there are some ski clothes as well as equipment available for students to borrow. I would recommend contacting Jeff Nelson at (206) 228-6565 or via email at [email protected] or you can reach out to Dana Huff at [email protected]. Additionally, there are the options of renting ski and snowboard equipment at Mt. Baker Ski Area. If you are a first-time skier or snowboarder, there are also beginner classes available for you to take.
No worries, just keep calm, and enjoy the magic with yourself and friends.