Under New Management
FRESH FACES AT TUTORING CENTER
If you walk toward the southwest corner of the library, you'll find new faces serving in the Tutoring Center.
Angela Atkinson, who has been serving SCC for 11 years in departments such as Veteran Programs, High School Programs, and SPARK Grant, has temporarily taken over the program coordinator position at Tutoring Services. Meanwhile, Cheryl Allendoerfer, who was a research scientist doing educational research at the University of Washington, has taken over the role of program manager, a position which was empty all of last quarter.
Jessica Gonzalez, who started working in Tutoring Services in 2015, submitted her resignation letter to the college on Dec. 20, 2017, due to a health condition and the long commute between her home and the college, handing over her position of program coordinator to Atkinson.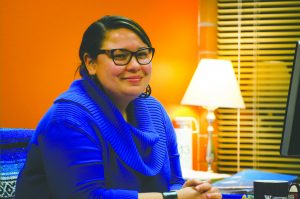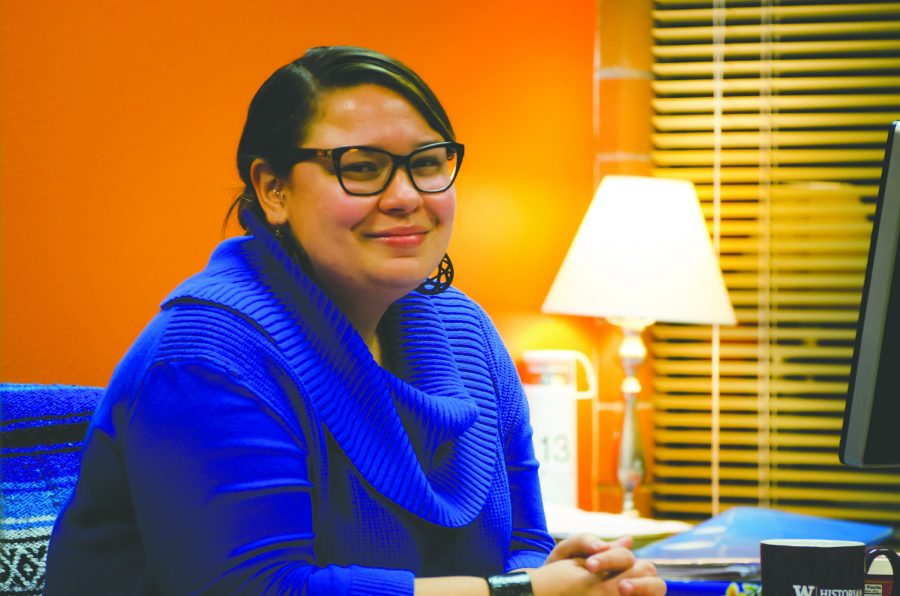 Bittersweet Goodbye
On Jan. 12, the Tutoring Center was packed with laughter and tears, as more and more students and staff came over to wish farewell to Gonzalez with hugs and gifts. A row of gluten-free treats and a big banner filled with well-wishes and words of thanks written in different colored pencils were made by students for Gonzalez's last day. Books, folders and framed photos of friends and family were packed in boxes and moved out from her little office.
Some staff leaves SCC quietly, without leaving a mark, but Gonzalez's departure was big to many at the college — students and staff from the library, ASG, faculty and various college programs.
Gonzalez was a student at SCC from 2004 to 2006 and from 2008 to 2011. After double majoring in Latin American and Caribbean studies and history at UW, she returned to SCC as the Tutoring Center's program coordinator in 2015.
The Tutoring Center was located in the Room 4203 when Gonzalez first came to the library. In her first two years, Gonzalez and her manager, alongside other library colleagues, strived toward making Tutoring Services a better place, while also working on a larger contact platform that would allow them to keep more in touch with students who need academic help.
After a few moves, tutors and students finally settled at their current home in Room 4228 during the fall of 2016.
"I have loved my work at (SCC), and I am very proud of what I have accomplished here," Gonzalez said.
She recalled working with former Program Manager Karin Heffel Steele to make tutoring at SCC a more friendly and accessible service.
"Working for the college has allowed me to pay it forward," she said.
After Steele's departure in fall 2017, Gonzalez took on two jobs in the Tutoring Center, dealing with the workloads of both program manager and program coordinator.
Tutoring Services includes the one-on-one tutoring tutoring assistance and several learning centers — Biology & Chemistry Learning Center, Physics Learning Center, Business Technology & E-learning Center and Conversation Groups. Gonzalez managed Tutoring Service's daily tasks, including matching students and tutors, communicating between students and tutors and making sure tutors got paid. She also took interviews with aspiring tutors, coordinated paperwork and promoted those services to students and staff.
"More importantly, I created a safe space for students and tutors to ask for help, to seek support, to laugh, to cry, and to be heard," she said.
Gonzalez's kindness to students is notable. Whenever students hit up the front desk, she was able to remember their names, even if she had only met the student once. This was on most of the tutors' minds when they talked about their first impressions of Gonzalez.
"I feel that the Tutoring Center will be really different without her, though I do think Cheryl will do a great job in Jessica's place as well," said Aaron Handjojo, who has been tutoring in SCC since spring 2017. He gave Gonzalez a pack of Indonesian-style peanuts that he and his brother brought from their hometown. "She was an awesome boss who really looked after her employees."
Gonzalez, who grew up being told tears were a sign of weakness, cried until she ran out of tears when talking with student tutors who come to say goodbye.
Rather than having a supervisor-subordinate relationship, Gonzalez believed that she was more like a supportive friend to students, one who could be trusted, based on what they wrote on their thank you cards.
"(They viewed me as) someone they could go to if they were confused, scared, frustrated, upset or just needed help or advice, whether it was school-related, family-related, friend-related or real-life issues," she said.
For Gonzalez, honesty, integrity, authenticity, tolerance and acceptance are the most important elements of life, and she often emphasizes them to students.
"I tried really hard every day to work with the mindset of wanting to be who I needed when I was younger," she said.
Tutoring Services means different things to different to students. She said she admires tutors' aspirations of developing meaningful relationships with their students, regardless of what brought them to the center, and she's grateful to have been able to support and witness their growth.
On top of being a role model, Gonzalez said she believes her accountability and responsibilities to students were reciprocal and transparent.
"I solicited feedback from my tutors, listened carefully to their concerns and ideas," she said.
When Gonzalez was asked to say something to students, she had no shortage of words to offer. She exhorted students to not be hesitant in admitting their weaknesses and to seek help: "That process of asking for help or asking to be heard, making yourself vulnerable, opens you up to learning," she said.
"I pushed through that anxiety, fear and doubt and kept trying," she said, recalling her tough times as a woman-of-color, first-generation college student. "People saw how I invested my intellect, passion, time and energy in the (SCC) community, and in turn they invested in me."
She also encouraged students to apply to be a tutor in order to support their peers.
"Being a great tutor is being both knowledgeable and accessible. … Tutoring is such a meaningful and rewarding experience for all involved," she said. "Find your place. A place where you feel valued, respected, appreciated, and seen."
Hugs were given by students and colleagues in appreciation of Gonzalez's contribution to the SCC community. Though leaving was tough for Gonzalez, this is not the end of her journey in paying forward generosity and love, as she moves on to Olympic College in Bremerton.
"I believe deeply that we have the most wonderful students and tutors, and I will deeply miss each and every one of the hundreds of students and tutors that I have had the honor of knowing and supporting," she said.
Big Transition
Sitting at the front desk, a petite woman with a soft, welcoming voice was talking on the phone, answering the caller's questions. This woman, Angela Atkinson, is the new temporary program coordinator for Tutoring Services, though she has already been serving SCC since 2007.
While more and more students kept on coming for inquiries, Atkinson calmly handled the work piece-by-piece. Atkinson described the transition as having big shoes to fill.
"Jessica managed a lot of things and she did it by herself, which is really amazing," she Though she only knew Gonzalez for a week, Atkinson said she admires her diligence and contribution to the college's tutoring services.
"She really did put all of her effort in helping (students) and caring about them," she said. Atkinson is now responsible for coordinating the four Tutoring Services spots, finding more resources for students, and handling the daily tasks of Tutoring Services, though she will only be there at the Tutoring Center's front desk on Mondays through Wednesdays and Friday.
As an experienced staff member who has been at SCC for a while, Atkinson turned out to be more comfortable and familiar than she expected in getting used to the area and looking for resources. She said she feels thankful to tutors and library staff for being great supportive resources whenever she has struggles with handling some tasks in the Tutoring Center.
"Cheryl and I just snoop to everything and figure out what's going on," she said.
For Cheryl Allendoerfer, the new program manager for Tutoring Services who is new to SCC after being a research scientist at UW, everything is fresh, and she said she feels curious about things surrounding the campus.
"I am learning around the (SCC) campus and learning about how the Tutoring Center works," she said with a smile.
Regarding Gonzalez's leaving, Allendoerfer was happy for her but at the same time felt sad for the students losing a great mentor.
"She has so much knowledge about this job. I learned as much as I could from her before she left and I still ask her questions," she said.
Being Steele's successor as program manager for Tutoring Services, Allendoerfer acknowledged the importance of her position and said she is grateful to learn from Steele and students.
Other than managing the four Tutoring Services' spots, Allendoerfer is also responsible for the tutors' hiring procedure, troubleshooting any problems of the Tutoring Services, and matching tutors with students.
Allendoerfer's enthusiasm for the center was already evident despite of having only been there for a month.
"There are a lot of things I can do," she said, revealing her ideas of going out to talk with faculty, meeting aspiring tutors and finding more funding and resources after they finish handling the stacks of paperwork on their desks.
"I want to do things like workshops for tutors on how they can help students better," she said.
With the help of tutors, the center has successfully resumed the language conversation groups for ESL, Spanish and French learners. Native speakers from Tutoring Services will be on duty within the opening hour of the language groups, and students can drop in freely to practice the language they are learning with their peers and tutors.
As Gonzalez said, "We are interconnected — every new relationship you make allows you to not only learn from a new mentor, but you also benefit from the knowledge, wisdom and experience that your mentors received from their networks."
Tutoring Services is open to every student in need of academic help for any SCC course they're taking, and students can apply for one-on-one tutoring assistance by filling out the application form online or in Room 4228.
Disclosure statement: The writer is employed as a tutor at the Tutoring Center.

---
By Fraces Hui,
Staff Writter