Who is SCC's Incoming President?
Jack Kahn has been selected as president and aims to unite both school and community
Jack Kahn is scheduled to take over as the next president of Shoreline Community College this summer. He's gone from being a starry-eyed student to an advocate for the underrepresented- meet the man who will take over the top job at the college.
The bespectacled man on Zoom is careful, well-spoken and polite. Kahn stresses the points one would expect from an administrator: a focus on students, community involvement, collaboration with faculty and diversity initiatives. He's confident when speaking about his past and measured when speculating about the future. Kahn is not shy when speaking about his accomplishments; a prideful warmth reverberates through his words.
"Over time, getting different challenges, I really just gravitated toward the leadership part of it and wanting to be a force for change and good," he says, reflecting on his decision to ascend the academic ladder.
Kahn has three degrees, all of which are in psychology. As a young adult, he was employed in a preschool and became interested in the dynamics between a child's familial relationships and their subsequent behavior. He intended to pursue family therapy but gained experience teaching during his master's program and found he enjoyed that too. A supportive professor encouraged his interests, and so, with the idealistic and motivated heart of a recent graduate, he decided to pursue both. Later, he found that doing both meant that neither was recognized to their fullest potential and so he turned his full attention towards academia.
From there, Kahn climbed from professor to department chair to program director to dean to vice president. He focused on his career as an educator and researcher from 1998 onward. Kahn served as Palomar College's interim president from December 2019 to July 2021, then resumed his tenure as VP.
In response to the Black Lives Matter protests in June 2020, Kahn used his influence to promote and spearhead what his resume lists as an "Antiracist Call to Action". The initiative was used to modify, then standardize policies regarding hiring, training and teaching practices. It held 10 action items, examples of which included hiring additional Black staff, improving race-based training for students and local police, auditing classroom climates and establishing an action group focused on Diversity, Equity, and Inclusion (DEI).
Kahn mentioned he endorsed several DEI events in his time at Palomar College. Despite 45.8% of Palomar's Californian students self-identifying as Hispanic or Latino, an event called "Tarde de Familia" was controversial among staff. The college at the time lacked a sense of pride in those identities. Tarde de Familia was a Spanish-only event in which previously disadvantaged immigrants shared their heartrending stories about overcoming obstacles and hardships.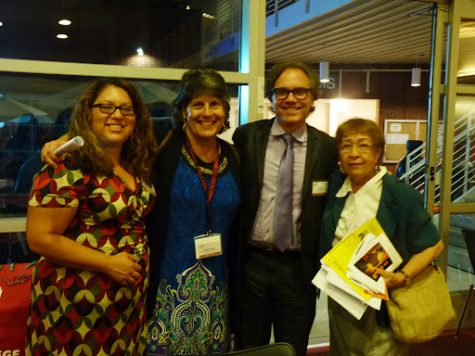 A dean at the time, Kahn supported his colleague and organizer of the event, Rodolfo Jacobo, by promoting and backing the event despite objections concerning the Chicano design and theming of the event.
"I came up to the department chair and said 'You guys have about 50 people here. There should be hundreds of people here. This event is amazing. How can I help you blow this up and do more with it? To make a long story short, we invited other programs on campus to be a part of it.' said Kahn.
He directed planners to use his name if the event wasn't embraced by those around them. "I'm going to make sure that if there are any problems or anyone gives you a hard time about it, it was Dean Kahn's decision," he told them. He went on to mention that in subsequent years, the event grew to have over 600 attendees.
Kahn also mentioned that he was happy to see and aid the college's first pride event prior to his departure.
Which brings us to now. Interim President Steven Hanson is the sixth person to fill the president position in the last 10 years. His predecessors include Lee Lambert, Daryl Campbell (interim), Cheryl Roberts, Alison Stevens (acting) and Phillip King (acting). SCC's Board of Trustees has been searching for a president over the last year. Kahn saw the open position at SCC as an opportunity, noting that his warm reception at the college during the interview process increased his interest.
The selection process included three main stages for applicants to go through. First, applicants were screened for qualifications. Then, representatives from the SCC community were chosen to evaluate candidates. A nomination-based system was used to choose representatives for employee groups in faculty and administration. Students selected by Associate Student Government President Sunshine Cheng represented the student body and the board nominated Kim Wells and Rebecca Chan from their ranks. From there, the chosen few that remained from these groups were narrowed down by the executive team and board until four remained.
When asked why Kahn was chosen over the other three finalists, Human Resources Director Veronica Zura and Kahn himself initially seemed to be at a loss. Both repeatedly said that every candidate at that final stage was a great choice. Indeed, by now two of those unselected three candidates have been chosen for presidencies at other colleges. Zura says that SCC got the first choice, for once. It seemed the decision to pick Kahn was based on a few key tenements: DEI, community involvement, a focused interest in collaboration and the fact that Kahn's interim presidency at Palomar was considered successful for the college despite the majority of his tenure taking place during the COVID-19 pandemic.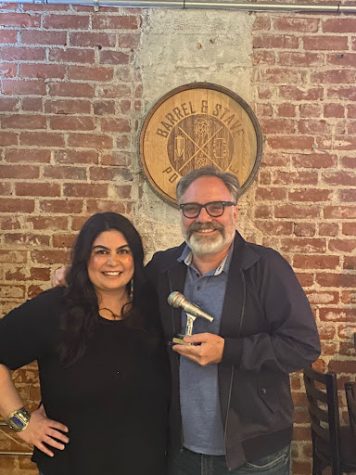 The board unanimously agreed to offer Kahn the position in March, explaining their reasoning here. His salary is a competitive $270,000 compared to ex-president Roberts' $240,000 salary. He is intended to serve a three-year term as president with annual contract renewals provided all goes well.
What Lies Ahead
Kahn's first order of business? Taking a coffee break. Any faculty with an interest in getting the president's ear should ask the man himself out for a cup. He expresses interest in speaking with faculty and other staff about their concerns and ideas. Feeling unfamiliar with the land, Kahn intends to take in SCC's environment and evaluate the college prior to making any solid plans. As such, he says he has no measurable goals going into his term beginning July 2, 2022.
That said, he did bring ideas to the table. Notably, Kahn put an emphasis on widening the door to SCC for more people with work and professional experience.
Many adults are often underserved by the community, because their prior work experience does not translate to college credit for their knowledge, a discouraging and invalidating dismissal of their STUFF. Although SCC has a credit for prior learning program, it is not free and not common knowledge.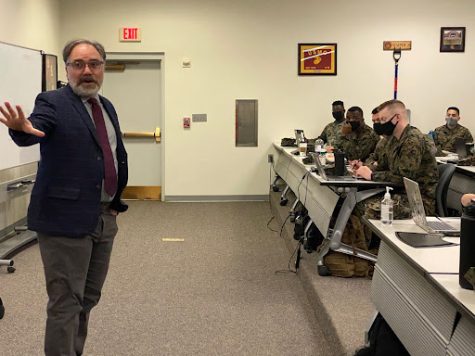 Palomar's apprenticeship program allowed military sergeants to get free college credits just by going through the schooling they have to do anyway. Such an expansion of internship programs would allow experienced adults in the Shoreline community to get a start with their degrees.
One of Kahn's main goals that appeared to resonate with the board was an expansion of the college's relationship with Shoreline's greater community, such as community involvement programs and collaboration with local learning institutions.
Something that should come as a relief to all of SCC's staff is the focus Kahn intends to place on interdepartmental collaboration. Tensions between faculty and administration hinder everyone from employees to students and a resolution may soon be in the works. Such a solution, Kahn says, would put a focus on accountability and open, productive conversations.
"At the end of the day, we're all in the boat together. It's not helpful if we're all paddling in different directions," said Zura, noting that she'd also noticed his interest in improving communication.
Of course, ideas are only as good as their implementation. Only time will tell if Kahn will be a successful president. On paper, he is a well-qualified educator with a strong presence in the communities he is in. When he takes office in July, the school will adjust to him as he does to it. In the months following, what Kahn does with his newfound position will speak to his skills as a leader and his intent as an educator.