A Retrospective with Sunshine Cheng
What's next for the two-term ASG president?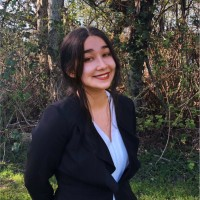 The election for ASG president is coming to a close and Sunshine Cheng's second term serving SCC's student body is concluding. She has had the unique and challenging experience of navigating leadership among a pandemic and a budget crisis. Cheng spoke to The Ebbtide, reflecting on the two years of her presidency.
What goals did you set at the beginning of your presidency and did you meet them over your last two terms?
Cheng: ​I think my perspective and priorities have changed a lot since the beginning of my first term. When I first took office, I was really focused on Shoreline's budget crisis and how our financial deficit was impacting students. I'm still really focused on this, but now I see it as a much bigger-picture, system-wide issue. Instead of focusing on identifying a source of revenue for Shoreline specifically, I've redirected a lot of my energy toward advocating for support from the legislature for public education, particularly around wraparound services. I think the biggest accomplishment for me was the passage of Senate Bill 5194. I had the opportunity to work with a really amazing coalition on its creation and plan to continue to be involved in initiatives to advance racial and economic equity in higher education.
Do you think you've made a lasting impact on SCC?
​While this would be one of my fondest hopes, I'm not sure I will ever be able to say whether I've made a lasting impact on anyone. What I can say, however, is that SCC has made a lasting impact on me. Shoreline has given me the space to grow and develop into the type of the person I've always wanted to be and for that, I will be forever grateful.
What are your future plans after ASG and SCC?
​I hope to matriculate into the Law, Societies, and Justice program at the University of Washington and go on to study education policy – I plan to continue student organizing and pursuing opportunities for servant leadership. I'm also managing a political campaign this election season.
What advice would you give to the next ASG president?
​My best advice would be to embrace change. When I first ran for office, COVID had just happened and I had no idea how wildly different the next two years would look. We had to learn to operate in a way we never had to before and it was really difficult at times, but I will cherish the odd and unexpected memories we made forever. Even internally, I am a completely different person from who I was two years ago, and that's okay. We are here to learn and grow, and to support each other in the journey onwards. Also, take the time to connect with your team and keep them close. You can't do it without each other.