Halloween
By Madeline Kimberly
The spookiest day of the year is nearly here and it's finally time for the freaks in all of us to crawl out and play.
Unfortunately, this year's Halloween falls on the worst day of the week: Monday. But it's okay because we still have the pre-Halloween weekend to get our masks on.
Speaking of masks, some hard-hitting reporters on the Ebbtide staff went to a thrift store to investigate their mask selection. Anyone out there who needs a quick last minute costume for a party or adult trick-or-treating can pick one up for under $20.
Movies To Start Off Your Halloween Thriller Scare-athon

This is one is for you if you want to spend Halloween in the comfort of your own house, in your pajamas eating popcorn ready to start your scare-athon on Netflix.
A Classic Halloween Thriller
"Halloween" (1978)


This is a creepy, sadistic independent movie. It tells a story of a psychotic murderer that was institutionalized because he killed his brother and his sister when he was younger. Afterwards, he escapes from the institute and ends up stalking a high school student.
A Dark Cartoon
"Coraline" (2009)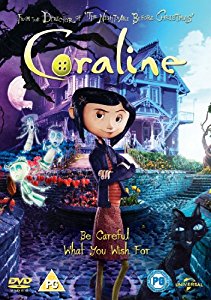 This is the movie you watch when your younger siblings are still awake and insisting that they are brave enough to join you. The movie was directed by Tim Burton. The story tells you about a young girl that discovers an alternate world not knowing it's dark secrets.
The Movie That Will Make You Jump
"The Others" (2001)


This movie won eight Goya Awards. Nicole Kidman plays a mother of two photosensitive children, living in an old haunted house. This is one of the scarier movies that will make most jump right out of their skin.
The Family Friendly Fantasy
"The Addams Family" (1991)


"The Addams Family" is a movie filled with fantasy mixed with hints of comedy. It tells the story of a con man that pretends to be a relative to the reclusive Addams family so that he can have access to their vault. Problem is, he finds it hard to fit in with gothic family and likewise, the Addams family members have difficulties adapting to the outside world.
A Comedy To Forget The 20 Thrillers You've Just Watched
"Hocus Pocus" (1993)


Hocus Pocus is a comedy with witchcraft and black cats that takes place in Salem. A teenage boy resurrects three evil witches, who were killed in the 17th century for practicing magic and they turn out to be planning on sacrificing the life of a child.