Highly Rated
SCC ALUMNUS RETURNS THE GIFT OF WRITING
Michael Overa never wanted to teach. He grew up in a middle-class Seattle family with both parents working full time. This allowed him plenty of time to enjoy his books undisturbed. He describes his younger self as nerdy and introverted, traits that kept him out of trouble in his youth and traits he maintains to this day.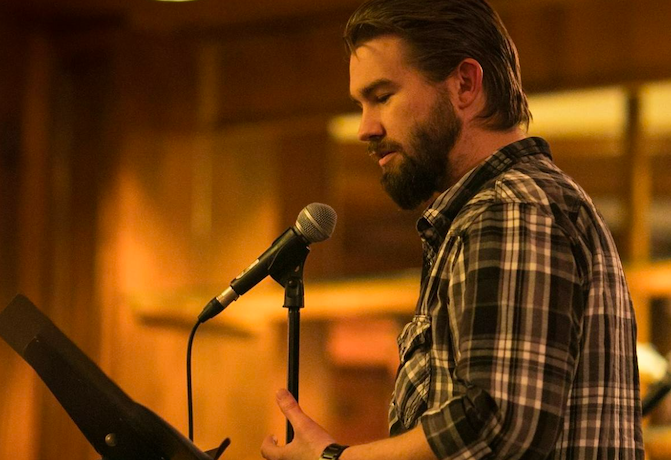 He sits on the front of his desk, facing the diverse group of students before him. His laid-back charm, casual style, and warm smile give him an approachable air that fills the room. Cue the cat video — his key to success.
Using the cat's ability of winning the internet to win over his classroom. Overa seems to be one of SCC's highest-rated professors, according to the website Rate My Professor, with an astonishing 5.0 rating.
"That'll go down as soon as I really piss someone off," he said with a laugh.
With over two years teaching ENGL 101 and 102 at SCC under his belt, it seems unlikely the rating will change anytime soon.
Overa says he only checks the site at the beginning of the quarter, so he'll see what students might be expecting of his class. "But honestly, some of the reviews give me the warm fuzzies," he says with a smile.
Reviewers on Rate My Professor tagged Overa with comments like: "he gives good feedback," "respected," "hilarious," "caring," "inspirational," and 100 percent of the reviewers said they would take his class again. (See sidebar for an unedited sampling of excerpts from anonymous reviews posted about Overa on Rate My Professor.)
Overa was a Running Start student at SCC during his senior year of high school, back in '98-'99. He then received a bachelor's degree in English from UW.
He says he was always annoyed when he told people he was majoring in English, and they'd respond, "Oh, so you want to teach?"
"No. I want to write," he'd say.
With a degree in his hands, he set sail for faraway places, spending a few years traveling and living abroad in the U.K., Ireland and then Australia where he avoided teaching jobs by tending bars.
Overa's experience traveling abroad reformed his writing style, giving Overa more wiggle room for writing.
"We take stuff that's happened in our lives and we rearrange it. Once you're a writer the more that you see things the more that you change and become more dedicated to [writing] it," he says.
Overa returned to the U.S. to earn his master's degree in creative writing at Hollins University in Virginia. Hollins is a college known for its writing department and non-competitive writing atmosphere, which appealed to Overa since he saw competition as neither enjoyable or creativity-inducing.
Returning to Seattle in 2010, Overa was volunteering at a nonprofit writing and tutoring center called "826" in Greenwood. The center is now known as "The Greater Seattle Bureau of Fearless Ideas."
He discovered that his love of writing wasn't just in sharing his own writing – but teaching the love of writing itself. "I have this need, I want to be helpful. Like a weird core to my being, I just really want to be useful," Overa said.
Shortly after his daughter's birth, Overa's wife, Jill, informed him that he could only have two jobs since she would need his help at home. He was teaching at two community colleges and a middle school, volunteering in writing groups, tutoring and indulging in his own writings.
Writers are known to be a bit particular with their props and habits, sometimes verging on peculiar in their rituals. But not Overa. "I don't eat a goldfish or spin around three times," he jokes. He doesn't even listen to music when he writes: it's too distracting.
Not everyone wants to take English, but since it's a requirement, everyone does. Overa has students from all over the world and from all age groups. Some are in Running Start while others have already earned degrees in other countries. With such an incredible mix of students, just trying to figure out what works for everyone can be a challenge.
Students often get writers block, or just have no idea what to write about. But, according to Overa, "Everyone has something to write about, just start with what you did yesterday."
Showing his passion to affect change in the world, but more closely in his student's lives, Overa seeks to improve communication skills. "I always hope that students will leave my class with a better skill at articulating," he says.
Overa teaches what he uses in his own life. When something is bothering him, he uses the writing process to figure out how he really feels. "Some people go for a walk or run to clear their heads — I write to clear my head," Overa says.
Overa has published two books, "This Endless Road" — a loosely connected collection of short stories — and "The Filled in Spaces" — another collection of short stories.
A small taste of his big accomplishment, Overa's book "The Endless Road," sets a scene that could take the reader in any direction. "The overnight Greyhound from San Antonio is a piss smelling thing crowded with the boredom of the thousands who have worn the seats threadbare over the years."
To Overa, "A good story is one that we can lose ourselves in. We forget that it's a made-up thing, or even that we're reading. One [book] that we can't escape. When you read a book you really love six or seven times, it's like listening to your favorite song. It just sticks with you, bothers you, makes you think about it."
His favorite book is "The Body Artist" by Don DeLillo. "It's short, but to me it's just fascinating, an almost perfect piece of writing," he says. "It's like 120 pages and the premise is super simple and the first 40 pages are just a husband and wife having breakfast together. It's like poetry how well it's written."
Fellow SCC English Professor, Katie Johansen, shares an office with Overa. Johansen describes Overa as ambitious, driven, talented and passionate. "He takes it very seriously, he just wants to give his students the best," says Johansen.

Overa's time is currently divided between SCC and Edmonds Community College, where he teaches English 101 and 102 and leads writing workshops. He says he enjoys the natural beauty of the campus. "It's like living in Hobbiton," he says. He appreciates the small class sizes and the ability to really get to know his students.
While he would love to teach more complicated and higher-level classes at a university, he aspires to gain tenure at SCC, which would allow him to dedicate his time to one school and provide diverse writing classes.
Overa makes it clear to his students that his door is always open when they need help. He tells his class about previous students who have later returned for assistance in writing things like a wedding speech, transfer essays, and even an immigration appeal.
"I'm always happy to help current and former students, I feel it's part of the job," Overa says.
If you've been inspired and want to get started using Overa's prehistoric method of typing — just grab some unlined paper and a Pilot G2 gel roller in black. You too can be a geeky, writerly, nerd or just improve your writing skills — he'll teach you how.
Overa's books "This Endless Road" and "The Filled in Spaces" are available from Unsolicited Press through the usual online sources.

Student reviews on Rate My Professor:
"Professor Overa is a genuine and caring teacher. He is never intimidating and always free and easy to talk to, and will ALWAYS give you good feedback on essays."

"Prof. Overa is one of the best English instructors. He makes writing easy. Breaks assignments into chunks and gives feedback on each piece so you can have a great final paper. Works with students so they can succeed in class. Take a class with him and for sure you will learn a lot, but also love writing. His lectures are clear and grades fair."

"Michael gives good feedback, he really wants you to do well in writing. He is also funny, loves Memes and Cat videos a lot."

"Professor Overa assigns work that will be genuinely helpful for students. He grades easily but fairly, and provides a lot of helpful feedback. He's funny and engaging, and is forgiving of mistakes and misunderstandings."