Ebbtide Eats: Pho-Tastic
SCC is surrounded by a number Vietnamese restaurants — specifically, ones centered on serving pho.
Pho is a type of rice noodle soup served with different broth bases (usually beef or chicken), with a side of jalapenos, limes, herbs and bean sprouts.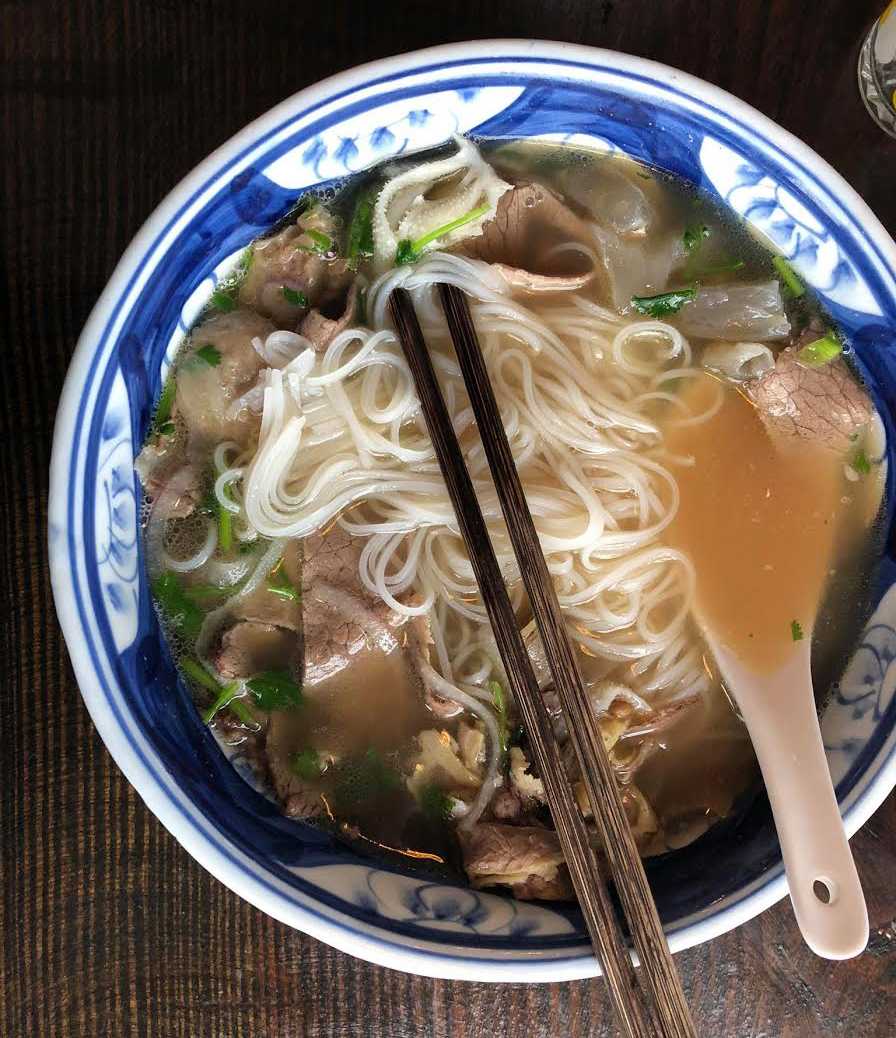 You can choose from a selection of different meats, from tofu to steak to just plain noodles. The meat is placed raw into the hot soup and cooks before it's served.
With the dark skies settling in and the temperature dropping, having a bowl of steaming hot soup after finishing up classes makes for a good pick-me-up. SCC has a number of pho spots in its immediate radius. Just down Aurora Ave., there are a total of four towards the Asian Food Center. Opposite that, there is one positioned next to the Aurora Transit Center, near the Costco. Buses to these restaurants are also highly accessible, while car rides from campus last up to 10 minutes max.
Choosing which one to go try out may seem a little overwhelming. For my fellow pho-lovers, this breakdown is pho you.
Getting into the nitty-gritty, I ranked these restaurants in five categories: taste, vegetarian options, money's worth, health ratings and setting.
"Taste" is pretty self-explanatory. In the case of these pho places, my reviews on taste are based on the broth, noodles and meat combinations.
"Vegetarian options" rates the availability of food alternatives offered in the restaurant (for example, vegan options).
"Money's worth" is where I be evaluated the price of the dish against its quality and quantity.
Under "setting," I will review the location, interior and physical cleanliness.
To strive for a fair comparison, I ordered the "House Special" in each restaurant. This is usually the specialty pho with the largest variety of toppings.
All of these restaurants serve their pho with a side of herbs (like basil or mint) and bean sprouts to garnish, as well as sauce options for those who'd like to add them to the pho.
The serving portions in these restaurants are similar. Something to keep in mind is that all these restaurants (besides Pho Country House) don't have a medium or regular size pho. They offer S-L-XL.
Criteria

Pho Ha

(Specialty Pho E1)

Le's Pho Tai

(Combination Pho 15)

Pho Tic Tac

(Special Combo Pho Beef 26)

Pho Country House

(Pho Country House SP17)

Pho 99

(Rice Noodle Soup Combination 12)

Taste

       Broth

A little sweeter on its own

Very flavorful, good balance of spice in the broth

Huge in quantity, but taste is very underwhelming on its own

Rich and light in spice: perfect for those attracted to spicy food

Mild broth on its own, with good fragrance

       Noodles

Thicker texture

Not chewy, yet not too thick: a good balance

Thinner texture

Thin and chewy

Overcooked

       Meat

Meat is consistently tender: fatty flank and meatballs stands out.

Meat is tender, but not consistent; at times chewy

Quality-wise, texture and taste aren't consistent; doesn't taste fresh at times

Consistent, tender, and overpowers the noodles in terms of quantity

Overcooked

Vegetarian Options

Vegetable & Tofu Pho

Vegetable Only, Vegetable & Tofu, Mushroom, Tofu Only

Veggie Pho, Vegetable & Tofu Pho, Wontons Pho

Vegetable & Tofu Pho

Vegetable & Tofu Pho

Setting

The most "trendy" and nicest interior: (toilet is very clean)

Clean and simple: toilet is clean

A little messy: toilet was broken

Not always clean, multiple tables often uncleared: bathroom is tight and dark

Simple, and mostly clean; sometimes hard to get attention of waiters

Health Ratings

Okay

Not Available*

Good

Okay

Good

Money's Worth

$11 for Small: a little overpriced

$9.95 for Small + Free cream puff and orange

$5.50 for Small: definitely wins in terms of quantity

$5.95 for Medium: Arguably best bang for your buck

$8.75 for Small + Complimentary lychee water
*according to the King County Health Department
Personally, when it comes to the food, Pho Country House is an all-time favorite of mine due to the delicate balance between the noodles and meat; the prices are also pretty cheap.
For those in need of a filling portion with a low price, Pho Tic Tac (although not highest in quality) can still make for an enjoyable meal. My recommendation is to always use the sauces and garnishes, and to ask for pepper and salt so that you can add them to your soup.
When bringing a group, Pho Ha may be a nice place to meet up or hang out in due to its nicely decorated, well-lit interior and their decent selection of bubble teas. A hip-looking cafe makes for a better first impression than an unkempt restaurant.
For vegetarians who wants to try pho, Le's Pho Tai may be the best option for you due to the large variety of veggie pho options.
Although I am a pretty avid pho eater, I wouldn't say I'm a connoisseur. Please note that these reviews are based on personal preferences.
However, I hope that this rundown has given you a better idea of where to stop for your next lunch break.