Lessons of a Life Well Lived; A Memorial – An Attitude of Gratitude
A Facebook posting late on the night of June 17 spread the news that Sabrina Alberstein had died.
"Devastated by the loss of Sabrina Alberstein who recently passed away," Michelle Carlson posted, "My bold, brave and unbelievable best friend of over 25 years shaped my life in ways that I will forever be uncovering and who touched so many lives it's unbearable to think our stories stop here."
Sabrina was an SCC student in the Visual Communication Technology (VCT) program and my best friend at school.
She had died in her sleep nine days earlier, on June 8, from natural causes, with no signs of drugs or alcohol in her system. Samples were sent to a lab with hopes of determining the cause.
Sabrina's mother, Michelle Jacobsen, said she suspected untreated medical issues.
At Sabrina's memorial, Delia Alberstein, Sabrina's stepmother, said ultimately the cause doesn't matter— that it resulted in us losing Sabrina is the important part.
My therapist said something similar—trying to determine the reason for her death is grasping for control. In my mind, if I can understand what happened here, I can find a way to prevent something similar from happening in the future. But that won't work, and it misplaces focus. Sabrina is gone, and no amount of information is going to fix that.
The Student
Sabrina entered SCC's VCT program in fall quarter 2015. She had a great sense of design but wasn't sure if the program was a good fit, especially since she did not like learning how to use design software.
Starting in summer quarter 2016, Sabrina began registering and showing up for classes at the beginning of the quarter but she did not always finish them. She said this was because she was really tired. I suspected she was also realizing graphic design might not be the direction she wanted to go and was considering other options.
Now I'm sure there was something more behind her fatigue.
The Chef
Before attending SCC, Sabrina worked in the restaurant industry in a variety of capacities, including as a chef. Among other places in Seattle, she worked at Cactus, Skillet and The Hi-Life.
Sabrina and I, both in our mid-30s, would pass notes during boring moments in class. Mostly we wrote questions for each other to answer. When I asked her "What is something you are proud of?" she replied, "I went from never cooking before to chef in five years."
She also told me in our notes that I should "only wear one pattern at a time," and that if she were to start a motorcycle gang, she would call it "Sabronie's Bonies," referencing her Hulk-like alter ego. Sabroney would say things like, "Sabroney hungry," "Sabroney smash" or "Sabroney have feelings." She said the gang's logo would be an "S" with crossbones.
The Friend
There were two memorials held for Sabrina. One was a standard memorial where people shared stories about her. Common themes of the stories were how funny she was, how she made people feel special and how she was the memory keeper for her friends and family.
One speaker said Sabrina made everyone feel like she was their best friend, and I was struck by the truth of that—I built a quick, tight friendship with Sabs and saw others fall immediately in love with her company.
Sabrina was known for writing and sending out cards, particularly thank you cards. The crowd at the memorial was asked, "How many of you received a thank you card from Sabrina?" and over half the people in attendance raised their hands.
Several people at the memorial brought up the idea of Sabrina as a memory keeper. They told stories about how, out of nowhere, Sabrina would produce an old photo or keepsake and remind them of a funny or heartwarming part of their shared past.
Her best friend, Michelle, said that, for her, the photo that kept emerging was one that she hated. It was of her, Sabrina and their friend Sara Chilson, as middle schoolers, when they went to a portrait studio together. They had "No Fear" shirts, but the distinctive image was on the back, so it didn't show in the face-on photo.
The Life of the Party
The second memorial, "Sabrina-palooza," was a "Sabrina-style" party in her honor. This meant that there was a Mariachi band, food from Paseos, an area for taking polaroids with cutouts of Sabrina's head, finger puppets that looked like tiny hands and giant sparklers lit on the beach after dark.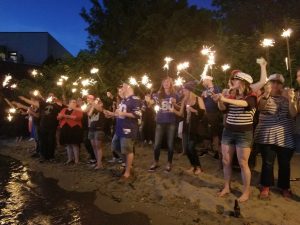 At the "Sabrina-palooza" memorial, friends lit giant sparklers
on the beach. Some clothes pay homage to Sabrina, including
"yacht" clothes and Seahawks gear.
People shared memories that were so touching and funny that someone walking by would have thought it was a birthday party rather than a memorial.
This was called a "Sabrina- style" celebration because she was known to throw fun parties. As a consummate hostess, Sabrina went all out. There was a story about how someone told her how lucky she was that her parties were really fun. Her response was that it wasn't luck, but good planning—she made lists, came up with themes, handwrote invitations and sent them with pre-stamped and addressed RSVP notes, got food and activities, checked in with people who hadn't RSVP'd and in general worked hard to make her parties fun.
An annual party Sabrina threw was a yacht rock party, which included yacht rock playlists (Hall & Oates, Steely Dan, Eagles… I still don't really get it) and captain's hats. Her other big yearly fete was her birthday party— one year it included a whole roasted pig.
The Sabrina of the 2010s didn't drink much—partying to her was about bringing people together. Sabs was really cool, but sometimes she was also sappy. I was at her house on a couple of occasions when she had everyone share their high point of the day, and their hope for the next day, during a party.
The Legend
Many at SCC did not get the chance to meet Sabrina because she was a VCT student, which meant all her classes were in the VCT building. But for the people who did know her, Sabrina's death has left a void.
A legend graced the SCC campus and made it a better place while she was here.
Goodbye friend, I miss you.
Sabrinify Your Life
When I can, I choose to cherish the things that remind me of Sabrina — to go places and do things that she enjoyed, thinking of her often, and trying to Sabrinify my life.
Finger Puppets
A finger puppet enthusiast, Sabrina signs the check
at Kickin' Boot with a mini hand finger puppet.
A connoisseur of finger puppets, Sabrina had a large collection, and most often had one with her. This is something that seems silly, but it illustrates an integral part of her personality. Everything was a little bit more special when Sabrina was around, which was partly spontaneous, but it was also partially by design. Imagine being in a boring adult situation and then having a little elephant peeking out at you—Sabs created unexpected, fun moments for the people around her.
Thank You Notes
When someone does something you appreciate, write them a quick note, ask for their address and send it their way. It doesn't have to be long or involved, just show that you are thankful.
Highpoints and Hope-ies
Sabrina worked for several summers at Camp Orkila on Orcas Island. Highpoints and Hope-ies were something she kept from camp.
Instructions: Think to yourself, or share with others, the highpoint of the day and a hope for the next day.
Expert level: Sit with friends around a bonfire and have everyone share a highpoint and a hope-ie.
Food
A truly Sabrina-fied life is full of amazing food. Go eat one of her favorites: sandwiches and street corn from Paseo or Un Bien; cobb salad from Kickin' Boot BBQ; pho when short on money.
– Coral Nafzinger
– Photo Courtesy of Coral Nafzinger