Roots of the Deep Roots Garden
Digging up SCC's not-so-hidden gem
The campus these days has been quiet.
I can hear my footsteps echo through the empty walkways. It's peaceful yet bereft of the student chittering that makes a college feel like a college. Nonetheless, it's tranquil and alive in a quieter way; squirrels and crows scurry around and every path is encased by lush plantlife.
As I stroll, I'm surrounded by great green trees and bushes and so, when I come across a vacant garden, it's somewhat uncanny. Three rows of dirt beds lie in a rectangular plot and they're all empty — why?
The garden has an organized irrigation system, obviously planned and implemented with care, but the beds are full of weeds. There's exposed gardening tools, but a locked shed sits not 10 feet away.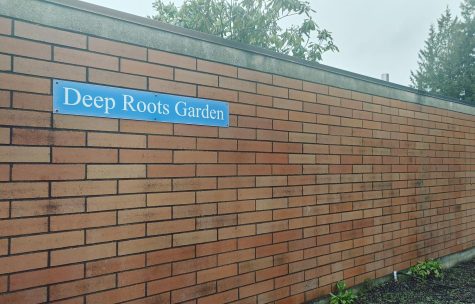 What I do know is that it's called Deep Roots Garden.
Down to Earth
I find next to nothing on the SCC website but notice mention of it on Diggin' Shoreline, where it's revealed that this community garden was once used to grow produce for a local food bank.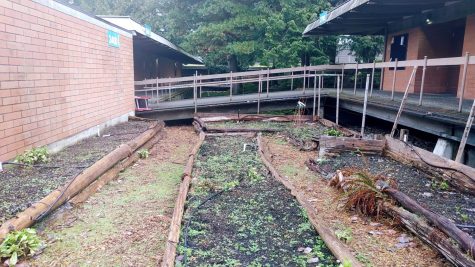 Amy Easton, SCC's resident Biology Lab tech, says the garden occupies what was previously "a vacant scraggly waste of sand dotted with weeds." In 2010, SCC faculty decided to make use of this empty space and created Deep Roots. Its original purpose was to serve as an instructional garden so that students could study the layout and function of a garden while emphasizing sustainability and food security.
The founders of Deep Roots spent hundreds of hours building and maintaining the garden and their efforts were not in vain — it yielded pounds of food for Hopelink Food Bank and later, SCC's food pantry. For years, weekly supplies of nutritious and ethically-sourced foods were sent to nourish the community.
Students and staff would also organize annual plant sales in the garden, the most recent of which took place in 2018 in coordination with the Environmental Club.
Eventually, lack of time and coordination left the garden inactive. According to Sundi Musnicki, Director of Student Leadership & Residential Life, no one owns or is in charge of Deep Roots, making it an entirely cooperative effort.
New Growth
As it turns out, I'm not the only one with an eye on Deep Roots.
Easton said that last summer, Musnicki and ASG President Sunshine Cheng surveyed students to gauge interest in the garden. Because the survey results were positive, they organized a few gardening parties to revive it. These parties cleared out weeds, planted cover crops and transplanted strawberry and raspberry plants.
While Deep Roots can continue to thrive into the next year, unfortunately it's not ever-enduring. Over the next two years, the space occupied by the garden will be taken over by the new building currently in construction.
But all hope is not lost: Easton, Musnicki and others are optimistic that, with renewed student interest, another location on campus can be host to the next community garden.
The next few months will be crucial in reestablishing Deep Roots and renewing its charitable contributions. Waiting on the corner of the 2400 building, fertile soil awaits with great potential for community and personal growth.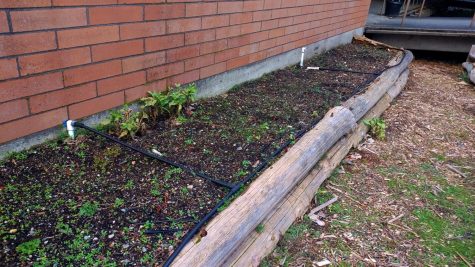 ASG will be hosting more gardening events. Those interested in volunteering can follow Student Life on Instagram or email Sundi Musnicki at [email protected] to be added to a mailing list about future activities.