Daddy Dolphie's Debut
Mixed reactions to Dolphie's new design has people talking
With much anticipation preceding his arrival, the new version of Dolphie made his debut.
Dolphie's reveal was akin to a celebrity photo-op, with students and staff serving as the paparazzi. The majority of attendees took photos with the new Dolphie while indulging in the offerings of free popcorn and lemonade. After the pictures, people lingered
and chatted about the new Dolphie.
Staff tended to have an overall positive view of the new Dolphie. They took photos with Dolphie and seemed content with the new design.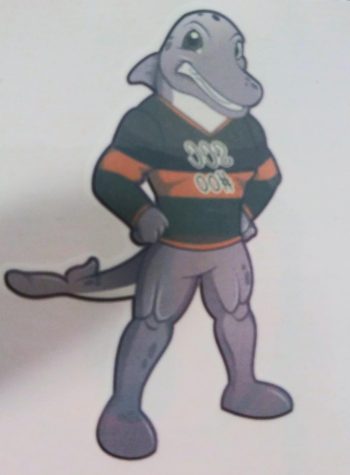 The student opinion was mixed. Some students loved the new Dolphie, while other students were quite confused or even put off by the new design.
Most students wished to remain anonymous for obvious reasons.
Many believe Dolphie's new design has become over-sexualized, with an unrealistic tail, no pants and a super tight shirt showing off his (presumably) glistening pecs. A few thought his smile looked creepy. During the game, Dolphie gestured for women to call him. This combination of events produced some strange comments among the students.
One student stated, "I wanted to try out for the new Dolphie until I saw it."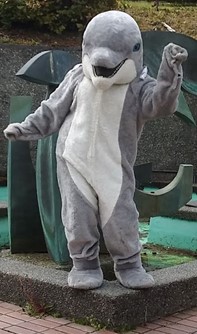 Second-year students were stunned by the new change. Some used the term "dinosaur-looking" to describe Dolphie. Another student even said that "Dolphie looked like Barney."
When asked, a group of salivating students described Dolphie as "hot." This continued for a while until someone came up with a devilishly clever abbreviation: DILF; Dolphin I'd like to Friend.
The new Dolphie radiates a zealous spirit. Onlookers with a positive view noted that "this Dolphie was more sporty."
Overall, the new Dolphie design is everything the athletic department pitched it to be: more sporty. But does "sporty" inherently require him to be masculine?
For those who aren't familiar with the old design, the previous mascot costume was like a dolphin onesie. He seemed androgynous, with no particular body shape in the clothing other than what little could be seen of whoever was beneath that fuzzy gray cloth. Students could confidently wear the suit regardless of who they were.
Calling all Phins! Come swim over to our polling section. Do you like the new version of Dolphie? Make your voice heard!
What do you think of the new Dolphie?
Sorry, there was an error loading this poll.