Dolphins Soak Up Some Springtime Sun
Brave SCC students came together for a springtime field day in spite of uncertain weather.
The air was crisp as shuttles picked up waiting students. The van driver promised the light cloud cover would burn off, giving way to blue skies later in the day. Skeptical passengers were not convinced and some even debated climbing out. Everyone resisted the urge after deciding that the waiting snacks would be worth the journey.
Upon arrival, bundled-up student life volunteers greeted field day attendees through chattering teeth. They'd set up assorted lawn games including giant Connect Four, Jenga and Tic-Tac-Toe. The super-sized Jenga was a massive hit and students gathered to watch the game while huddling for warmth, looking more like dolphins than penguins.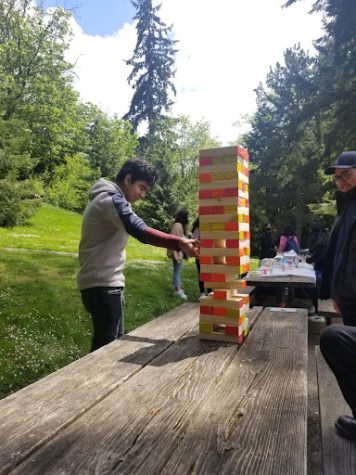 Slightly unconventionally, sugar cookie decorating was a field day event as well.
"Just do your best with what you have," said Samira Jimaale, an ASG member, when asked how to make designs with two-day old frosting and toothpicks. Student life volunteers later confessed that this was an attempt to use up ingredients from a previous event.
In the late afternoon, the sun finally made an appearance and student life organizers pounced on the opportunity for some traditional field day activities. Things did not go as planned. The first game was a potato sack race. As attendees tried to fit their legs into the sacks, they discovered that student life had accidentally purchased the child-sized variety.
"I guess we didn't account for college students being bigger than children," said Caela Smith, student life's program manager.
To brush off this mistake, student life divided attendees into teams for a game of capture the flag. There has never been such a cowardly capture the flag game. Students stood frozen on both sides of the dividing line, glancing at each other nervously.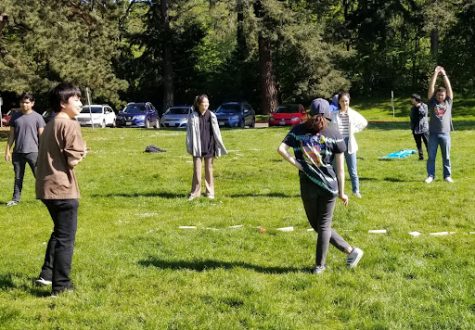 Despite the blatant lack of athleticism displayed at SCC's field day, morale was high as students enjoyed each other's company. "It's nice to be outside with my friends. I missed this kind of thing during the lockdown stuff," said Nathan Reyes, an SCC student. The activities that student life had planned were charming in their disjointedness and the feeling of community was heartwarming.