Standing in Solidarity
TWENTY-EIGHTH ANNUAL STUDENT OF COLOR CONFERENCE
Students of color come together every year to learn how to battle the racism and discrimination that continues to exist in America today at the Students of Color Conference.
The 28th Annual Students of Color Conference (SOCC) kicked off on April 12 and ended on April 14 in Yakima, Wash., at the Yakima Convention Center. Thirty SCC students attended, along with five advisers from the Multicultural Center located on the third floor of the PUB.
This year's SOCC theme was "Radical Love: Activism Ignited." The conference's choice of theme reflects the "greater need" to create space for individuals who feel like they don't have a place to share their stories, according to the conference's mobile app, which was used by SOCC students during the event.
The SOCC also welcomed white students and students of all social identities, allowing Washington community college students of different sexual orientations, genders, economic backgrounds, homelands and ethnicities to connect with each other.
Some of the 35 Washington schools present at the event included Bates Technical College, Pierce College, South Puget Sound College and South Seattle College.
The convention spanned over three days and featured various speakers; workshops and "sessions," which were specialized meetings and discussions about specific subjects; and several social events such as salsa lessons, poetry slams, yoga, a dance and a game room available to all attendees.
Many schools wore matching shirts or accessories. SCC students and staff had black "Radical Love" and gray SOCC T-shirts available to them during and after the convention.
Speakers
There were two keynote speakers at the event. On Thursday, it was Latino hip-hop artist Olmeca, who talked about the "browning of America," saying that America should be celebrating its diversity. Olmeca is well-known for writing music for "Sons of Anarchy" and has been featured on stations such as BBC London, NPR, KEXP Seattle and CNN Latino, according to the Olmecaofficial website.
He spoke about how members of the Latinx community struggle and have the ideology of "hard work" engrained in their lifestyle.
An example Olmeca shared was a personal family story from when they lived in South Central, Los Angeles. Olmeca's mother spoke limited English but she knew who the Immigration and Customs Enforcement (ICE) officers were because she was not a documented U.S. citizen.
The artist said his mother would not go to the store past a certain time because ICE officers roamed the neighborhood near the store — she felt like she could be deported if caught by an ICE officer.
Olmeca compared his mother's fear to the unease and fear young black boys feel in less safe areas with a strong police presence who may see black children as threats, bringing his story to an end by talking about police brutality.
The following afternoon, Aneelah Afzali shared her wisdom. Afzali is the founder and executive director of the American Muslim Empowerment Network, a new branch of the Muslim Association of Puget Sound, as well as an attorney with a Harvard Law degree and co-founder of the Middle Eastern Legal Association of Washington. She has also been a spokesperson for Congresswoman Pramila Jayapal, who represents Washington's seventh congressional district, which contains most of Seattle and the edges of King County.
Workshops and Sessions
Attendees were given the chance to go to different workshops which included hour-long sessions. The first two workshops revolved around social identities that students could connect to. The first workshop focused on gender and sexual orientation while the second broke into sessions focused on race.
"The one on masculinity was a really good one," said SCC student Da'Sund Heller. "The (emotional) toll of toxic masculinity and its connection to parenting and broken families … (is) a very touchy subject amongst black men from single parent homes."
Heller was not the only student to feel overwhelming emotions during the sessions.
"My experience was pretty intense," SCC student M.J. Washington said. "It was something that I didn't expect to happen."
The Women's Identity session in the first workshop was buzzing with participants ready to share their thoughts about being a female of color in America's patriarchal society.
"Race does play a part in sexism," said presenter Felis Peralta, an instructor from Clark College in Vancouver, Wash.
The session focused on empowering women of color, sharing the social tools needed to combat racism, sexism, misogyny and the patriarchy.
The second workshop focused on racial identities, ranging from African-American to Pacific Islander. Some students crowded into sessions they identified with and others joined groups they wanted to learn more about.
The rest of the convention's workshops consisted of sessions with discussions about cross-cultural communication skills, social justice and activism and personal development. For example, the cross-cultural communication skills workshop included sessions about building respectful relationships in heterosexual communities regarding gender and race.
The social justice and activism workshop held meetings about how accents make individuals stand out, the fight for change on school campuses and even queer representation in mainstream comic series from the likes of Marvel and DC.
However, although the sessions were seen by many as helpful, attendees acknowledged it wasn't perfect.
"(SOCC) lit a fire, unlike other events a POC can go to, … but it was also a time crunch," Heller said on the subject of the hour-long meetings.
Washington's own experience with the workshops had him thinking until the next day.
"(The sessions were) extremely difficult mentally for me the first night and worse in the morning. Then I finally started to come around," he said.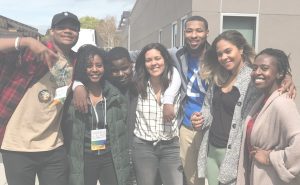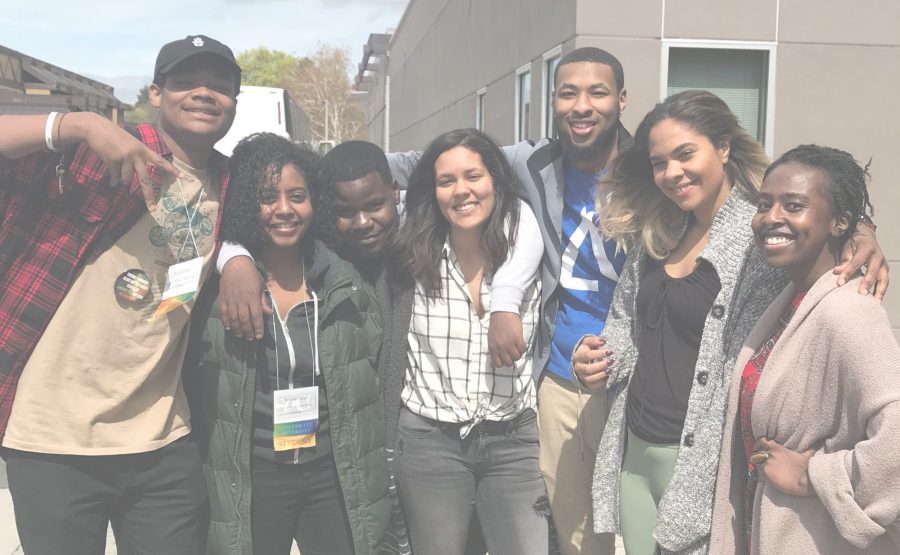 Hotel Chats
Even after the sessions were over and schools gathered into their own individual meetings, conflicting ideas came into light.
"There was no lack of diversity," Heller said. "But (there was a high) presence of white students. If you really plan on being an ally, understand that as oppressed people … we no longer want your culture."
In turn, during SCC's individual school meeting on the second day of the convention, one student shared with the group that they "believe racism goes both ways." This caused the room to explode into arguments and disagreements. Rezina Habtemariam, the trip's adviser and SCC's director of Student Life, put an end to the burgeoning argument by disagreeing with the statement and asking to speak privately with the student.
Social Events
SOCC relieved its attendees of the intense conversations by setting up evening events open to everyone.
On Thursday evening, aspiring poets, speakers and singers stepped up to the open mic, which was offered to anyone brave enough to express themselves to total strangers.
Friday evening offered different events for students, from quiet yoga to a high school-esque dance with two not-so-great DJs.
The Yakima Convention Center offered several cheap food options off-site for students to grab a snack or meal, such as Dairy Queen, 7-11, Taco Bell and, if one wanted to make the three block trek across a grassy sidewalk beside the freeway, Target.
Closing Ceremonies
All good things come to an end. The convention's conclusion came early Saturday afternoon, following one more workshop on personal development and a short break before students piled into large coaches and headed home.
But before heading off, the 35 schools gathered once more in the convention's large ballroom, coming together for a final presentation, as several of the final workshop sessions were used to create performances for the rest of SOCC.
First the salsa dancing session available during the evening social events put on a short performance learned in less than two hours. Audience members stood on tables and chairs to take videos and pictures of their friends and fellow students sashaying across the floor.
Next the Polynesian speakers and session-goers shared their quickly learned hula and haka dances. Both dances incorporated men and women, before the brothers split into their own and the sisters into theirs.
SCC took its leave early before the closing ceremonies, and as Yakima, the "Palm Springs of Washington" according to the welcome sign, disappeared from view, the SCC students were left with mixed thoughts and emotions.
Ideas were challenged, buried emotions were brought up to the surface and everyone was vulnerable. The conference strived to honor the struggles and successes of people of color who had been exposed to discrimination based on their skin color, sexual orientation, gender and ethnicity.
It is safe to say SCC students left with a clearer understanding of their own social identities and most importantly, the hope that both students of color and white students will be able to work together in order to fix the racially unjust system within America.
Disclaimer: Azia Lualhati was a participant at the conference.