DOG DAYS ARE HERE AGAIN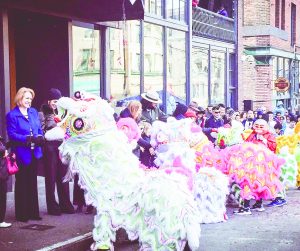 Happy New Year!
Lunar New Year, that is.
Lunar New Year is most important festival on the Chinese calendar. It also known as the Spring Festival. Unlike American festivals, Chinese Lunar New Year doesn't happen on a fixed date, because it is based on the lunar calendar. This year, it fell on Feb. 16.
Recently this traditional Chinese festival has expanded all over the world. Lunar New Year celebrations have become popular in North American, European and Australian "Chinatowns." On Feb. 11, the Chinatown-International District in Seattle also held their annual Lunar New Year celebration. It included lion and dragon dances, a Lunar New Year costume contest, a martial arts demonstration, and traditional Chinese food.
Origin
There is a myth about Chinese Lunar New Year. In ancient times, there was a monster called "Nian," who came out once a year, but killed many people during that day. After years and years, people found ways to protect against Nian. During that day, families stayed together to avoid Nian.
Even though Nian was so brutal, people found that it was afraid of fire, loud noises and the color red. So every family put red couplets at their entrance and had fireworks to ward off Nian.
Lions are one of the three mythical hooved animals. (The other two are the Chinese dragon and the Qilin, a dragon-like creature often depicted with scales and antlers.) People believed that lions could intimidate Nian, so people dress and act like lions during that day. Since then, Nian never came back.
But these traditions were preserved. People acting like lions became the traditional lion and dragon dances that are seen today.
Zodiac
Chinese zodiac animals (also called "Shengxiao") move in a 12-year cycle. Each year in the Chinese calendar is represented by one of a dozen zodiac animals. 2018 is the Year of the Dog. If you were born in 1958, 1970, 1982, 1994, 2006 or 2018, your zodiac animal is the dog! According to Asian astrology, zodiac animals were connected with your personality traits. Dogs represent that you are a serious and responsible person.
Food     
On New Year's Eve, families sit together and wrap dumplings. They also randomly put coins into a few of these dumplings. Tradition says that people who eat a coin-filled dumpling will get rich in the next year.
Fish and sticky rice cakes are also popular food during Lunar New Year. People believe the rice cakes can bring good luck to families.
If you accidentally smashed something during the dinner, don't worry, it means safety during the festival.
After dinner, children receive red envelopes with money inside from their grandparents. And most importantly, Lunar New Year lasts for 15 days, so you will eat an abundance of food.
Traffic
Family reunions also cause huge chaos in traffic around Lunar New Year. In China, they call this extremely high traffic period "Chunyun." Usually, it starts 15 days before Lunar New Year and lasts over 40 days. It is the biggest annual human migration in the world. In 2017, over 3.2 billion people traveled during Chunyun. The Chinese government expects over 3.7 billion this year. According to a report by CNN, "the total number of trips is expected to reach 745 million miles: the equivalent of eight times the distance from Earth to the Sun or a leisurely rocket ride to Saturn!"
---
By Chuck Lu,
Staff Writter