Feel The Language of Music : Continuing the art of Jazz improvisation through expression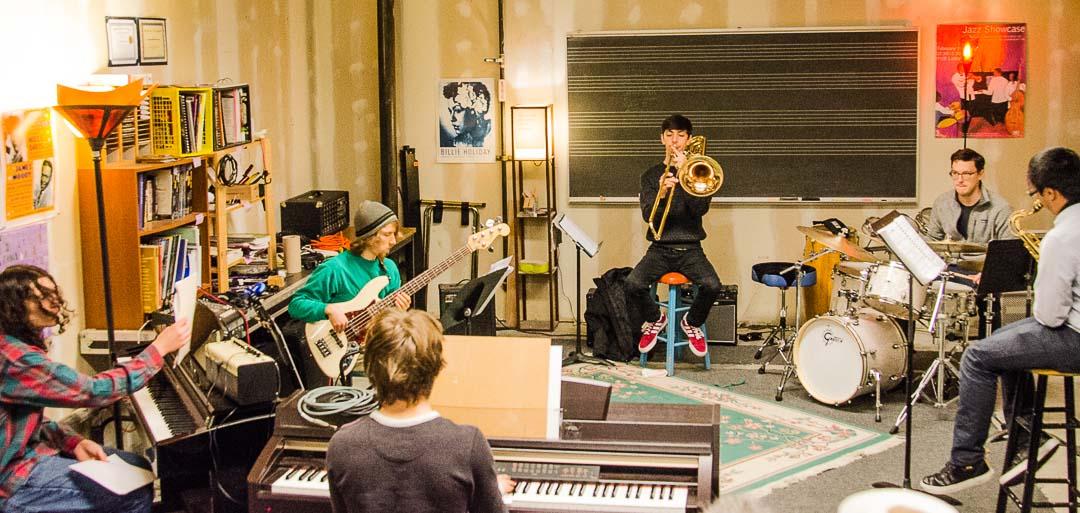 The jazz improv group fine-tunes their craft.
Photo By Martin Musialczyk
By Madeline Kimberly
Jazz Improvisation doesn't just require a musician's ability to read off of a music sheet and play an instrument, it demands attention and passion.
Not many people know this, but Shoreline Community College has had a Jazz Improvisation class since the early 1990s. The campus is quite separated in terms of departments. Students that aren't taking music classes often can't even find their way to the music department in Building 800.
Steve Kim, a faculty member, has been helping Shoreline's jazz improvisers since 2002. Kim helps by giving suggestions about what the class can perform, but the students ultimately decide what they're going to be performing.
"Improvising is the most important aspect of jazz music," said Brady Larimer, one of the students in the class.
In this class, you don't read off of a music sheet, you listen to the music and play. Larimer admitted that he can't even read from a sheet.
Improvising is, of course, a less structured way of playing, but the students seem to agree that it gives them a chance to express themselves, instead of playing music written by someone else that they have just read and memorized.
Larimer mentioned that "it's definitely a form of communication."
The students feel that jazz is its own language–the more you listen, the more fluent you are at the language. Students listen to the music and understand.
As Kim said, it's like learning French. To learn the language, you go twice a week to a class where only that language is spoken and at first. Some might not understand the language at first but then they eventually get it after attending so many lessons.
Kim's role is to make sure that his students go out and actually try to "speak some French."
Kim said that he "sets up scenarios so that they (his students) can learn the language."
This isn't the kind of class where you show up, sit down and listen to the teacher then just leave. Here, the students play together like a band. The class agreed that this is something they actually look forward to– according to them, it's fun!
Usually, this class is divided into two levels, a normal class and an advanced class, but for this fall, there's only an advanced jazz improvisation class available.
As Kim said, "It's open to all Shoreline students playing jazz."
You don't have to be a prodigy in order to join the class, anyone that is interested in jazz can join in; the jazz improvisation class welcomes everyone so don't assume that you're not good enough to join.
In fact, students from numerous countries, including China, Japan, Taiwan, and Ukraine, have joined in due to their interest in the genre. The class isn't just open to students who can play a "jazz" instrument, the class has had a banjo player, a flute player, and even vocalists.
Larimer confessed that when he first started the class he was really nervous but he knew that he wanted to play music with a band. He said that "playing with other people is so different than practicing on your own."
"It's kind of cool that we have this class and (that) it's in the basement," confessed Larimer.
The jazz improvisation class gives two performances each quarter in the lobby of the PUB. They just had a performance on Oct. 25.
Anyone interested in the class is more than welcome to watch them perform. Their next performance will fall on Tuesday, Nov. 29. It's definitely a sight to see, an improvised performance done by musicians who communicate wordlessly and solely based on listening and playing music.