'Aloha' from SCC
Aloha Akaka bundles up against the cold sitting on a bench outside the SCC gym. A native of Hawaii, the cold weather is still relatively new to her. She answers most questions in just a couple words. The 20-year-old guard doesn't view herself as a star player and didn't understand why anyone would interview her. Her performance on the court tells a different story.
In conference play, per game, she is averaging over 17 points, nearly seven rebounds, a few assists and a massive four steals. She consistently converts at the free throw line and despite a slightly decreased three-point field goal percentage, she is shooting 44% from the field overall.
Being an athlete at a two-year university is unique. It is underfunded and under-supported, but it provides a crucial opportunity.
Playing at SCC is Akaka's way out. It is a chance for student-athletes to show their academic abilities and basketball skills to four-year universities. Her goal is to get into a good school and get a good education, but the lack of resources doesn't sufficiently support the players in this goal.
Akaka said through lightly gritted teeth, "don't get me started with that… no, I do not think they put enough time, or effort, or money into promoting their athletics."
Basketball is a game of confidence, and you gain that confidence through practice. But players cannot access the gym to practice outside of times designated for team practice or "basketball class," where she had just finished getting some shots up. Because the school gives them limited gym access, it is significantly harder to practice at a D1 or D2 level, and harder to then reach that level. The lack of external support makes them feel like they're not good enough or don't deserve to get out, further damaging their confidence.
SCC wasn't necessarily her first choice. When COVID hit and shut down most leagues, players were granted another year of NCAA eligibility, meaning teams had far fewer roster spots to fill with freshmen. This made talking to schools even more difficult for an already humble and shy player.
Two days before this, the Dolphins had traveled all the way to Port Angeles to take on Peninsula College. They lost the game, it wasn't particularly close and Akaka felt like she had a bad game. She had a very long, sad drive home after she felt like she missed so many shots that she started crying.
One of Akaka's personal goals for this season is "being more mentally tough, because I definitely get down when I'm doing bad and I need to know it's okay, it's going to be okay." It's not easy to get past those feelings of self-doubt but what she does to try and move past it is "take it day by day and just keep telling myself it's okay to struggle… just got to go get up, do better."
For the Dolphins, the goal this season is to win it all. They want to win the Northwestern Athletic Conference Championship Tournament and they feel fully capable. Akaka points out that they have good chemistry and work ethic but need to keep improving both. It also comes back to confidence again. "We just need to be confident. I feel like some of our girls are not confident. They get scared."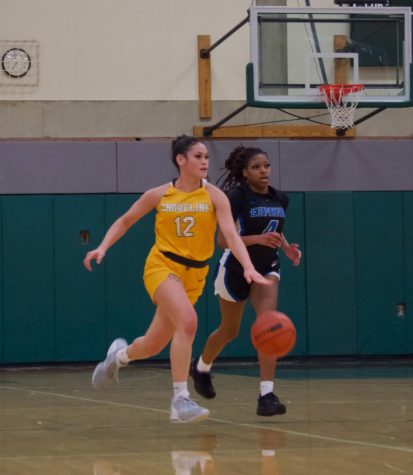 If you want to help the team with their confidence in the future, go watch a game. Talking about the Feb. 8 doubleheader, Akaka beamed, thinking about the large crowd that was in attendance. Their home games usually have few people in attendance aside from family members, but on that Wednesday night it was full of fans, giving the team a huge mental boost.
In terms of points, the team relies on Akaka heavily. Although she has been playing point guard this season, for the first time in many years, she is a shooter. Versatility can be very valuable, but she doesn't love playing the point. She particularly dislikes bringing the ball up the floor on offense, because she feels her handling isn't good enough. But she does what her team needs her to and is a good leader, calling out plays and helping her teammates be where they need to be.
Her favorite time is when teammate Leiah Naeata comes off the bench to take over the point guard role. This is when Akaka comes to life. With terrific speed, she loves to get out and run, out on the wing trying to earn a fast break point or spotting up for the three-point shot.
What the future holds for Akaka is unclear right now, but whatever it is, basketball will be involved. She absolutely wants to keep playing, and while she hasn't been recruited yet, she is talking to some coaches. Her top choices are Alaska University Anchorage, Seattle University, and the University of Washington. Sometimes those goals seem far away; too much of a dream to be a reality. The fear of not being good enough prevents her from heavily promoting herself to these programs, but they remain a dream if not a goal.