SCC's Leadership Certificate Series begins
This quarter's workshops focus on community involvement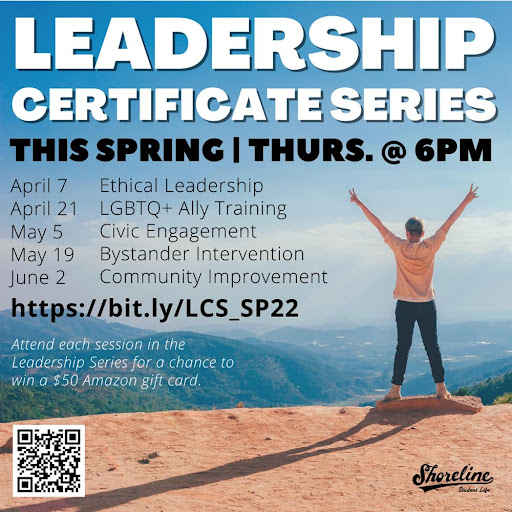 Student life has returned this spring with another opportunity for advancement. Spring's Leadership Certificate Series started on April 7th with a workshop about Ethical Leadership.
These workshops are great resources for students that want to improve their communication skills. Spring quarter workshops will focus on leadership skills that target community involvement.
"The inspiration behind the leadership certificate series is to cater to our students by providing them the opportunity to develop a variety of leadership skills as they go through college." said Mashaal Shameem, the student intern who teaches the series this quarter.
Through slideshows and activities, students will learn about thought-provoking leadership skills. Students will have casual opportunities to meet new people that also want to improve their leadership and communication skills. The workshops this quarter include Ethical Leadership, LGBTQ+ Ally Training, Civic Engagement, Bystander Intervention, and Community Improvement. Student life will be hosting these workshops via zoom.
Workshops are every other Thursday from 6:00-7:00 PM. Don't worry if you miss one workshop- you can always attend the next one. "Each workshop topic is structured independently, so the material does not rely on attending the previous workshops." Shameem said. Anyone can join during any point of the certificate series. In order to receive a certificate for the series, students must attend four workshops.