A TWO-DAY VANCOUVER GETAWAY
As an international student, I remember how surprised I was when I discovered that it only takes three hours to drive from Seattle to Canada. I soon ventured to Vancouver, British Columbia (BC) for a two-day trip for the time during last winter break, and I fell in love with the city famous for its mountain backdrop and urban beaches.
Whether you are a nature enthusiast, foodie or a shopaholic, Vancouver in the spring has a lot to offer.
Don't worry — I planned the whole trip for you.
Day One:
8 a.m.-10:30 a.m.: Drive from Seattle to the University of British Columbia (UBC)
10:30 a.m.-3 p.m.: Tour the campus of UBC
UBC was named as the most beautiful campus in North America by TripAdvisor. Plenty of movies were filmed on the campus, such as X-Men Origins: Wolverine, 50 Shades of Grey, The Age of Adaline and Night at the Museum: Secret of the Tomb.
Spring is a great time for enjoying UBC's spectacular cherry blossoms, the official UBC website recommends its visitors to spend some time visiting their Botanical Garden, the Rose Garden and the Canopy Walkway — a suspension bridge that'll lead you up into the forest.
Brunch: Irish food at the restaurant Mahony & Sons (located on the UBC campus).
3:10 p.m.-3:40 p.m.: Drive from UBC to Gastown
3:40 p.m.-5:10 p.m.: Gastown sightseeing
Founded in 1867, Gastown has successfully preserved its historic charm and Victorian architecture. There are a number of stores that have fashionable Vancouver-based brands, such as Fluevog and Herschel Supply Co.
With their impeccably curated décor boutiques and modern art galleries, it's a place that you won't want to miss. The famous Canadian Ice Wine and maple syrup found here come highly recommended and the stores offer competitive prices. (Side Note: If you are under the age of 21, you cannot legally bring alcohol back into the U.S.)
Dinner: The Flying Pig was named the best medium-priced restaurant that offers beer and gourmet comfort food by the travel guide company Lonely Planet.
7 p.m.: If you are 19 or older, check out famous pubs such as The Irish Heather Gastropub or cocktail restaurants such as L'Abattoir.
Day Two:
10 a.m.-12 p.m.: Capilano Suspension Bridge
Through the hourly tours provided by guides in 1890s costumes, you can learn about the area and the nature that surrounds it. Through the tour of the 450-foot-long bridge, guides explain the importance of the West Coast temperate rainforest to the ecosystem and the historical backgrounds of the bridge. Seasonal events such as the bird tour "Raptors Ridge Birds of Prey" advocate environmental sustainability, and take place from June to October.
12 p.m.-6:20 p.m.: Vancouver's Chinatown
San Francisco's Chinatown certainly has competition. Located in Gastown, the bustling Vancouver Chinatown is known as a National Historic Site according to the Canadian Encyclopedia.
This integrated neighborhood is home to a number of historical sites such as the Dr. Sun Yat-Sen Classical Chinese Garden, which is the first Chinese garden built outside of its home country, as well as delicious Chinese food and Hong Kong dim sum.
Also, the garden is named as one of the World's Top City Gardens by National Geographic. People tend to visit the garden in spring since it is the awakening season according to Feng Shui — which the garden's design is based on.
Lunch/dinner: Visit the Taiwanese and Shanghai fusion restaurant Bao–Bei Chinese Brasserie to continue your tour of Chinese culture.
6:30 p.m.-8:50 p.m.: Drive from Chinatown back to Seattle.
Honorable Mentions:
Café Crêpe
Your best bet for breakfast can be found right on Robson street. Just a short walk from some of the city's main hotels, this restaurant is sure to satisfy lovers of both the sweet and the savory. Grab a bite to-go, or if you're dining in, take your pick of one of its many two-person booths.
Featuring an extensive menu of breakfast items, these crepes come fresh from the pan to your plate. With its lively atmosphere and walls featuring European art deco advertisements, this café serves up a true slice of France.
Tip: Some of their standout crepes are "French Toast with Brie," "Cheesecake" and "Original Sweet" (ask for this one with lemon juice and sugar).
House of Vintage
A few steps down the sidewalk from Café Crêpe is a shop which, according to their website, holds the status of "Canada's biggest vintage clothing store." Offering stylish apparel and knick-knacks from different decades, this is your one-stop shop for every kind of outfit imaginable — from 1950s dresses to 1980s jackets. Here, you can spend your time hunting for records, shoes, accessories and themed apparel, or gazing into glass display cases at collectibles from all points of history. Also featured is an entire section devoted to custom t-shirts.
Tip: On certain days, they hold sales on select categories of items.
Cactus Club Cafe
Looking for a lively dinner destination? Cactus Club Cafe has you covered. Another short walk down Robson street will lead you to this dimly lit, bustling restaurant that serves everything from savory steaks and seafood to decadent drinks and desserts. Here, you will find a blend of eccentric decor, loud music, and the occasional hockey game on television. Their friendly waitstaff can always be counted on to make sure your experience is a memorable one.
Tip: Don't miss out on their truffle fries — a satisfying side to any entree.
Prohibition (19+)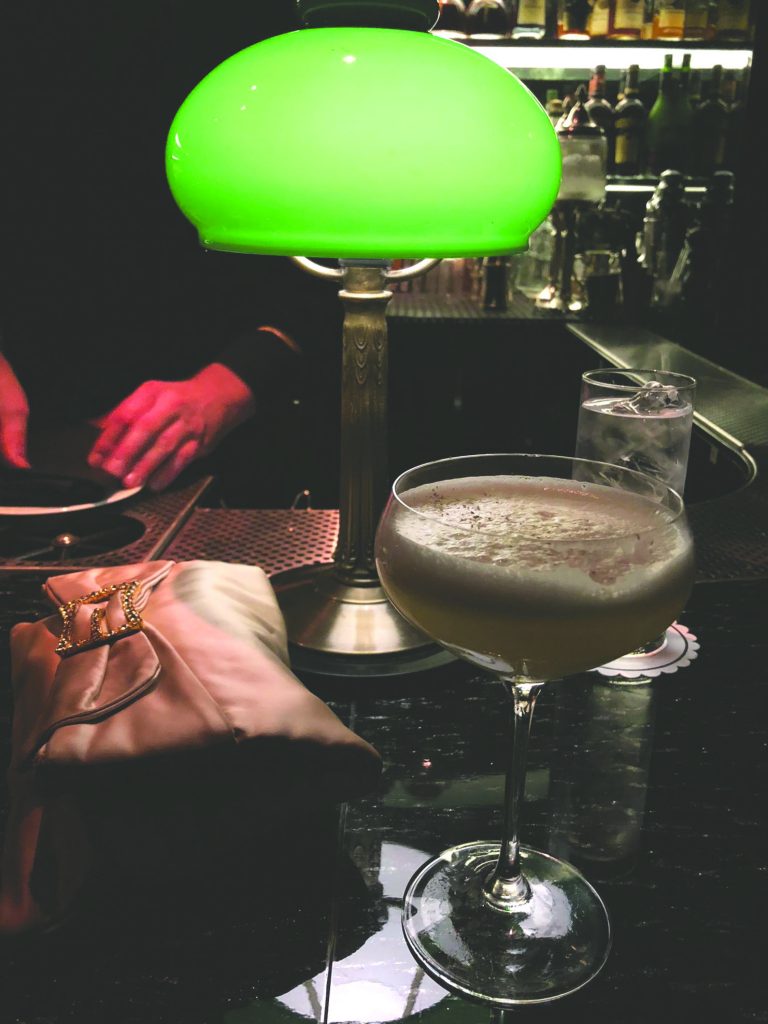 Walking into this cocktail bar is like walking straight into the 1920s — and rightfully so, as it is attached to Vancouver's historic Hotel Georgia. Crafted in the image of a speakeasy (right down to the slot in its front door), an elegant winding staircase leads you down to what is perhaps the classiest lounge in BC. Home to live music every Thursday through Saturday, this dark, intimate location is a must for your night out on the town. Green lamps line its marble bar, and secluded tables and chairs stretch all the way to the back of the room.
Tip: Invented in 1951, their signature Hotel Georgia Cocktail blends gin, orange blossom water, egg whites and a dusting of nutmeg to create an aromatic experience with every sip.
Nova Clark contributed to this article.