Making Home Away From Home
SECRET SUCCESSES OF THE INTERNATIONAL PEER MENTORS
Go ask an international student if they know what the International Peer Mentors (IPMs) are and almost 100 percent of them would certainly answer "yes." In fact, IPMs are the first recognizable students to every international student when they first come to SCC.
IPMs are a group of current international students whose mission is to provide comprehensive support to both new and continuing international students in terms of helping them succeed academically at SCC, according to Yushin Wung, who supervises the IPMs.
This year, there are eight IPMs who come from a variety of cultural backgrounds, such as Cameroon, Japan and Hong Kong. As leaders among their peers, they represent the voice of international students in the International Education (IE) department and are expected to understand what other international students are going through, Wung said.
International students who have visited the IE office are likely to have met one of the IPMs, as they are usually there to help answer students' questions and support the front desk. But they actually do much more than this.
IPMs are trained in leadership, such as team building, conflict management and event planning skills, during a five-week formal training during the summer.
In order to create a welcoming atmosphere at SCC, IPMs host different on-campus events which are open to both domestic and international students. Let's take a look at what they have done this year and don't be surprised to see an event you attended.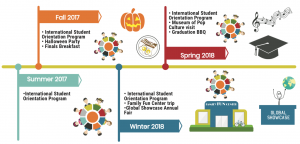 Summer 2017
1. International Student Orientation Program (ISOP)
ISOP is a one-week program held by the IE department before each quarter, and all new international students are required to participate. It includes a meet-and-greet and a campus tour, as well as test-taking and informational seminars about housing and immigration.
IPMs work with volunteers and IE staff as a larger team to help new students transition into SCC. Seminar presentations allow IPMs to share their experiences of studying abroad in the U.S. Last fall (fall is typically the quarter most students start their studies) there were about 250 new international students.
Fall 2017
1. Halloween Party
This was the first big event hosted by this year's IPMs, and it has been very popular for the last few years.
Not only was there music, dancing and a photo booth, the IPMs also led group games, a costume contest and raffle drawings. They collaborated with the International Club and Adventure Builders Club with their escape room and zombie house.
Throughout the party, IPMs aimed at creating a social environment for international students — "a place to make friends and help students to learn about Halloween in the U.S., which is celebrated pretty differently from other countries," Wung said. Including the volunteers, there were 260 people at the party.
2. Final Breakfast
"NO empty stomach is allowed on the finals."
IPMs set up tables on the third floor of the PUB in the morning during the three days of finals, according to their Facebook page. They provided free light breakfast items, such as cereal, yogurts, pastries and coffee for students to pick up before their finals. They did this in both fall and winter quarter, and a total of 350 students benefited from it.
Winter 2018
1. Family Fun Center Trip
IPMs resold tickets to the Family Fun Center in Edmonds to students at a discounted rate of $10 each, which also included transportation. There were arcade games, video games, mini golf, bumper cars and laser tag, all of which participants could play as many times as they wanted. A total of 36 students joined the activities. Wung said she believes students really enjoyed the experience, which could be seen when a lot of them played the same game multiple times.
2. Global Showcase 2018
The Global Showcase is an annual fair where IPMs invite students from different cultures to represent their countries by setting up booths in the PUB Main Dining Room. Students were given display boards they could decorate with pictures and information about their countries. Tourism, landmarks and food were some elements of the demonstrations.
Some students also joined the fashion show to showcase their traditional dress and the stage performances of singing and dancing. Sixteen distinct cultures participated in the event.
The purpose of the event was to celebrate different cultures represented on campus, according to Wung, and to provide international students a chance to share something about their homes, as students who walked in to see the exhibition were able to learn about other countries out of the classroom.
Spring 2018
1. Museum of Pop Culture (MoPOP) Visit
Similar to what they did for the Family Fun Center trip, IPMs plan on reselling tickets to MoPOP to students at a discounted rate of $10, which is a cut from their original student price of $27 and includes point-to-point transportation.
During winter quarter, the IPMs surveyed students' interest for different events and MoPOP was one of the highest results, Wung said.
2. Graduation Barbeque
IPMs and the Arts & Entertainment Board work together to hold this event every year, and this year, they are planning to have it in June, before commencement. The barbeque will be at a park off campus and will have free food and drinks. They will also try to borrow equipment from the gym, such as soccer balls and badminton rackets.
"(Students) can bring their friends and family to enjoy a little bit of downtime before they get back into finals," Wung said.
From a team of eight international students with few leadership skills, Wung said she has seen the IPMs develop and change in the way they think and communicate with each other. "They have a lot of great ideas that they're now able to articulate better," she said.
IPM Duy Nguyen said he was very introverted before being an IPM.
"(After becoming an IPM), I had to socialize with other people and I became more friendly and confident," Nguyen said.
For IPMs, their mission of providing "comprehensive support" means they have to help their peers not only academically but also emotionally in order to make students feel socially comfortable, according to Wung.
"When they are here and smile, they're also saying, like, 'Hey, Shoreline cares and we care,'" she said.
She also described IPMs as resources with their own experiences.
"(The staff) don't know what it's like to be an international student at (SCC) but they do," Wung said, adding on that this is what she always tells IPMs.
Through interacting with the IPMs, Wung said all of the IE staff learn a lot.
"Staff are here to help provide students with answers — advisers provide answers about academics, the front desk has the answers about logistical things and immigration staff has answers about immigration," she said, "but the IPMs are the answers to actual student experience."
Nannapas "Ploy" Muenprasitivej, who is an IPM from Thailand, said being an IPM is a great opportunity for students to improve both their intrapersonal and interpersonal communication. As she passes her position on to a new team of students, she said she expects the new IPMs to be "creative, outgoing, engaging and … willing to help every student."
Wung said she feels excited to work with a new team next quarter: "They would have new ideas … and they would want to change things and improve things," she said.
"(IPMs) help promote an atmosphere in a welcoming and celebratory environment (to show) that … we're happy that the international students are here participating," she said.
---
By Frances Hui,
Political Editor