Family Matters
STUDENTS GET REAL IN BRIGHTON BEACH
Whether it's the Great Depression or Great Recession, FDR or Donald J. Trump, family matters aren't always pretty. From 15-year-old Eugene Jerome Morris' perspective, he is the only bright, livelybeing in his female-dominated household.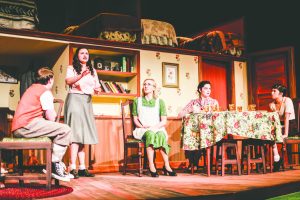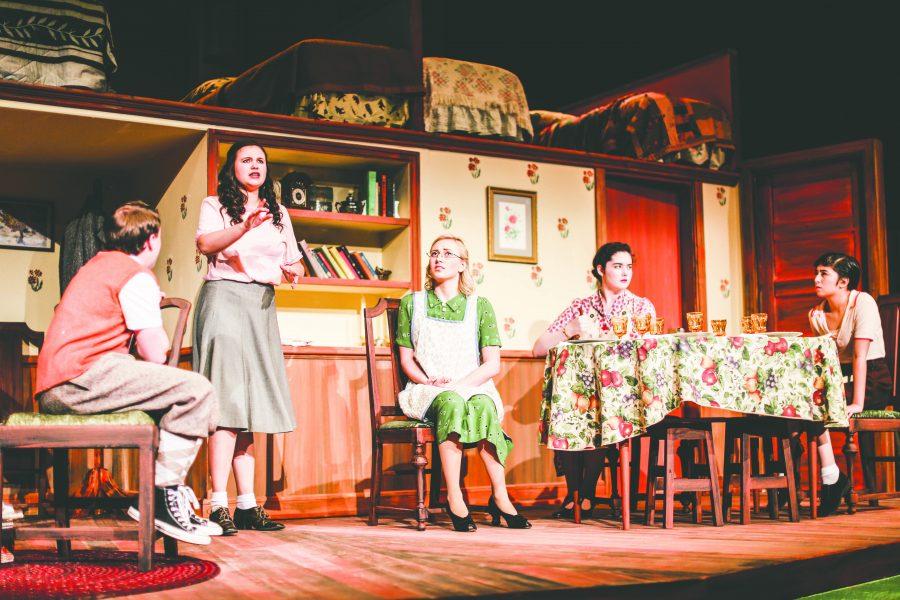 Eugene is the main character of "Brighton Beach Memoirs," SCC's most recent theatrical production. It is the first chapter within "The Eugene Trilogy," a semi-autobiographical set of plays, written by Neil Simon, following Eugene Morris from adolescence to adulthood. The plays depicts Simon during his youth in the Great Depression. The trilogy, and the 1986 filmdirected by Gene Saks, feature Eugene breaking the fourth wall to share his thoughts with the audience.
In SCC's production, student Carson Buck-Flinchum played Eugene, a New York Yankees enthusiast and aspiring writer, who opens up the scene by imagining himself as a Yankees pitcher, narrating his fantasy in his Brooklyn backyard. It is the year 1937, and Eugene begins his "inside thoughts" with discontent toward his not-so-Italian name — as all of the best baseball stars have italian names — and how the women of his family treat "the girls like queens."
As a young boy, Eugene faces common, yet confusing issues: He finds his 16-year-old cousin Nora attractive, he doesn't know what he wants to do after high school besides play baseball or write and, for some unexplainable reason, he is always blamed for anything that results in noise or chaos.
"Brighton Beach Memoirs" produced laughter and relatable situations, but its big focus was on the Morris family, a small group with explosive personalities.
Issues of honesty, respect and responsibility are not exclusive to only one character. The production weaves in the entire family, who all have opposing personalities that eventually clash against one another.
Kate Morris, played by Alison Letterman, is the iron-fist of her home and her husband Jack's right-hand, as well as the closest friend of her widowed sister Blanche Morton, played by Courtney Heuer.
Blanche's daughter Nora Morton, played by Camaira Metz, aspires to be a dancer. But despite years of practice and even being offered a chanceto star on Broadway, Nora's dreams are crushed when her mother does not allow her to pursue the opportunity. Heuer's character refuses to let her daughter be exposed to the dancing industry and wants her to receive a high school diploma.
Meanwhile Nora's younger sister Laurie Morton, played by Cassia Ward, is weak because of an unknown heart disease. As time passes, Laurie realizes that she has slowly forgotten what her late father looked like and even begins to question if she is truly as sick as her mother tells her she is.
Stanley, played by Tucker Leidholm, is the older brother to Eugene, as well as Eugene's greatest inspiration. Jack Morris, played by Dany Bracy, is the head of the house, a strong man with a heart of gold.
Through two acts, the Morris family slowly unravels themselves into their rawest forms. As the spotlight switches from Eugene to the membersof his family, the audience becomes engrossed in each and every character.
Family, love and internal conflict are the core themes within "Brighton." With family comes Pandora's box: an unleashed chaos that is both underwhelming and overwhelming for every member, with long-kept emotions exploding after years of being buried.
Kate and Blanche come to a standstill when Kate's overbearing protective demeanor begins to make Blanche feel as if she is just taking from Kate's life, as she must rely on her sister to take care of her and her family.
Meanwhile, Nora changes drastically into a rebellious teenager after Blanche decides that Nora cannot be a professional dancer, despite Nora'sintention of helping support her family.
Upstairs, on the second floor of the two-level set, in the brothers' room, Stanley battles with the issue of losing his job and how to tell his hardworking father about why he had lost it — because he was standing up for the values his father had taught him.
As everything unfolds, Eugenegives his own insight through voice-overs and soliloquies about the situation brewing in his once calmhouse. On the sidelines, Laurie contemplates the reality of living without her father and the question of whether her sickness is real or just a product of protection created by her mother.
The entire SCC cast brilliantly stepped into their roles and entrapped their audience. Real family issues were so prominent, I even felt my chest tighten at a few scenes between Metz and Heur's confrontations, a classic clash between mother and teenager.
Despite the serious tone of the production, Flinchum and Liedholm's performance as brothers provided a humorous break from their bleak situations. Eugene's obsession with naked women, specifically Nora, causes Stanley to lead him on a wild fantasy in his head and indulge his desires by giving him a photo of a naked woman.
The confrontations and resolutions between each of the characters felt genuine. The audience could feel the emotional intensity between Jack and Stanley, as the father both scolded and applauded his son's principled stand and subsequent job loss. The audience leaned forward and watched closely as Kate and Blanche let loose their internal struggles with one another, leading to an eventual heartwarming compromise.
"Brighton Beach Memoirs" plays with your heart in the best way possible. The characters were relatable and the family issues portrayed werecommon. Although I had left the theater with only the Brighton program in hand, the characters, and their bonds of family values, stayed with me long after.