WORKSHOP SHOWCASES STUDENT TALENT
On a frigid, gloomy afternoon, the lights dimmed in the SCC theater, leaving only a vague outline of the pianist to the right of the stage patiently waiting to play and fake sun owners hoping to be plucked.
The audiences' chatter died away as the darkness enveloped them. Below center stage, the all-black-clad orchestra listened for their cue. Phones were asked to be silenced and turned ff. Active movement turned to quiet fumbling for a comfortable spot.
The 2018 Opera Workshop was about to begin.
The opera workshop received its name because it functions as a "working" learning studio or classroom, allowing students to try out singing roles and gain experience for future performances. It was established in 1970 and Charles Enlow has directed the workshop since 2008.
The Golden Apple
Three scenes from the "The Golden Apple" hypnotized the audience. The production is based off of Homer's "The Odyssey" and "The Iliad."
SCC's version of "The Golden Apple" takes place early in the 20th century, at the foot of Mount Rainer, instead of Mount Olympus. The story takes place in Rhododendron, Wash.
Behind center stage, a large projection screen showed an idyllic, serene, grassy meadow. The large sunflower props were plucked by Helen, played by Kehla Grow, the tempting, irtatious wife of the sheri of Angel's Roost, Menelaus, played by Amin Fuson.
The young Helen impatiently awaits the return of her suitors from battle, who were fighting in the Spanish-American War. Waiting alongside Helen is the patient Penelope, played by Clara Todd, who wishes only for Ulysses, played by Trevor Eaden, to return to her.
In the first scene, in the orchards of Angel's Roost, Helen expresses how boring Angel's Roost is, and the small amount of any men around, in "Nothing Ever Happens in Angel's Roost." In turn, the three highly reputable women of Angel's Roost — Miss Minerva, Mrs. Juniper and Lovely Mars — express the opposite of Helen's thoughts in "Angel's Roost Has Its Situation." The three women were played by Kiana Burt, Nova Clark and Natalie Ositis, respectively.
Todd's performance in "My Love is on the Way" beautifully captures her long- distance yearning for her love who is finally coming home from his fight.
Furthermore, Grow's soulful "Lazy Afternoon" at her home left the audience
in a trance. As Helen nally gains some alone time with one of the returning veterans, Nestor, played by Danny Bracy, the audience is pulled into an extremely intimate moment that is dangerous and damning. As Bracy's character locks his arms tightly around Helen's waist while the unfaithful wife croons about spending time on their lazy day, when they turn for a kiss, the two lovers are interrupted, and rightfully so. The scene closes with Nestor shooed away from the young temptress, who is left alone at the conclusion of her lazy afternoon.
On the main streets of Rhododendron, Ulysses and the veterans make a pit stop before heading straight to Angel's Roost. Rhododendron Mayor Hector, played by Joshua Pulley, sends the men off into the city's dark cradle to enjoy its little pleasures. In an unsavory number called "Hector's Song," Pulley's performance was riddled with swinging dance numbers and a jazzy voice to go with it as he ridiculed morally corrupt men like Ulysses and his crew, while breaking the fourth wall with his audience.
As his number came to a close, Pulley's final phenomenal high note concluded "The Golden Apple" with a strong finish.
The Command Performance
The worldwide premiere of "Command Performance" concluded the opera workshop. Seattle composer Bruce Monroe created the production specifically for the SCC theater department. "Command Performance" takes place during Russian Empress Catherine the Great's monarchy in the late 1700s. All of Russia's aristocracy have become bewitched by European opera, they've formed their own opera groups consisting entirely of serfs (indentured servants) and even hired European maestros to lead and train them.
There is absolutely no talking allowed on festival day, so every conversation is held by singing.
However, Prince Vasily, played by Bracy, cannot understand why exactly there are singing serfs on the large estate. He attempts to ask the obnoxiously singing serfs for help so he can run away from his father Count Nikolai Volkov, played by Fuson.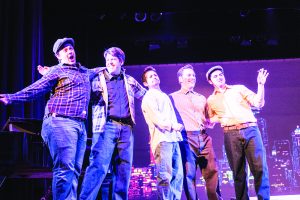 Vasily comes into contact with a talented group of serfs trained by a French maestro, also played by Fuson. Camaira Metz takes the role of Alexandra, who dresses like a stableboy and even goes by the name of "Alexi," envisioning herself as a hero instead of a damsel and taking charge of the operatic group that Vasily meets.
Alexi's brother Ivan, played by Eaden, composes his own music, fitting for
any situation. Ivan's major concerns revolve around his musical compositions and dealing with romantic feelings for a fellow serf, Marina, who is played by Todd.
Alexi deals with her own internal problems: she wants to follow in Empress Catherine's footsteps as a heroic woman.
The musical number with Empress Catherine and the singing serfs is hilarious and catchy. Fuson has taken on many roles at this point, but his jazzy interpretation of being a powerful monarch with a fur scarf was extremely memorable. At rst, Metz sings her prayer and the choir of serfs transition into a choir of angels, they then do a complete 180 and begin snapping their fingers and dancing to the snazzy change in tune.
As the imaginary Katherine helps resolve Alexi's troubles about herself, she disappears with a ourish, leaving the rest of us in the audience wondering what in the world had just happened — and what can we do to see that phenomenal performance once again.
Vasily becomes increasingly aggressive with the loud serfs, who only seek to help him, but who grow tired of his abusive behavior. Alexi leads the serfs into hiding Vasily from his father, throwing him into the empty stables along with her friends.
Count Volkov storms into the scene, demanding for the whereabouts of his son from the lonely Alexi. Believing she is doing the right thing and acting as the "hero," Alexi defends Vasily's location until she learns just how problematic he truly is.
Fuson's character adamantly warns the faux stableboy how dangerous his son is, especially to serfs. With this knowledge in hand, Alexi comes to a decision resulting in the arrogant and rude Prince Vasily participating in what he hates the most: opera.
In a private command performance, Vasily is forced to play the maiden in the serfs' operatic tale in front of his sitting father. The young man is thoroughly embarrassed while his father is thoroughly impressed with the serfs' composition. With Ivan being promised a position as a composer in Count Volkov's own opera group and Alexi being allowed to manage them, the performance comes to a happy end.
The serfs' performance was absolutely astonishing. Todd's high vocals were clear, like a songbird. Her voice resonated inside the theater when she took center stage.
Fuson's quick change in all three of his characters during the performance
was definitely a personal favorite. His stunning dance moves as Empress Catherine and intense "sacre-blu!" during his brief scene as the French Maestro were superb memorable moments.
To Conclude
Within an hour and 45 minutes, we were immersed in worlds beyond our own. The 2018 Opera Workshop was a fantastic display of SCC's theater students and staff. Enlow directed this year's production, as he has for several years before. Singing animals and a short but tasteful set of scenes from Homer's famous stories and complex serfs certainly made a long-lasting impression on that February afternoon. The SCC Theater Department displayed phenomenal vocal performances, hilarious one- liners and has left us looking forward to the next opera workshop.