Yu Should Know Him: Japanese Pitcher Throws Heat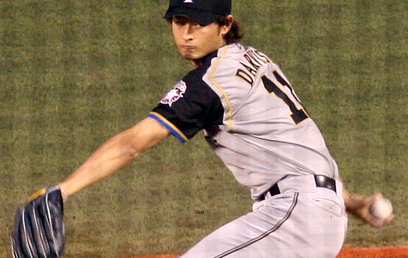 Yu Darvish just pitched historically poorly in his first World Series. Despite having a good run in the playoffs, he struggled mightily in his two final performances and joined Art Ditmar from the 1960 New York Yankees as  the only pitcher to have two starts of less than two innings in the same World Series.
His Dodgers lost the Fall Classic in seven games to the Houston Astros; for Houston, it was their first- ever championship.
Throughout his career, Darvish had yet to become a household name, at least in America. However, he was already well-known throughout his baseball- loving home country.
The Early Years
His birth name is Farid Yu Darvishsefat, and he was born on October 16, 1986, in Habikino, Japan, a city of about 100,000 people in Osaka Prefecture, to a Japanese mother and an Iranian father.
Darvish went to Tohoku High School amid heavy interest from other schools and became famous across Japan in his first year. He was heavily scouted by MLB teams throughout his youth.
He pitched well in some of the big high school tournaments, and that's where he gained much of his early notoriety. Darvish quickly became one of the most famous athletes in the country. Yutaro Shiba, a SCC student from Japan who is currently in the Trajal Hospitality College overseas program, remembers watching Darvish's high school tournaments at home on television:
"We watched every summer and spring," he said.
Pitching for the Hokkaido Nippon-Ham Fighters, Darvish continued his rise in Nippon Professional Baseball (NPB), the most prestigious league in Japan.
During international competition, Darvish showed that he could step up in high-pressure situations. He helped Japan take home the gold at the 2007 Asian Baseball Championship as well as the 2009 World Baseball Classic. In the latter, he struck out 20 batters (the most by any pitcher in the competition) as he helped bring home Japan's second WBC title.
"When he was a professional baseball player in Japan, he was very big," said Shiba. "He threw very fast, and everyone was excited." Shiba plays baseball himself and has considerable knowledge of the game.
"(My) friends and family members know who he is back home," Shiba said.
Coming to America
In 2012, the Texas Rangers acquired Darvish via the complicated MLB posting system, which is set in place to allow teams from the NPB (as well as the Korea Baseball Organization, South Korea's league) to get compensation when selling the contracts of their top players to Major League Baseball.
Texas posted $51.7 million just for the rights to negotiate with Darvish, and eventually signed him to a six-year, $60 million contract, as reported by Chris Smith of Forbes.
Oddly enough, in his first game professionally in the States, the first hit he allowed in the majors was to former Seattle Mariners' hitting machine Ichiro Suzuki, another legend from the NPB.
In the MLB
Darvish's pitching statistics can be a little deceiving. Among active players, he ranks fiftieth in career strikeouts; however, of the forty-nine players ahead of him, only six are younger. And this is even though he only came to play in America after he turned 25 years old.
He's only played in the MLB for five years!
Some of his advanced metrics are other-worldly. According to a Michael Baumann piece on the Bill Simmons-led sports website The Ringer, when the Dodgers made thedeal to get Darvish from Texas he held the MLB record for both K% (the percentage of times the player strikes out a batter they face) with 29.6 percent and K/9 ratio (nine times the player's number of strikeouts, divided by their innings pitched) with 11.04 for players with a minimum 500 career innings pitched.
"At 6-foot-5 and 220 pounds, Darvish is the best American-style power pitcher Japan has ever produced," says Baumann.
Japanese Players in the Majors
Since the 1990s there has been a substantial influx of Japanese players into MajorLeague Baseball, and that trend took off around 2002-2003. Ichiro is perhaps the best player to have made the move during this period, but there has also been a bevy of other greats such as Daisuke Matsuzaka, Masahiro Tanaka, Hideki Matsui, Koji Uehara and Hiroki Kuroda. This all happened after another Dodger, Hideo Nomo, opened the door for other Japanese players to make similar moves. "Hideo Nomo was a trailblazer," said Hall of Famer Tommy Lasorda in an Associated Press article from 2008. Lasorda managed the Dodgers in 1995, when Nomo made his debut. "He represented himself and his country to the highest degree of class, dignity and character. I am so proud of all he did for Japanese players."
The 2017 Season 
This year's World Series featured two of the best teams in Major League Baseball, the Los Angeles Dodgers and the Houston Astros. It marked the first year since 1970 that two teams with at least 100 wins in the regular season played each other in the World Series.
Darvish was traded on the last day of this year's trade deadline (July 31) from the Rangers to the Dodgers, the team who currently has the highest payroll in the league at just over $265 million, according to spotrac.com. In fact, both teams at this year's World Series made massive trades for pitchers at the trade deadline, with the Astros acquiring ace Justin Verlander mere seconds before the waiver trade window closed a month later.
Darvish pitched well in the playoffs leading up to the World Series. The Dodgers only lost one of their eight games with Darvish throwing flames, going 2-0 in his two starts with 14 strikeouts and wtwo earned runs allowed. He allowed only a single walk in 11.1 innings pitched.
"My host father likes baseball too, so we are going to watch Darvish pitch," Shiba said, excitedly talking about Darvish's first scheduled start of the World Series.
-CJ Priebe