Team's Dreams on Hold
WOMEN'S BASKETBALL SEASON SIDELINED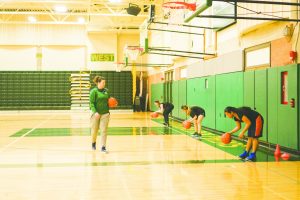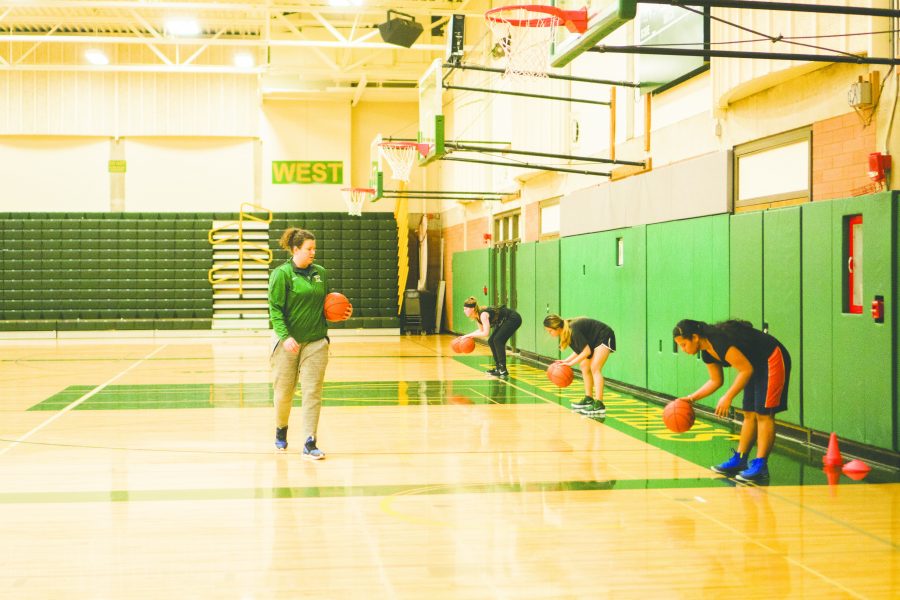 The Phin women basketball team has played their last game of the season. And they've only played four.
SCC's athletic department and the Northwest Athletic Conference (NWAC) have decided to suspend the rest of the 2017-2018 season for the SCC women's basketball team.
"It's a decision that was made based on injuries and low participation," said Steve Eskridge, SCC's athletic director. The final call came as a mutual agreement between SCC and the NWAC's Executive Director Marco Azurdia along with the executive board of the conference.
First-year Head Coach Amy Donovan got to campus at the end of August and started the season with a very small team. Only six players were on the roster to start the year, out of a possible 12 spots.
In such unique circumstances, Donovanutilized some creative coaching techniques. "That was one of the hardest things — stimulating any sort of pressure or game situation. We only had six players, so we were doing a lot of three-on-three where they could only use a quarter of the court. There was nothing to prepare them for this other team of five coming at them."
Of the six players, guard Brittaney Carrington suffered a knee injury early on.
She's a two-sport athlete with her primary sport being softball," Donovan said. "So we obviously wanted to be really sensitive to not have anything catastrophic happen to her knee — we were limiting her minutes.
"We had another player get a pretty severe concussion," she said, speaking about forward Tristan Davis. This left the team fielding only four players in the second half of two of their games.
A series of lopsided losses did not help the situation. Of the four official games the team played, three of the losses were by margins of over 100 points.
"A victory for us would be to lose by 80. I was happy to keep fighting, and the girls were as well. It really is pretty simple," Donovan said, "but with the caliber of the NWAC, the scores were not going to get much better."
Going into the NWAC Crossover Tournament at SCC, the Phins had four games in six days and only four healthy players. The official SCC team disbanded on Dec. 13, 2017.
Donovan recruited some of the team's alumni as well as local women's league players to fill out their roster for the tournament and on the bright side, that team, temporarily dubbed "Shoreline All-Stars," won their last game of the tournament, beating Highline 53-50.
Another reason for suspending the season came out of a concern for how the other teams felt.
"That's an uncomfortable position for those teams to be in as well," Donovan said. "They want to play hard, but
there is a thin line between insulting teams by taking it too easy, but then if they play way too aggressive nobody gets any better."
"The improvement the players made was unbelievable," Donovan said, "But they were starting from behind where the other teams in the NWAC were because we had one recruit, no returners and five walk-ons. We were going to be fighting uphill all season while those other teams in the NWAC were going to continue to improve, so the gap was not going to close."
Eskridge has seen this kind of thing before.
"You'll see that anytime you have a transition like that (from one coach to another on short notice), you're going to have a down year or two," Eskridge said. "Realistically, it really takes a first-year coach coming in almost three years to really develop a rhythm for the conference that we're in and establish a program. It doesn't happen overnight."
Donovan does not decry the situation she has found herself in.
"It gives me time now. Rather than preparing for our next game, I'm getting out to high school game after high school game to see recruits so we can bring in what's hopefully a loaded class."
A smile crosses her face as she thinks about the future of the program.
"At the junior college level if you get one great class you can go up to first. And so we're going to build and turn it around. We should have three returners coming back next year, and then we're going to fill up a class around them."
She hopes to have a full squad of 12 by next year's opening game in November.
The women's side of the basketball gymdoes not lie dormant; the team is already preparing for next season. Two hours a day, four days a week, they can still be seen lifting weights in the gym, running as a team and continuing to learn the fundamentals and tactics of college basketball.
The pieces are in place. The Dolphins will rise again.
---
By CJ Priebe,
Sports Editor