Ever since the first drivers rounded the track at Valentino Park in 1946, Formula One (F1) has become a symbol of speed and top performance around the world — and deserves your full attention if you haven't yet been introduced.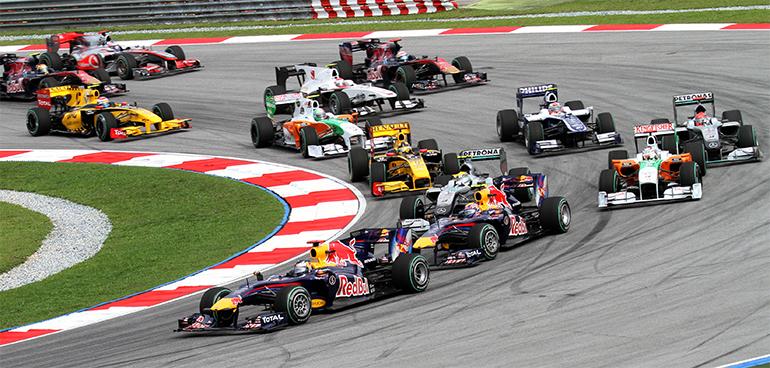 The History
F1 is the world's most popular motor sport.
The name comes from its sustained status as the top tier of racing, with the combined elements of each car meeting one standard formula. This is also why the lower denominations of the sport are called "Formula Two," "Formula Three" and "Formula Four."
It has been immortalized in movies such as "Rush" (2013) and "Grand Prix" (1966), which showcase both the timeless glamour and tragic fallout of the fastest sport around.
Run by the Fédération Internationale de l'Automobile (FIA), each race is referred to as the Grand Prix ("Grand Prizes" in French). Widely popular in Europe, the sport only has a niche following in North America — although the recent launch of F1 TV, their new subscription service, is expanding its reach in U.S. markets.
A Sport of Distinction
If you grew up in America then you are likely familiar with NASCAR, which features stock cars racing around a single inclined loop. F1, however, pushes the boundaries with long, winding tracks that feature a mixed bag of corners and straights, often set to a backdrop of scenic locations and sometimes even borrowing city streets as tracks (such as those in Monaco and Singapore) in the process.
The cars themselves are entirely unique. Far skinnier and more aerodynamic than the stock car with two sets of wide fins on each end, the driver sits in the vehicle in a near-horizontal position in a space not much wider than a canoe.
When watching a race, it can be easy to forget the sheer skill and endurance that is necessary.
The difficulty that comes with merely driving these cars — let alone racing them — was made slightly more comprehensible for the average person in season 10, episode seven of the popular BBC series "Top Gear." In the episode, co-host Richard Hammond gets the opportunity to test drive a smaller-scale world series car but already experiences muscle difficulties and slow reaction time upon rounding the corners.
He then gets the chance to drive an F1 car, but is told by race team boss Jonathan Lewis beforehand that the experience will be amplified more than three-fold.
Not only is it difficult to drive, but the F1 car has to be moving fast enough to retain the heat in the tires in order to perform accurately, meaning there's no turning back once you've set off.
How the Races Work
There are currently 10 teams on F1's roster, with two drivers signed to each. While watching a race, different teams can be distinguished by the car's appearance such as Ferrari's recognizable red paint, Mercedes' silver and bright blue color scheme and Red Bull Racing's distinctive logo.
Despite being teammates, each driver will still battle each other on the grid for the most points, bringing them closer to the driver's world championship.
A season consists of around 20 races, each held in a different country, with each F1 race weekend divided across three days: practice, qualifying and race day.
Practice on Friday consists of two sessions; the second of which is to prepare the cars for Saturday's qualifying, which determines the order the cars will be situated on the starting grid for Sunday's race.
While watching the race from home, there is plenty to keep the viewer from getting confused. Not only are there two regular commentators who will set the scene, but there is also a chart to the left side of the screen with driver names, along with their placement in the race and the number of seconds they are behind the next driver.
The coverage will also frequently cut to on-board views of the drivers' cars and will even tap into their personal radio feed if the driver speaks with their team about something notable.
After a race, the three top finishers take their place on the podium. This ceremony is always grand, featuring the national anthem of the winning driver's country.
Drivers to Watch
Lewis Hamilton (U.K.) has been an F1 driver since 2007. With five World Championship wins to his name, he drives for Mercedes and is well on his way to securing the title again this year. Hamilton is a very humble winner and expresses gratitude toward his team immediately upon winning a race. In a 2018 interview conducted by Giles Richards for theguardian.com, Mercedes team boss Toto Wolff described him as "a complex individual."
At 21, the age of many students here at SCC, Charles LeClerc (Monaco) drives for Ferrari and has been quickly making a name for himself — namely with his impressive first place win at the Belgian Grand Prix on Sept. 1.
Max Verstappen (Belgium), who is just barely older than LeClerc at 22, drives for Red Bull and has amassed an impressive streak of wins in recent years. His keen eye and calculated decisions make him a skilled driver.
Kimi Räikkönen (Finland) has raced for F1 since 2001, and currently drives for Alfa Romeo. One of the longest-tenured drivers on the roster, he is set to retire soon — but it is fortunate that fans still get to experience his last historical races before the changing of the guard.
Sebastian Vettel (Germany) is another F1 veteran who just recently won a race in Singapore, where he hadn't won in three years. Driving for Ferrari as LeClerc's teammate, his style on the track is uniquely mild-mannered.
Becoming a Fan
In the U.S., platforms to watch F1 are limited save for sports channels such as ESPN which will occasionally air select races.
However, formula1.com offers an excellent resource for each practice, qualifying and race with their F1 TV feature. Once subscribed, you can catch everything from standard coverage to onboard footage of every driver.
In the current season, the drivers have just finished a race in Sochi, Russia. The next race is scheduled to take place in Japan on Oct. 13.
The basic subscription for F1 TV is $2.99 a month. If you don't have the subscription, fear not: You can see your first F1 race by tuning into ABC on Nov. 3 at 11:10 a.m. to watch the U.S. Grand Prix  — it will likely be worth the ride.