Setting New Goals: SCC women's soccer team kicks back
Three games into the season, SCC women's soccer already had exceeded their 2018 season totals for goals and positive results.
A very late coaching change, no returning players from the 2017 roster and a rash of injuries to the already-miniscule roster: 2018 was a season to remember for all the wrong reasons. The Phins finished with four goals scored, 111 allowed and a string of blowout losses only interrupted by a single, lone, scoreless draw.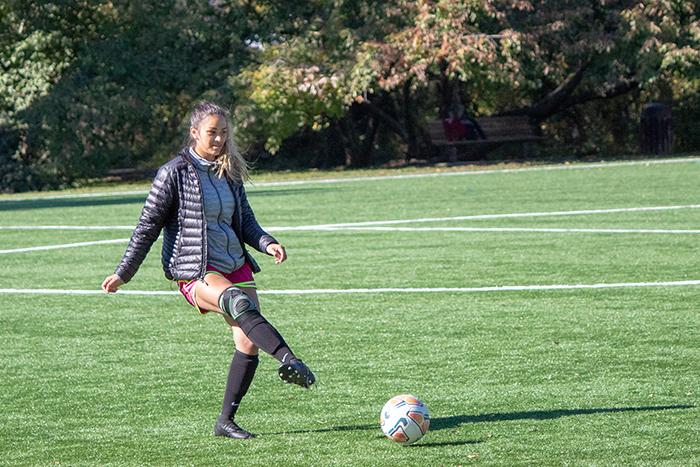 Substitutes were completely out of the question. At best, the team might have the full starting 11 and nobody else. They were often playing with just eight players, and had to forfeit one match with only six healthy players available.
With so many holes on last year's team, sophomore Xeindria Chandran played everywhere. Forward, midfield, defender — even goalie. With a full roster this year after a heavy year of recruiting by Head Coach Shaun Warner and his staff, she's back at her traditional center forward position.
Surprisingly, talking about pushing through last season didn't seem to bother Chandran at all. Not that she doesn't care about results — she says she just loves the game.
"I always want to keep playing, because I know if stay in it, people would follow and stay in with me," Chandran said.
SCC's season so far hasn't been spectacular by itself: one win, three draws, eight losses. But this is a major improvement after a winless season which could have been cancelled due to a lack of participation.
"When we're on the field, no one turns on each other," said sophomore defender Jasmin Montiel. "We just motivate each other."
One player Warner points to as really taking advantage of an opportunity is freshman Kelsea Eby, who has solidified the defensive midfield position after another player went down with an injury.
"She was not a starter and did not get very many minutes early on," Warner said. "Now she's a crucial part (of our team), playing an important position of holding midfielder." He added that she's done a lot to get better, not just in practice but also off the field by staying in better shape and having a better diet.
Barring a remarkable turnaround, this team isn't going to win any championships. But if they go down, it'll be while fighting as a complete team.