Kicking Off the Year Right
Men's soccer to resume play in fall 2022
In early February, SCC's men's soccer team was voted to become reinstated following a two-year hiatus.
The decision was made during a presentation and proposal led by Athletic Director Steve Eskridge and Dean of Student Support & Success Derek Levy to the SCC Executive Team.
In 2020, low GPA among male players and the high maintenance cost of SCC's field preceded the termination of the men's soccer team, according to a 2020 Ebbtide article. Additionally, a 2020 KIRO-7 article declared the call was due to a decline in student enrollment that year which resulted in $2.3 million worth of budget cuts.
The eleventh-hour victory is undoubtedly a cause for celebration and a hopeful glimpse into the coming school year. Though challenges resulting from the reinstatement are inevitable, they present an opportunity for fresh eyes — and fresh feet, as the men's team will consist entirely of new players and new leadership.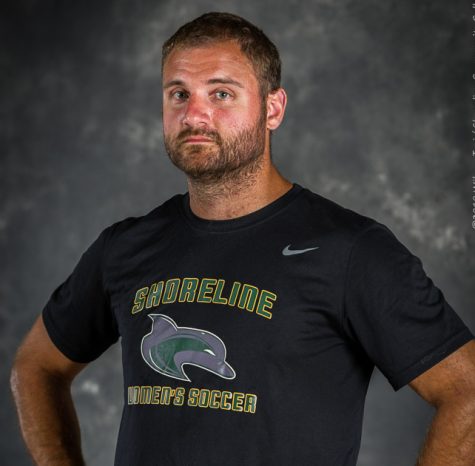 Shaun Warner, current head coach of women's soccer and recently-appointed head coach of men's soccer, delves into his coaching style, practice methods, expectations for players and the importance of team culture in a March 1 interview with the Ebbtide.
This interview was lightly edited for clarity.
Can you describe why you decided to take on the role of head coach of the men's team?
Warner: I wanted the men's soccer program back. It's such a popular and awesome sport. I have a unique quality to teach life skills through the sport of soccer. I have connections on the men's side because I coach an older boy's team at the premier level. I'm also the high school coach over at Shorewood and knew I could help bring in players pretty quickly especially with how late we had made the decision [to reinstate the men's team]. I like new challenges and bringing something back and doing something that hasn't been done in a while I'm excited about.
How do you plan to build trust and respect among players and ultimately unify as a team with the recent return?
The very first thing is creating a culture that we can be proud of. On my women's team we have three things we stand for: Number one is family. Every team should say that, but it's a big deal to us. Number two is the desire to compete, and that's on and off the field: in the classroom, in training, in everything we do. The third is discipline. We don't treat it as a negative word — let's just control the things we can control. We want players to set goals and understand what things are taking them away from achieving those goals.
We've all heard the saying: "A team is only as strong as their weakest player." When coaching an entire team, how are you able to cater to individual players who may need more attention when it comes to improving their skills?
That's a great question. When it comes to season play, we cut our training sessions 30 minutes short and that time is for the players who want the extra work. The ones who want to stay have a whole coaching staff that wants to help. The other part is open communication. If a player wants to improve and get more playing time I ask, "Okay, what are we going to do about that? How are we going to change that? How can I help?" Sometimes you have to be a little hard on them: "Coach, I'm working really hard at practice." "Okay, who on your team isn't?"
What are the best ways for those interested in joining the men's team to begin preparing before tryouts?
For sure, fitness — that's a big one. Also strength training and getting touches on the ball. Anyone I'm recruiting I'll send out workout and ball skills videos they can do on their own. Those who use those will have a great first day of practice, those who don't will hate me.
Any last words of advice for those considering trying out for the men's team?
Confidence is a big thing. As long as you're going out there and practicing on your own, getting touches on the ball and working on fitness, you'll be perfectly fine. It's exciting and I hope you love the sport.