Students Spring to UW for Cherry Blossoms
The long wait is eventually coming to an end: the drizzling, downpours and snowy days are over. Since springtime has arrived in Shoreline, blossoms have manifested in certain neighborhoods. Some SCC students, especially those living in on-campus dorms, may experience some difficulties noticing the arrival of spring since there aren't many cherry blossom trees around the campus.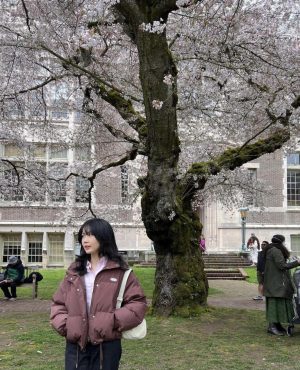 Individuals can do some springtime activities by visiting the cherry blossoms at the Quad on the University of Washington (UW) campus where it is open for anybody with no charge. Individuals can easily take buses from the SCC bus stop, and reach their destination. The Quad is so spectacular and attractive that during the new student orientation for this spring quarter, the college provided a Seattle tour where visiting cherry blossoms at UW was included.
Ashnah Anesh, an international student leader who accompanied newcomers during the trip, said, "We thought students would enjoy seeing the cherry blossoms which come around only once a year" and then continued, "The place was really beautiful and worth the visit… Probably the most favorite thing for everyone to do is click pictures."
"It's so beautiful and unreal, cherry blossoms are not common in my city so it was a great experience seeing many trees blooming at once." Anh Duong, an international student from Vietnam shared her experience after visiting, and then said, "It's definitely worth a visit during this spring if you wanna see cherry blossoms, the experience might encourage you to study in UW since the campus is really pretty."
Benjamin Mui, a full-time student from Hong Kong now entering his third quarter at SCC, says, "I definitely recommend going during peak bloom for other SCC students. For the two days I went, one was sunny and one was cloudy. Both had very different vibes and aesthetics, so pick and choose what suits you and your schedule. Perhaps just visiting UW's Quad is enough motivation for students to work harder to get to study in such a pretty and well-rounded campus, just like it did for me."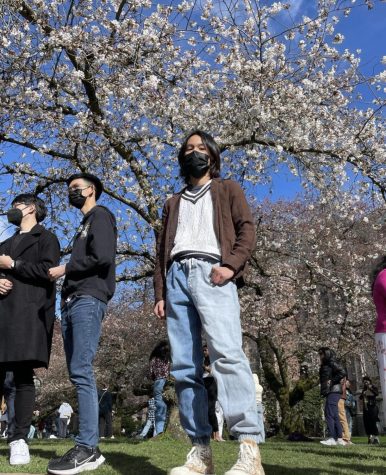 Tan Solip Chea, a student from Cambodia, shared what she had experienced, "The cherry blossom was beautiful. It looked way better than what I'd seen in photos. A lot of people were there to see the cherry blossoms, so it was a little crowded. On the day that I went, there were so many shiba inus roaming around, so that was a bonus." and then continued, "People can do lots of activities there. They can take pictures, have a picnic, hang out with their friends, or just chill under a tree with a book. It's a great atmosphere to do anything you want, plus the scenery is amazing."
The blooming of cherry blossoms is an incredible way of welcoming the arrival of spring, yet springtime is not meant for everybody. Even though it is an amazing, enjoyable outdoor scenery with sunny temperatures, there are some people who are and/or actively fighting with spring allergies. No worries, read this Article of Springtime Sadness: Tips on How to Survive Allergy Season.