SCC Debuts Student Artists' Work
The crowd buzzed in the campus' Admission Lobby (Building 1000), with the music department's DJ in its background. Family members, junior students, professors, faculty and the five artists themselves thread around to showcase the works they have chosen to display on the walls of the gallery.
The AFA Portfolio Show, will last from May 15-June 9 2023, aims to provide Shoreline Community College's student artists an experience to showcase their top-tier pieces created throughout their journey in SCC's Associate of Fine Arts Degree.
Professor Claire Putney, the Professor in SCC's Art Department, explained that the exhibition is a part of the Art-290 (AFA Portfolio) class, "by this point they have completed most of their visual art studio class course work, so that they have at least 20 pieces that will become a part of their portfolio."
According to the Professor of Photo Visual Arts and Gallery Director, Zach Mazur, there is no specific theme towards this event allowing students the freedom of bringing their artistic voice from their individual backgrounds and learning how to be both the visual communicator and present their art to others. "Art is a very powerful way to sometimes talk about difficult subjects. Art tends to bridge all the gaps for people." stated Mazur.
Samira Pardanani, the Associate Vice President of International Education and Global Engagement, was also present in the Artist Reception. "It's fantastic that they have the opportunity, it's almost like the real world but still on training wheels a little bit so they've still got help from their faculty and the department." Pardanani felt that this event is, "good practice as they go out to the real world exhibiting their works"
The pieces derive from traditional drawing and painting portraits, to digital pieces and even photography. Six out of Seven of its featured artists were present in the Artist Reception on Thursday, 18 May 2023. As Claire Putney, a Professor in SCC's Art Department, "by this
They presented their works to many faculties as well, bravely exposing their feelings and how they felt within their works.
Asena Veselova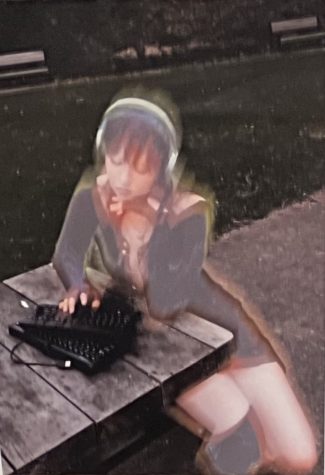 [Apricot, 2023]
Asena Veselova's portraits are self-portraits that experimented with various saturations, lighting, and layering in photoshop. She finds that her adventurous nature along with her chaotic personality drives most of her creative creations. This was Veselova's first exhibition. "I came here and I wasn't sure what I was doing, I took art classes and then I realized I like photography." Asena's father is also a photographer so it had some influence to inspire her decision.
Even in the freezing weather, Veselova's artistic instinct convinced her to go capture the piece. "I was walking, and I was just like I'm gonna go and sit in the water." In this picture, Asena felt like she was "merging in water". "I was laying down on the floor in my apartment, and I just layered it together."
[Waves, 2022] [Cold, 2023]
Ashton Wisner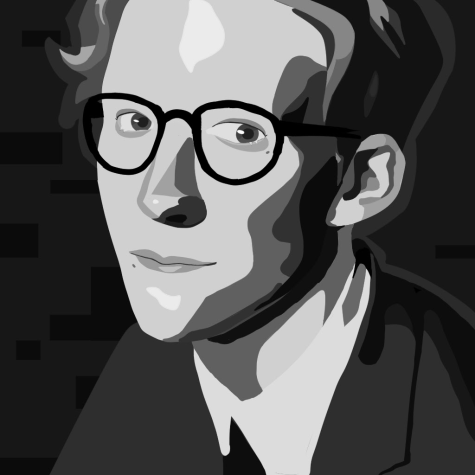 [Just a Man, 2023]
Ashton Wisner is a Trans Artist who perfects his work in digital arts and still aces in the skills of traditional drawing, which was a display in one of his pieces in the exhibition. Wisner preferred digital arts as it is very accessible. He is delighted to see how they are more recognized in the current times, opening new doors of occupation to digital artists like himself and showcasing digital art in museums. Traditional art is always rather costly, you would always need more supplies of paint and charcoal as it would run out by each creation you produce.
Wisner points towards the semi-realism piece of a man looking into his reflection embedded with the words "not my face" a lot of times. "I find that this one resonates with me most because this is supposed to deal with the topic of being Transgender," which is in close counters with his orientation.
"Shoreline has been a really nice place, a lot of the professors have been very kind to me. Especially with this piece right here." he pointed towards his piece The Man.
Wisner explained that it was supposed to be a traditional project. Unfortunately his mother had to be hospitalized for a month which diverted his ability to create the project he was required to do. Thankfully, the professor had kindly allowed him to create a digital form of work instead.
The whole artist reception felt like a success. The gallery felt like a secure haven, each artist introducing family members to their works, and juniors are spotted looking around inspired by their seniors. Max Rivas, a first year student in Shoreline's Fine Arts Program, mentioned how he "loves seeing all the creativity that people have." seeing those who are more experienced in this line of work was a blessing. "I am going into art, it is wonderful to see the various different art you can make."
[Sleeping Lovers, 2023] [Decay, 2023]
Professor Mazur also explained in the interview, and repeated it in his speech in front of all the guests, his brief encounter when he was installing the art show a week prior to the event. "There are two highschool students that walk through here," their conversation was "Wow, this makes me want to come to Shoreline and study art."
Mazur encouraged that, "those are the kinds of things we hope to grow here too," Mazur assures that they would continue to grow the program and grow our students, providing them with more opportunities like this exhibition and workshops from professional artists in the future. It is truly a magnificent jump start to the careers of these seven artists, but perhaps implementing such a grandiose occasion could be placed in a more open-area where students could actually stop by and witness the artworks when they go through their classes.
Nevertheless, the artworks are still around up until the 9th of June 2023 in the Admissions building which shall be open from Monday-Friday (9 A.M.-5 P.M.). They may no longer be pizza, sushi, pops or music, but the resonating creativity of these seedling artists would linger alongside their spectacular pieces.