The Art of Failure: "The Producers" Comes to SCC
Why set out to be the best when you can be the worst?
That's the grand plan for Max Bialystock and Leo Bloom, the main characters of "The Producers," SCC theater department's upcoming show.
"The Producers" is a 2001 musical stage adaptation of the 1968 movie of the same name. Both the play and the movie were produced by Mel Brooks but Thomas Meehan helped to produce the musical adaptation.
Bialystock, a failing Broadway producer, and Bloom, his accountant, have a grand evil scheme to produce the worst musical in the world after Bloom realizes it could make more money than a successful one. They set out to find the worst directors, writers and cast.
They raise millions of dollars to "fund" the musical, which they are actually planning on shutting down after the first night so they can take the rest of the funds and run away. What they don't count on is that it turns out to be a big hit.
"The Producers" is a comedy, but it also includes the story of a friendship that ends up developing between Bialystock and Bloom, two men with opposing personalities.
Bloom will be portrayed by Carson Buck Flinchum, who commented on the fact that his character is "a chicken, a coward." Flinchum's one word description of the play was "risky."
Trevor Eaden who is playing Roger Debris, the "worst" director, said that because the show is a Mel Brooks musical, "the music is just huge and fireworks."
Noah Bruckshen plays Debris' assistant, Carmen Ghia. Ghia and Debris' contribution to Bialystock's play was to "make the musical as gay as possible."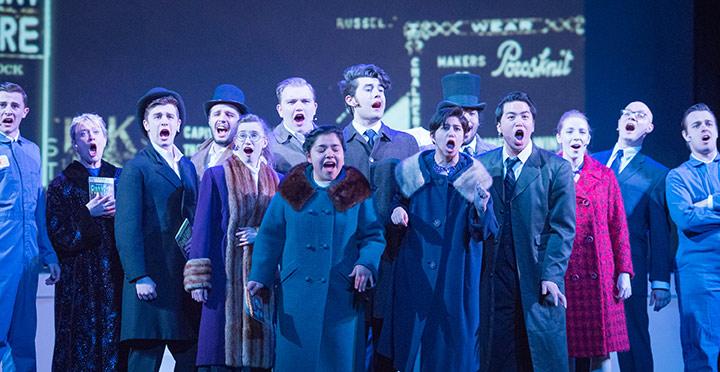 Putting on a show (left to right): Lukas Poischbeg, Carla Swedish, Tucker Leidholm, CJay Roundy, Erin Smith, Garrett Hall, Anna Pareja, Staggerlee Cole, Cassia Ward, Amin Fuson, Ferandi Yennas, Cassie Stires, Dima Pogrebniak, and Danny Bracy (Photo by Martin Musialczyk)
According to the New York Times, "The Producers" is, "To put it simply, the real thing: a big Broadway book musical that is so ecstatically drunk on its powers to entertain that it leaves you delirious, too."
Just a warning, this musical is full of gags playing around Nazi Germany, with one scene involving a dancing and singing Adolf Hitler accompanied by his Nazi stormtrooper dancers.
Mel Brooks, the musical's composer, is a Jewish man. Eaden commented that this was Brooks' way of "getting around it (the brutality of the Nazis)."
Bruckshen added, "It's made to be something to laugh at."
Nate Thomsen who plays Franz Liebkind, the "worst" writer, said his character is the reason why the musical has so many tributes to Nazis.
"To put it lightly, I'm a former Nazi," Thomsen said. But he was quick to clarify: "The character, not me."
That's the reason why Bialystock's musical "glorifies the crap out of Hitler," according to Thomsen.
Both Flinchum and Thomsen were really excited when they learned that "The Producers" was coming to SCC. In fact, the movie is one of Thomsen's favorites.
Flinchum says that they have a "chummy" cast with "no divas." Rehearsals have been "demanding," according to Bruckshen, but "they're getting it done."
Bruckshen said that everyone has to come and see their version of "The Producers" because "they do it justice."
Thomsen said that in this play, "They make fun of everything," and added, "If you can take a joke, you will have a good time."
They were nervous the first couple weeks of rehearsals because they had so little time but now "everything is coming together."
"Please come," Thomsen said. "It'll be really funny, especially when the world is not the best place, humor and comedy help lighten people's hearts."
SCC's rendition of "The Producers" will run May 12-21, every Friday, Saturday and Sunday. On Fridays and Saturdays, shows will be at 7:30 p.m., but on Sundays it will be at 3:00 p.m.. The performance will be on campus in the theater (1600 Building) and SCC students and faculty get discounts. To get tickets, go to brownpapertickets.com.
-Madeline Kimberly
Photo by Martin Musialczyk