Spring Break is the time for civil rights landmarks, museums, and historic churches, according to flyers blanketing campus. While Seattleites trudge through another misty March, most dream of traveling to Ibiza, Bermuda, or the Seychelles, not Alabama. Domestic students familiar with Study Abroad might be wondering, "What's so abroad about Alabama?"
"There's plenty to do right here in this country", according to Professor of Communications Studies Brooke Zimmers, who will be teaming up with Professor of English DuValle Daniel, to spend their spring break, not at the beach, but driving a tour bus. You're encouraged to sign up to ride with them.
Their itinerary follows a portion of the Freedom Trail that winds its way through Alabama, from Anniston, where the bus of Freedom Riders was attacked and burned by white supremacists, through Birmingham and Selma, to Montgomery, home of the Rev. Martin Luther King Jr.'s Dexter Avenue King Memorial Baptist Church.
"It's really important for [students] to understand why people are talking about gerrymandering and voting rights," says Daniel. Alabama was the home of some of the most revered leaders of the US civil rights era; who marched, sat in, boycotted, and endured fierce oppression and violence. "This is not ancient history. … There are people walking around today who participated and whose parents weren't able to vote until they were like in their 30s."
The journey is a personal one for Daniel: Born in Mississippi, she was raised in Huntsville, Alabama and went to a segregated school there that was integrated during her second year. "I was like about 4, I think," she recalled of the civil rights marches for voting rights she attended. "I marched! Both my parents worked with [the] NAACP, they registered people to vote and they knew Medgar Evers." Evers was a leader of the NAACP in Mississippi and was assassinated by a white supremacist in 1963.
Students interested in joining Daniel and Zimmers can attend an informational meeting on Wednesday, November 15 at 1:30pm until 2:30pm in the Admin building, Room 1101. You'll be able to ask questions and learn more about the program from the professors and Colleen Ferguson, the Special Project Lead of International Engagement at SCC.
Scholarships will surely be a hot topic of conversation, as the costs for the trip run $1,775, which includes airfare, and food and lodging for 7 days and 8 nights. Ferguson encourages International Students to apply, "The college, through the College Foundation, is offering a scholarship that is open to international students and domestic students." There are many opportunities for domestic students to apply for scholarships. The financial aid department urges students to apply, "as early in the process as possible," according to the Study Abroad Scholarships page.
There are some prerequisites. Students earn credit for the class by signing up for one of the three required Winter quarter classes, "they'll get the credits by being enrolled in in one, or they could be enrolled in all three classes" during the upcoming winter quarter, says Zimmers.
Required class(es) to take during Winter Quarter 2024 (at least one):
Zimmers' Communication for Social Change | CMST 203 (Online Hybrid)
Daniel's African American Literature | ENGL 247 (Online Online)
Daniel's Composition II: Reasoning/Research/Writing | ENGL& 102 (Online Online)
(If you've already taken all three, contact [email protected] for other arrangements.)
Spring Break in 2024 runs March 22nd through 29th, between winter and spring quarters. When students return, they will be asked to sit in for a "panel presentation in spring quarter," says Zimmers, "to come share with the campus what their experience was."
For students on the fence about making Spring Break plans before they've finished their Thanksgiving dinner, Zimmers suggests, "they can think about it through Christmas, talk to the grandparents, get some Christmas money and plan for it." Signups end January 17th, "We have that first week with our classes to recruit."
"We've had actually a couple of colleagues that want to go," added Daniel.
"Yeah," Zimmers quipped, "we told them they had to take our classes.
Editor's Note: Some of the materials and printed posters originally listed the date as Wednesday, November 17th, which is not a date in 2023. Wednesday, November 15th is the correct date of the event.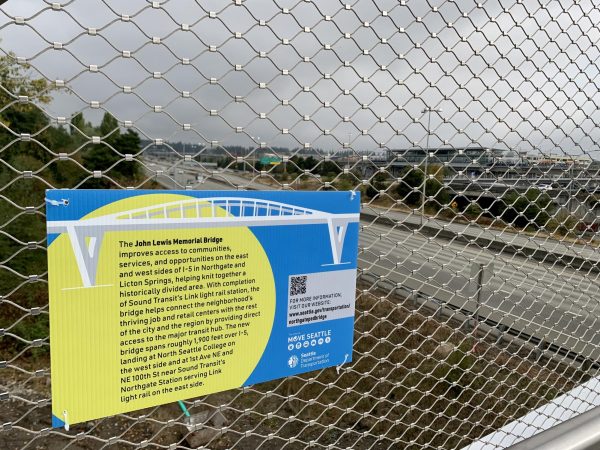 Civil Rights Leader Landmarks in Seattle
Seattle has its own civil rights legacies and ways of honoring civil rights leaders past and present. Medgar Evers pool in our Central District, on 23rd Ave, next to the Garfield Community Center. The John Lewis Memorial Bridge connects the Northgate Link Light Rail station to North Seattle College.
[Correction: The article was edited 10 Nov. 2023, 2:10pm to correct the misspelling of Professor Zimmers' name.]