New ASG Officers- Acting in the now, thinking for the future
By Cendri Johnson
Photo by Martin Musialczyk
It's the start of a new year and Shoreline Community College has brand-new student government officers. So, who are these people really? We see their faces on various web pages for the school, on-stage speaking at events, and even on the wall monitors in the PUB. But I, like many others, would certainly like to know that there is more to my student government than just a bunch of pretty faces. So, that is precisely what I set out to explore. The following is an overview of some of the ASG officers for this year.
Lee believes he is well-qualified for his position, given his prior experience and accomplishments as the club affairs officer for, having improved the system to have "easier access for students to submit their applications [to create clubs]" and "better communication between the club leaders to the associated student government."
One thing you may have noticed about Lee is that he often ordains his outfits with a tasteful choice of scarves. According to Lee, there's no particular thought behind the scarves: "I just like it, it's my character."
Lee wants to "address more racial issues around campus." He spoke of possibly holding "an educational week about different social justice issues" to further embrace our diversity here on the campus.
One of the first things Lee is working on for this school year is coming out with an ASG "Student Life" newsletter for "increasing our transparency … giving student updates on … events, projects, initiatives, and as a platform to communicate with our students."
Lee also reports that "we will, of course, have some [form of] letting students fill out a survey or respond on the survey and give it back to us so that it's two-way [communication]." The ASG is also currently working on renovating the furniture in the PUB.This is Lee's last year at SCC — "I am not running again anymore" — after which he plans to go on to major in political science at the UW and, eventually, maybe even get involved in politics in Hong Kong, where he is originally from.
One key point that he stressed in order to succeed in college is this: "Be engaged." Lee also said, "I am very confident in my team and myself as well," and that they are not after recognition, but rather to leave a long-term impact.
Felix Were
Communications Officer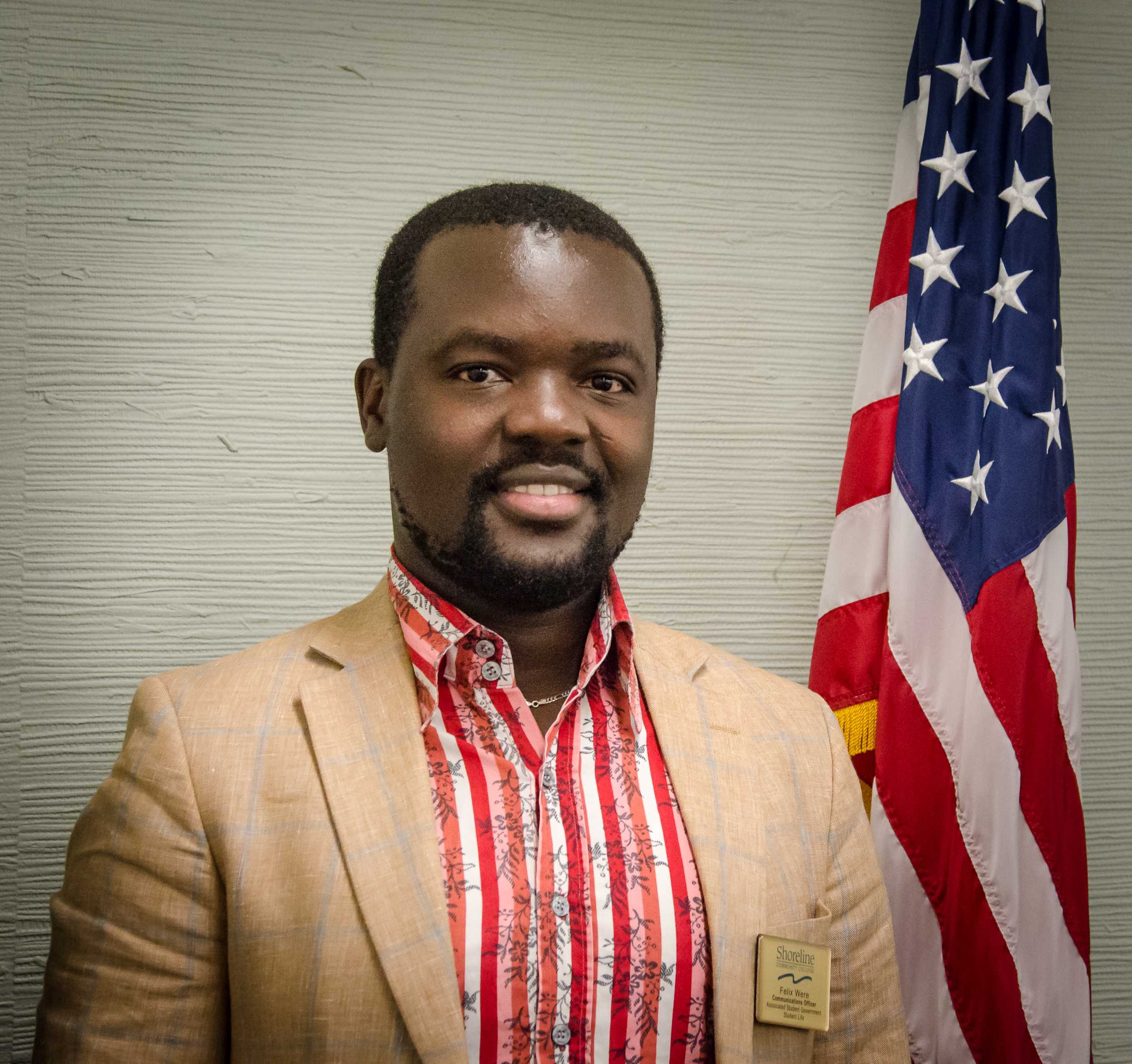 Were originally became involved in the ASG because he "wanted the student government to represent the diversity that we have on campus." He heard that the ASG did not represent the face of the institution, so he thought to himself, "Let me be the person who is representing the diversity."
Currently, Were is working on the newsletter, which will be titled "Student Life," in hopes of getting the word out more about what the ASG is doing and how students can benefit.
"We want to really have the students updated on what we are doing," Were said.
Were is also working on a "social media plan that will help ensure that we're doing things in a structured way."
Were's ultimate goal for his time in office, as mentioned by several other student officers, is to "leave a legacy of everything we've done, and that people who come after us can build on."
The one challenge that Were foresees for his year in office is simply finding the time for all of his responsibilities. According to him, "You are gambling between classwork, assignments, and then the job, and then life outside college."
He is, however, still confident that he can perform his job well and balance his time.
If Were had to pick one role model for his life, he would pick Barack Obama. Were said that he is from the same country and tribe as Obama's ancestors, and that even before becoming a senator, Obama would still come to the village to visit his grandmother, just looking like "a funnily dressed American guy [that was] smoking."
Were also remembered that later on, Obama once paid a visit to Kenya where he was shrugged off for being a "just a mere senator".
"When I look at that and look at how consistent he's been, that's my main inspiration," Were said.
Something that students may not know about Were is that he has engaged in many activist actions over the years, including raising money in Kenya for girls to go back to school and get their education, although he doesn't consider this to be activism, merely "part of my social responsibility because I do it for free."
Were's major is currently health information technology, and he hopes to obtain his master's degree in public health. Eventually, Were wants to go back to Kenya in order to run for parliament. He would like to use his knowledge of the health field to help make policies to improve public health in Kenya.
When it comes to choosing careers, Were believes in taking into account two questions: "One, is that career going to give you your aspired earnings as a person? And two, do you like it?" Eventually, Were sees himself making or influencing policy formation and contributing on the "big level." Overall, Were's message is that he wants to inspire students.
"There's a group of people who feel that certain jobs or certain positions are for certain people … I don't want most people to succumb to that," Were said. "I want to be the person who students can come to."
Eberth Arias
Sustainability Officer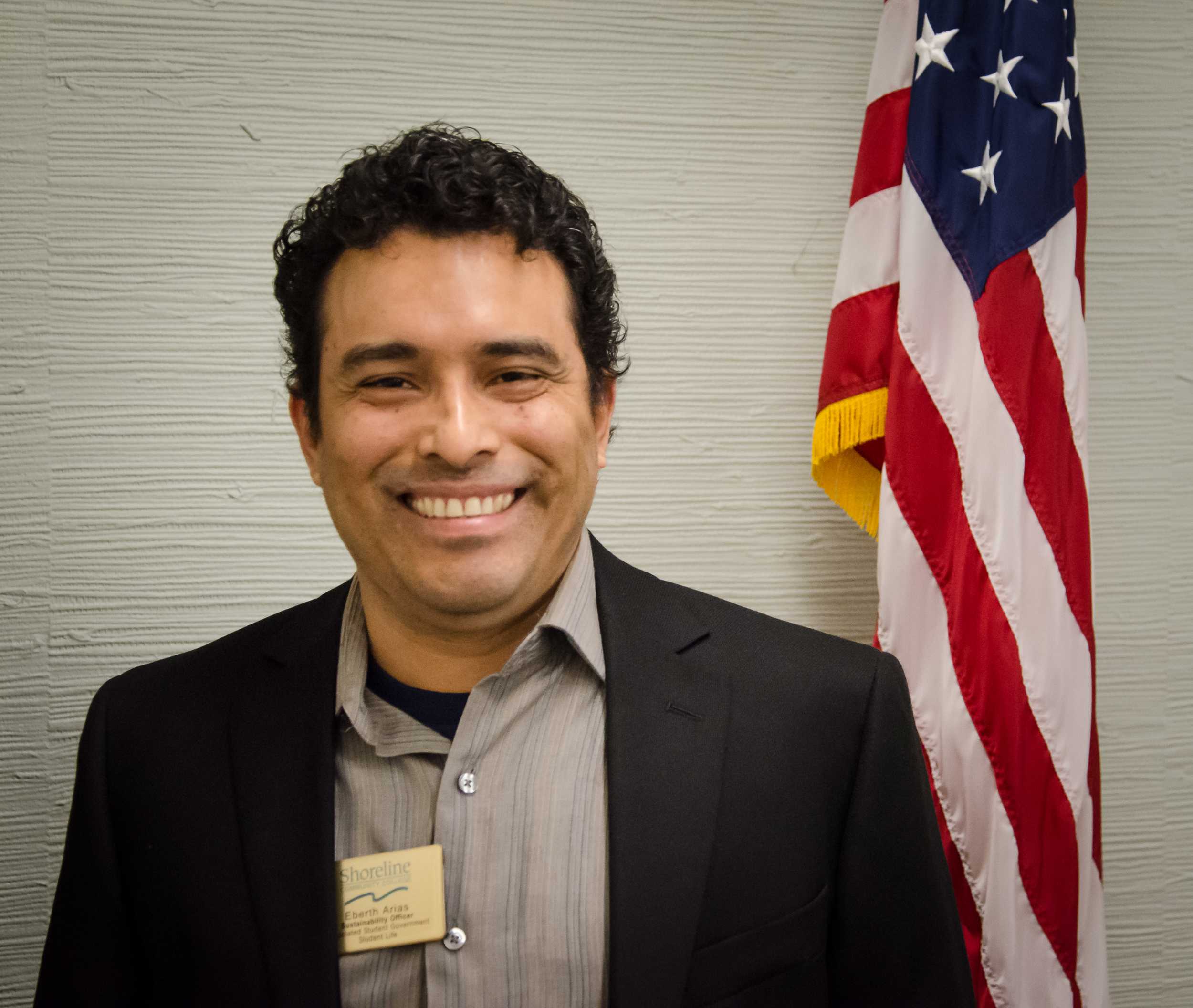 The first point Arias would like to bring up is that many people hear the word "sustainability" and think only of the environment. However, the basis for sustainability that Arias uses includes "social sustainability, economic sustainability, and environmental sustainability."Broken down, this means that you can't just take a certain course of action to help the environment and then just hope for the best. "You have to engage the communities in order to get a better success, and also get their input … you have to look at all the areas affected."
Currently, Arias and the rest of the Sustainability and Commuter Options Fee Committee are working to "craft a permanent full-time position" at the college to have a staff member specifically dedicated to sustainability on campus.
Arias is also working to continue and expand projects started by his predecessor, such as adding in more water bottle refill stations and keeping up the discount ORCA cards for students. The water bottle refill stations "have saved over 100,000 bottles" since their implementation less than two years ago, and the funds put on ORCA bus cards can now be transferred to a "Lift" card (another public transportation option for commuters). "The aim is to have students who use public transportation to benefit from that," Arias said.One challenge that Arias expects to face this year is his want to "see all these things become a reality … [but] for me, this might not be."
Unfortunately, the nature of his work is that it takes time to see the results. Arias claims that he does not have any one specific role model, but that he simply looks up to the community and turns to them for input and invaluable questions.
Before Shoreline, Arias "was working fulltime as a bank manager." To him, this line of work was not fulfilling and felt even "soul-sucking" at times. Arias liked people, and wanted to find a more rewarding path.
"I was looking for something that aligned with my personal values and I knew that banking wasn't it," he said.
Arias reached a point when he had to ask himself: "What do you want people to say about your life once you're gone?" After some research, Arias heard about the Clean Energy and Technology program here at SCC. The instructor of the course invited him to a meeting to hear more about solar energy, and after that, "I was hooked."
So, what's one thing you might not know about Arias? His answer: "I am an avid salsa dancer."
At one point, he was going through a rough time in his life, and the dancing helped him get through it. He said that when you are salsa dancing "everything disappears — school work stress, life stress."
Over time, Arias has come to even think of salsa dancing as a metaphor for his life.
In addition to salsa dancing, Arias is also a tea enthusiast, and hopes to at some point, help start a tea club. Arias would like to end by saying that if anyone has questions, concerns, or ideas pertaining to his work, don't hesitate to contact him at [email protected]
Juan Chavez
Governmental Affairs Officer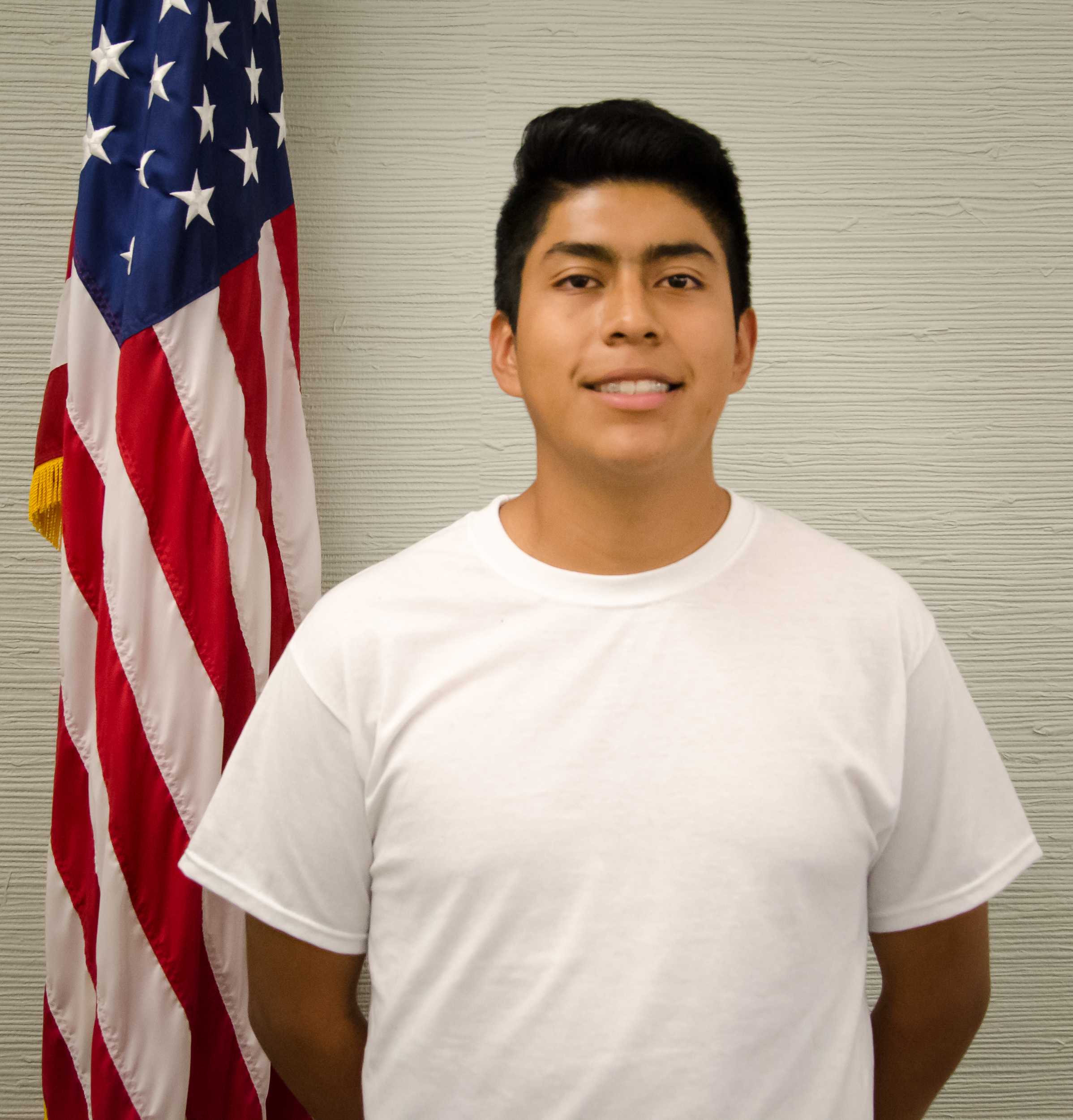 Chavez said that he has always held a "strong sense of justice," which is why he believed this office was the right place for him. He believes in being fair with everyone: "I'm transparent and treat everyone equally."
More specifically, his goal "to be a voice for the students who are [silenced], who aren't heard."
Some key events and happenings that pushed Chavez to take action included seeing people from Mexico ("My people"), being taken advantage of and paid poorly for inhumane and laborious work.
"Why isn't anyone doing anything about this? Why do things have to be like this?" Chavez asked. At one point, Chavez said, he had to tell himself, "irst things first, you gotta stop being childish … you have to stop pretending like the world owes you something, it doesn't."
Chavez intends to "make the best of this year" and leave behind a legacy, hoping someone else will "pick up the torch." While Chavez enjoys his position and his team, he says that he doesn't want to be "treated as famous because I'm in student government."
One thing Chavez really cares about changing is trying to make the student body less segregated.
"At the end of the day, we're all students, we should come together and build a sense of community," he said.
One thing he is currently working on for this school year is hosting a viewing and follow-up discussion of the last presidential debate the day after it happens in hopes that more people may be able to attend the event.
He is also interested in implementing some sort of "financial education-oriented workshop" for students because he believes that our age range is a critical one as far as as finances go, and people our age will be offered "credit cards, loans, they might want to get a car, and they don't know what they're getting themselves into."
In all, he wants to let the students know that their "voice does matter."
One personal aspect that Chavez admits may be a challenge to him this year is his pride.
"It's really hard for me to ask for help from anyone, but this is a team-based environment."
Chavez said that he is inspired by El, his younger brother and a former ASG officer, because as a first-generation college student, Chavez wants to serve as a role model for his little brother. He mentioned that his little brother once told him, "Juan, you're the type of person who, if you fell to a bottomless pit, you'd be like, 'Hey, at least it's cool down here.'"
April Bui
Social Justice Officer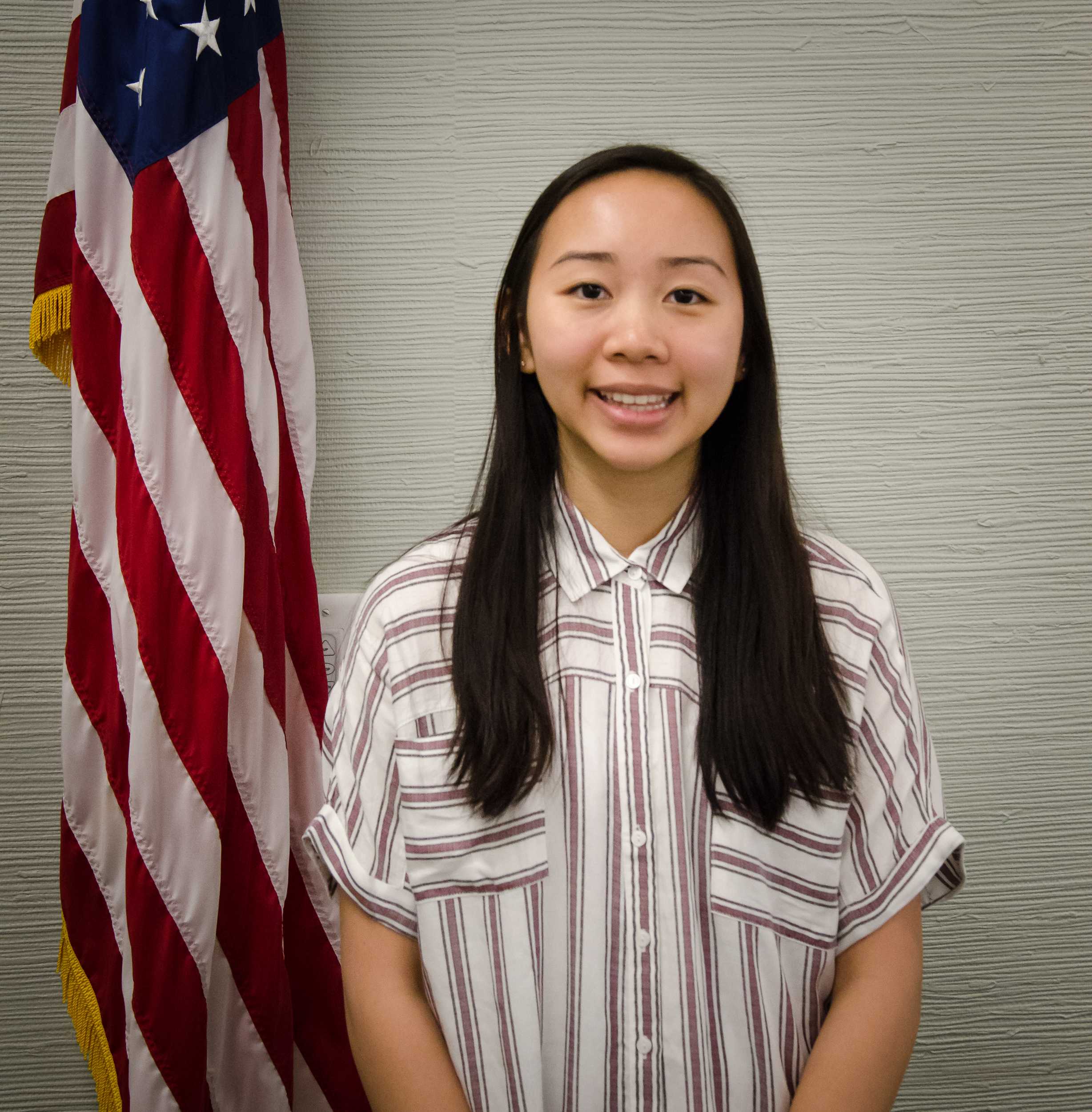 April Bui decided to run for the position of Social Justice Ifficer because she "wanted to get more involved … and social justice officer, a big part of their job is to be in charge of volunteer opportunities and bringing that to Shoreline students, so I wanted to help out with that too."
One project she's currently working on is moving the parking spot of the campus's Access Bus to a more visible location for the students. Another event that will be underway soon is a community read, where students will be invited to read Octavia's Brood (books will be given out for free), a novel of "science fiction and social justice," and come share their thoughts and discuss the book with each other.
One concern she has about this year is simply time management, but she does "keep a planner" in order to stay organized.
Bui's inspiration is her mom. "She came here as an international student, she worked really hard … I just want to follow in her footsteps," Bui said.
Some things you may not know about Bui include that she is "allergic to crab," she is planning to major in biochemistry, and she plans to transfer to the UW.
Bui would like to conclude by saying that she is always open to receiving more volunteers! Students can sign up for her email list of volunteer opportunities by filling out the volunteer application on the Student Leadership Center web page under the "Get Involved" tab and then under "Volunteer Opportunities."
Clarin Florentyna
ASG Vice President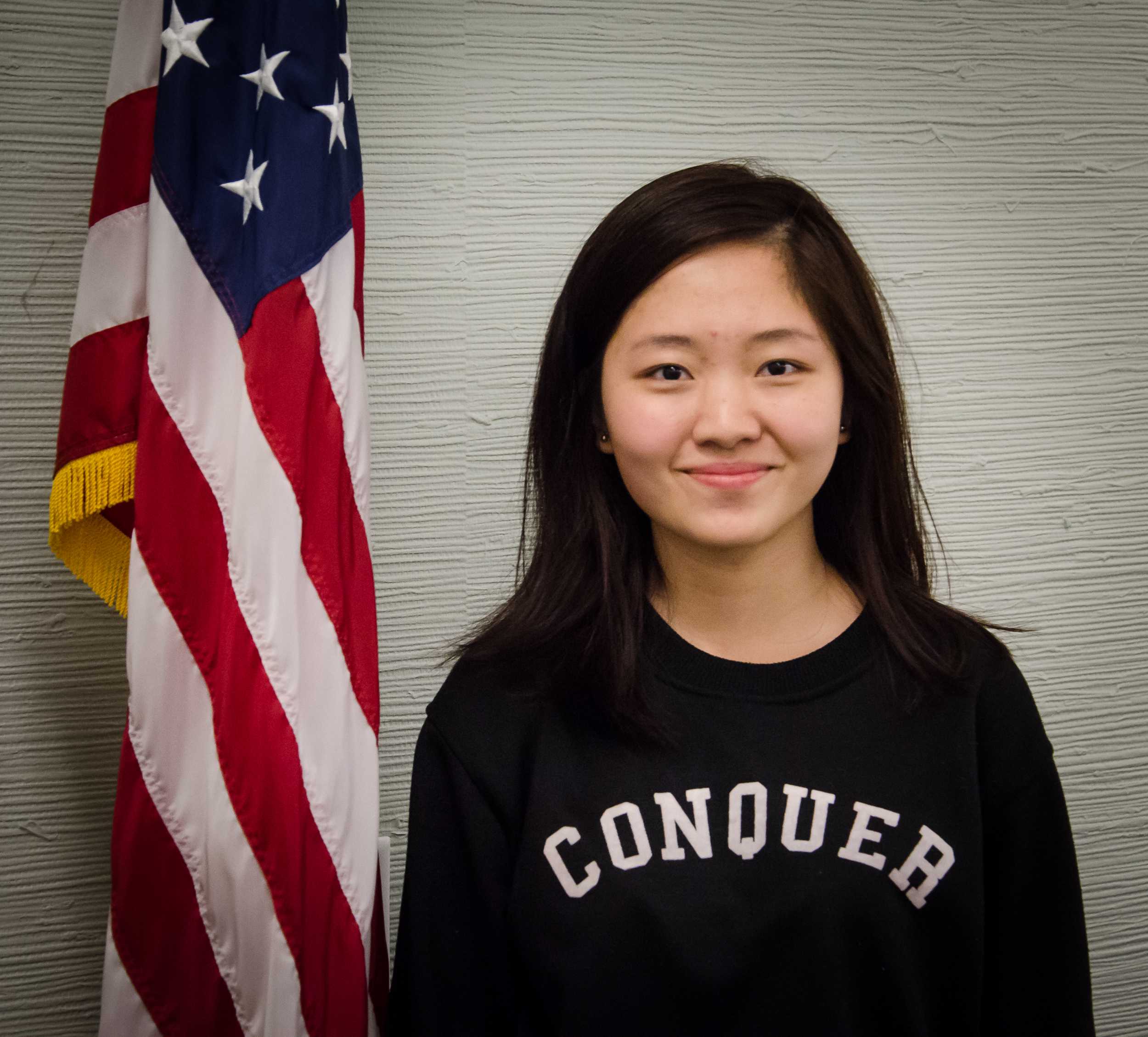 Clarin Florentyna got involved with ASG last year as a student representative and member of various committees. After her participation with the SCOF committee in particular, she decided that she wanted to "expand more, be a more important person in this committee" in order to have more of a sayin the decisions that were made, so she decided to run for vice president.
Currently, she is working on making SCC a member of "Tree Campus USA." In order to make this happen, Shoreline's campus needs to meet a set of five prestigious standards set by the Arbor Day Foundation, after which SCC will receive an award and recognition.
Florentyna is also actively working on attaching signs to various trees around campus to let students know what type of trees they are and other information.
"We have a really beautiful campus, but it's not really shown how beautiful our trees are."
A challenge Florentyna expects for this year is simply that "it's hard to top off last year's student government."
Florentyna said that her main role model would be her dad, who is living back in her home city of Jakarta, Indonesia.
"He has been an inspiration to me, he has been a very successful man back in my country, he has some leadership skills that are just beyond," she said.
Florentyna is majoring in applied math and plans to one day be an actuary. Something you may not know about Florentyna is that she is able "to sleep very, very easily". Her overarching goal is simple: "I want to make something that changes the school"