NEW COMMUNITY VANS LAUNCH IN SHORELINE
Shoreline residents and students now have an alternative public travel option.
King County Metro Services recently launched two new van services on Feb. 5, to help with the rising demand for evening bus rides, specifically Bus 331, which discontinued their evening operations back in 2014.
Regarding this newest launch in Shoreline and Lake Forest Park, King County Council Chair Rod Dembowski said, "Many folks in our community are unable to use our existing fixed route service, and these new options take advantage of technology and flexible scheduling to expand their transportation choices."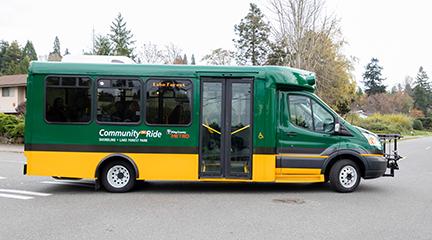 The first van is known as "Community Ride" and has a fixed route to and from Shoreline and Lake Forest Park.
The Community Ride van operates from 6 p.m. to 11 p.m., Monday through Saturday. On Sundays, they operate from 6 p.m. to 10 p.m.
The fare is standard to what bus users are normally charged, and payment options include cash, ORCA cards, paper transfers and mobile ticketing.
How to Use the Community Ride Van: Book trips on-demand, through their app "Community Ride" available in iOS and Android platforms, or call 1-855-233-1880.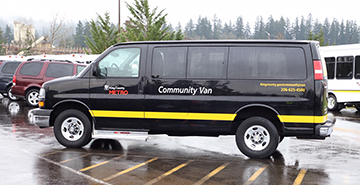 The other option is the "Community Van," which provides 24/7 transport for groups (a minimum of two people is required).
Riders must make reservations prior to using the vans. The Community Van does not have a fixed route, as its flexible according to what riders need. The requirement is that the destination and pick-up must remain within the boundaries of Shoreline or Lake Forest Park.
Payments can be made with ORCA cards or through mobile ticketing. Cash isn't accepted, but riders can transfer their van fees to their own bank accounts and pay that way.
How to Use the Community Van: Pre-schedule a Community Van trip by contacting Shoreline-Lake Forest Park's Community Transportation Coordinator, Bree Boyce, at [email protected] Keep in mind that a new trip request must be 48 hours in advance of the actual trip. Riders who would like to join a pre-existing trip may join the same day.