End of A Global Era
SAYING FAREWELL TO FUELL
After a decade of service, SCC's director of the Global Affairs Center (GAC), Larry Fuell, will be stepping down from the position.
"I'm retiring," said Fuell, who also taught political science at SCC.
Fuell founded GAC 11 years ago, in 2007. The program was meant to shed light on international and domestic issues with "global consequences," according to Fuell. GAC featured panel discussions, daytime and evening speakers and seminars.
Before Fuell came to SCC, he worked for the U.S. government for 20 years — he was the foreign agricultural affairs officer in South America and Asia. When Fuell touched down at SCC, he became an adjunct political science professor specializing in international relations and foreign policy.
Under Fuell, GAC had a number of accomplishments between 2008 and 2018. There were a total of 169 evening and daytime events, 2 workshops and 11 Great Discussions series that focused on domestic foreign policy issues.
In just the last two years, speakers such as former Mayor of Tacoma Marilyn Strickland, Salaam Cultural Museum founder Rita Zawaideh and Vietnam War veterans have come to share their experiences with SCC students and faculty.
"Larry knows how to reach out to people," said Alison Stevens, executive vice president of Student Learning & Success. "SCC (has) a good reputation with speakers."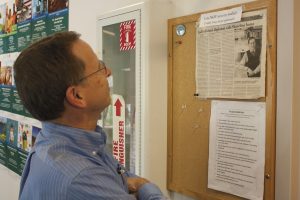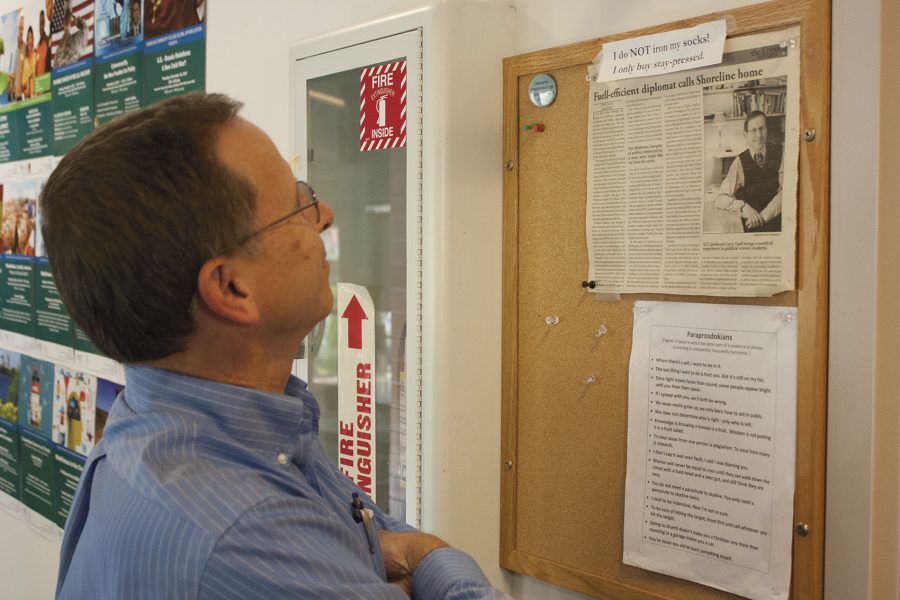 Fuell said GAC "draws attention to local resources." He often reached out to local off-campus establishments for speakers, such as UW's Jackson School of International Studies, Seattle University and the Washington Affairs Council of Seattle.
Under Fuell's leadership, GAC didn't just feature off-site presenters. He said he also highlighted the skills of staff, faculty and students. Several of the discussions from 2017-2018 had professors like Jeannette Idiart, who was in Catalonia, Spain, during the recent civil war, and Chip Dodd, who teaches geography and talked about his time in the Australian outback.
Fuell's contributions to SCC haven't gone unnoticed. One member of the GAC event team, Shraddha "Shay" Malla, said Fuell always looked out for her, with his support of the work-study programs and his understanding of her personal life circumstances.
Malla has served on the GAC team as a work-study student since her first quarter at SCC in fall 2017. During her time with the program, she said she improved her time management and communication skills, as well as her awareness of the world around her.
"Larry is someone you can depend on but also someone you can share your problems with and even laugh about it (with)," she said.
Outside of Fuell's team, staff and faculty also talked about his importance on the campus.
According to Terry Taylor, assistant dean of the Honors College and professor of history and political science, Fuell's professionalism "represented the college."
Stevens said she remembered the veteran's panel discussion clearly: "You can see that people were entranced," she said. "They were woken up."
With Fuell stepping down, what's next for the future of GAC? The program was rumored to be shutting down, but Stevens squashed these rumors by saying that there will be a "brainstorm" of ideas amongst students and staff during finals week.
"The goal is to continue being sustainable and having economic efforts," Stevens said. "(So) we can emphasize Larry's greatness."
For students like Malla, "Larry is GAC," she said.
Stevens agreed, saying, "Larry will be a tough act to follow."
Fuell's retirement has been planned for some time, leaving no surprises. What happens after he is gone, however, is up to SCC.
"It would be a shame if GAC were to be discontinued as it would be reduction of opportunities to learn," Malla said. She said she thinks the legacy of GAC has the potential to be something greater.
The future of GAC brainstorming sessions will be 12-1:30 p.m. & 5-6 p.m. on June 20 in Room 1715.