Electrical Education
INNOVATIVE TESLA PROGRAM MAKES ITS DEBUT AT SCC
One of only four Tesla training programs in the country is drumming up some interest in its first quarter at SCC.
SCC adds Tesla to the list of Automotive Certifications and Internships available, currently including GM, Honda, Mopar (Dodge) and Toyota. However, the Tesla program works a little bit differently. Students apply for a paid internship through Tesla, and if accepted, they can then sign up for the SCC class.
Luke Thompson is the Tesla Program Advisor and teacher, and he is leading up the program after teaching the Automotive Program at Tahoma High School in Maple Valley.
The Job
The class is actually a job and the program is full time, Monday through Friday from 7:30 a.m.-5 p.m. This is a big commitment, but, at $16 an hour and with many putting in 50 hours a week, students earning overtime can pay off the cost of tuition pretty quickly.
Jenna Durney of SCC Workforce Education describes the Tesla program as cutting-edge. "You get paid and there's a job at the end," she says.
A guaranteed job is great, but there is a catch.
With 10 students in the first class but only three current openings at the Seattle Tesla Service Center, most prospective students will have to decide on whether they want to move after completing the program. Apart from Seattle and Bellevue, the closest service centers to work on Teslas are in Portland, OR or Vancouver, BC.
Mark Hankins teaches the entry-level General Services Technician (GST) program at SCC. "We really reach out to students who maybe have never been to college before or thought about college," Hankins says.
Students must complete two quarters of general training. After GST, they move up to the Automotive Service Technician class, and finish with a third quarter internship offered at SCC.
At a recent open house event, prospective students poked their heads under the hoods of various Teslas and got to ask questions.
Some students are interested in electric cars, while others are really set on traditional gas-powered internal combustion engines. For those not converted to electric yet, Hankins thinks he can win them over. "Really, all it would take is a ride," he says. "You take this car right here, this Model S, it can haul five people — (and) goes from 0-60 in less than four seconds."
"Show me the equivalent internal-combustion engine that can do that."
The Cars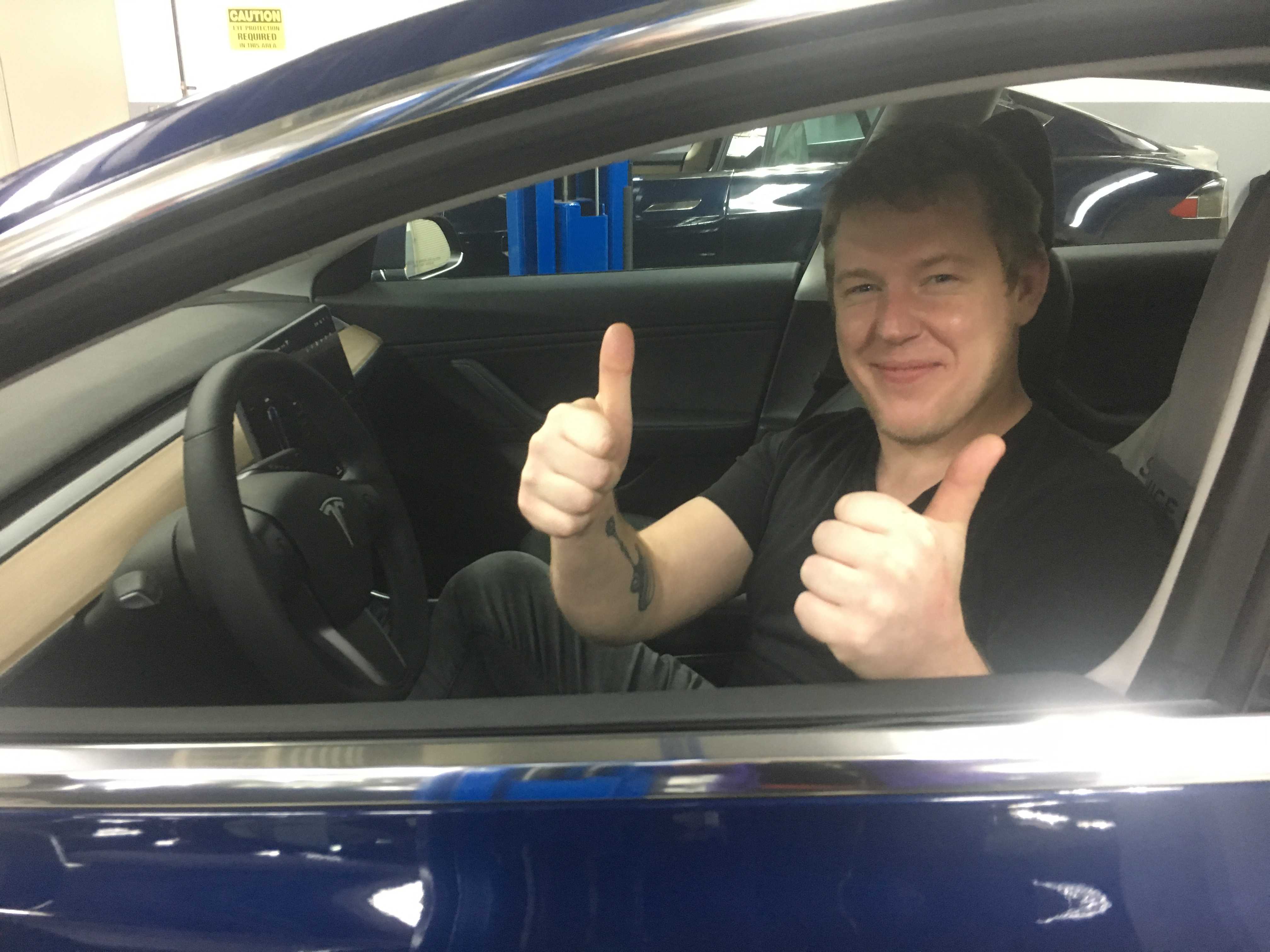 Electric cars still have the tires, suspension and much of what technicians are already used to. However, these ones also don't have gears, and they can run inside without the technician worrying about exhaust.
These students are already won over. "Welcome to the future," says Christopher Powers, a prospective student. He's a fan of Tesla as a whole, and sees the company as raising the bar for the electric car industry.
Hankins says that this program has come together pretty quickly and there are still some kinks to work out. Students like Powers, who exclusively have their sights set on Tesla, don't necessarily fit into the current program. Powers got his GED at SCC, and after bartending all across the country, he's back with his eye on the Tesla program.
Currently, students learn the basics, then the specifics of a particular brand. Finally, they intern in a shop of the company of their choice. After all this, students can pivot to work on Tesla; however that's not really the intent of the current program.
"It would not make Honda very happy if the student went through the Honda path, and then went to Tesla," Hankins says. Even with the program thrown together quickly, Hankins is optimistic it will work out, allowing students to focus on Tesla sooner if that's their preference.
They plan to get two more cars soon, for a total of eight. Then they can enroll up to 16 students per quarter.
In the future, representatives from Tesla hope to put in solar panels on the classroom roof to charge the cars completely with renewable energy.
Tesla certainly pushed for quick automotive changes at SCC. They upgraded the shop with their own separate power source and internet network to cover their needs.
The cars themselves are also packed with technology.
Teslas have batteries that need to be charged, but the internet connection may actually be the most important aspect.
This means that each one the vehicle's actions are recorded. This constant back and forth of information can be used to plan services and even fix some problems remotely.
Teslas don't come with a spare tire; technicians can log into the car to find the problem, and minor service repairs can be diagnosed remotely.
The Reception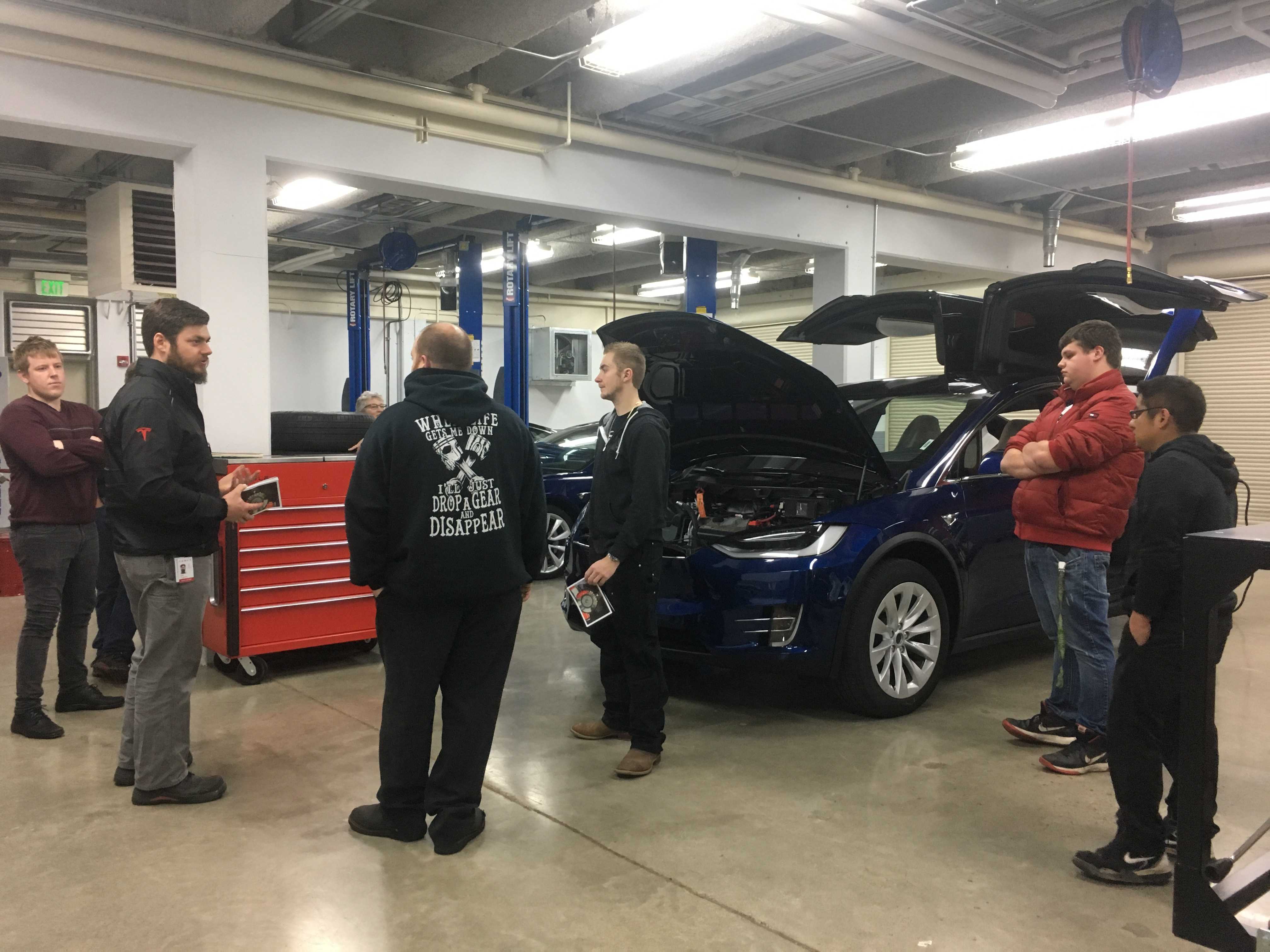 Felix Rojas and Bailey Phillips, both working mechanics and graduates of Bellingham Technical College's Automotive Technology program, stand next to the open hood of a Tesla.
The empty space where the engine should be provides a clue that these cars are different.
Rojas and Phillips are interested in more than their standard Automotive Technology background. They're looking for a new challenge.
Both Rojas and Phillips are interested, but they have more to consider. "We're undecided, but our commute is an hour and a half," says Phillips. They'd need to quit their jobs and move their whole lives, but to them, it's tempting.
The Tesla program is a capstone like the other major brand internships: students need a complete automotive background in order to apply. Tesla is currently looking for experienced mechanics, but students can apply into the program after completing their background in the SCC Automotive Program.
For some, Tesla represents the future of motor vehicles.
Powers climbs into the driver's seat and cranks up Frank Sinatra's "World On A String" on the stereo of a new Tesla Model 3. "This is my absolute dream," Powers says.