Drop the Mic
A FIRST PERSON LOOK INTO SCC'S NEW VOCAL COMPETITION
My pulse was racing and I couldn't stop shaking. My heart was in my throat as I was walking onto the stage.
And then I was under the spotlight.
SCC Vocal Association (SCCVA) held a singing contest on Feb. 7 in the SCC theater. Twelve contestants were chosen out of the original 24 acts to perform in the final round, both solo and groups, and participants were allowed to perform songs in different languages.
The SCCVA started in April 2017 and gathered together different kinds of singers at SCC. The group now consists of around 30 members.
Hin Wa Chan, the chairperson of SCCVA, said they created this competition because there is only one singing competition for students, which is held by the Chinese Culture Club, and only Mandarin language songs are allowed.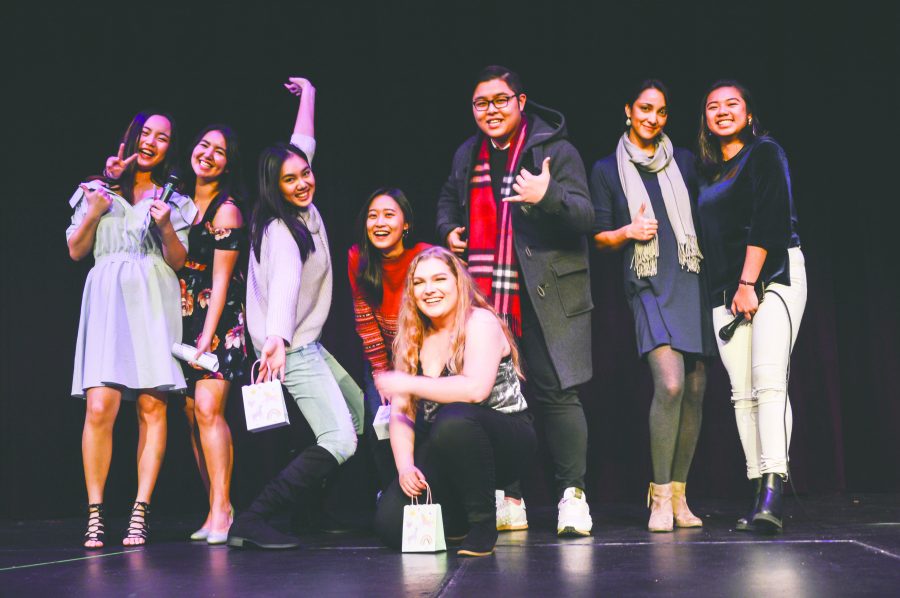 "I found there are quite a lot of students who can perform really well andI want to gather all the people together," Chan said, "because I always believe that music brings people together."
Along with Chan, Duygu Monson, an SCC drama instructor and the SCCVA's adviser, and Yorin Anggari, the ASGpresident, were the judges of the singing contest.
I auditioned with a Mandarin song and, unexpectedly, I got into the final round.
For the final, I picked Jessie J's "Flashlight," which was a really challenging song for me, because one of my friends loves the song and I wanted to take that chance to sing it for her.
Two days before the competition, I got a sore throat and couldn't have been more worried about my upcoming performance. But I still tried my best to practice no matter what.
"How do you feel, Frances?" Monson asked me when I was in the middle of the stage.
"Hmm, nervous?" I replied with ashaken voice. "My heart is like…"
I inhaled deeply. The audience encouraged me with a round of applause.
"It's great! Always have to feel nervous, then we can be better," Monson said.
The background music started to play and I tried to focus on every single beat, even though I already had difficulties in distinguishing the beat of the music and the beating of my heart.
After the first chorus, I saw the audience started waving their arms and some of them even switched on the flashlights on their phone. I almost cried — I was so touched, yet also panicked.
The song ended up average but I had a really fruitful experience on the stage.
One of the contest's highlights was the hip-hop performance from two Chinese boys in a group called STR.
STR wrote their own lyrics in Mandarin following the rap flow. The entire auditorium was awestruck even though
most of the audience were not Mandarin speakers.
"This is the first Chinese rap I've ever listened to and I will never forget and I love it!" Monson exclaimed immediately after the melody ended.
Another outstanding candidate was Robbie St. Jean, who joined the competition because she finds no chance to sing in her audio engineering classes. She sang Beyoncé's "Crazy in Love."
"I miss singing and when I saw the poster, then I was just thinking, 'Let's do it, I haven't sung for a while' and here I am," she said.
When she opened her mouth and started singing, the whole venue was filled by that powerful voice. St. Jean handled the entire song almost perfectly, even with a couple of long high-pitched notes at the end.
She described being on the stage alone while imagining how no one was watching, one of her strategies to make her feel less worried and anxious.
"I am just here to perform," she said.
As many people expected, St. Jean won the competition, while Hsuan-Chen Lu and Khanh Dinh got second and third place respectively.
After the results were announced, St. Jean said
she didn't expect to win the competition because she believed whenever someone assumes they will win for sure, that's the sign they will lose.
Monson said she was surprisedat seeing so many students who were not only talented but also professional.
"I keep thinking, 'What can we do to show their talent more?' Not just having competitions, we have to have concerts and parties," Monson said excitedly.
She also encouraged students who are passionate about singing to join the SCCVA even if they are not talented.
"This club is to celebrate singing and music," she said.
Chan said he believed that the singers chose good songs and were well-prepared before the competition. "Even I cannot sing better than them," he said.
He also said the SCCVA is currently looking for more chances to hold similar events, and will have another singing contest spring quarter that will be open to all languages.
Although I didn't win in the competition, I gained a fun experience with my friends and fellow competitors because we were all here to support each other.
The SCCVA will hold its welcoming party this quarter and further details will be posted on its Facebook page, Shoreline Community College Vocal Association.
If you are interested in knowing more about the SCCVA, contact [email protected]
---
By Frances Hui,
Staff Writter