By Coral Nafziger
A woman walking towards the doors of SCC's student union building is blocked from leaving by a wall guarded by students. They tell her she has two options for getting through – either answer questions to "gain citizenship," or to pay a coyote to smuggle her through.
The students responsible for the wall were putting on a performance because at the end of every quarter, all the students in Elena Esquibel's communications classes engage in collaborative public performances around social justice issues.
On Nov. 30, each of her three fall quarter classes presented a piece around a social justice issue of their choosing.
Esquibel, who studied performance while earning her doctorate in communication studies, says she hopes her students' performances have an impact on the audience. Just as important, she says, is the preparation, creativity, improvisation and collaboration her students exhibit as they decide what they want to do and how they will accomplish their vision.
Esquibel says she wants them to understand is that communications studies is a large umbrella, and performance is an important way of expressing ideas on a public level.
Get in on the action
Sound fun? Sign up for a class with Dr. E for winter quarter — all her classes end in group public communication projects.
Intro to Communication
(CMST& 101)
In this class, students learn about verbal, nonverbal and listening skills for communication in a variety of personal and professional settings.
Item 0493 – 9:30-10:20 a.m. MTWTh and Item 0497 – 10:30-11:20 a.m. MTWTh
Critical Cultural Communication (CMST 285)
This course looks at intercultural communication nationally and internationally, analyzing positions of power and privilege for the multicultural general education requirement.
Item 0477 – 12:30-2:50 p.m. TTh
"Building a (Critical) Wall"
Responding to President-elect Trump's proposed wall, one class of Esquibel's CMST 101 students physically created their own "wall." They covered it with text and images expressing facts and opinions about immigration in the U.S. from colonization and slavery to present day. The performance lasted from 9:30 to 10:20 a.m. but the wall stayed up for the rest of the day, and people passing by stopped to see what it said.
"Behind the Screen: Exploring Online Discrimination"
Students in another CMST 101 class took on online racism, sexism, homophobia and Islamophobia by becoming "live computers." Wearing paper grocery bags modified to represent computers, groups of students gathered in the PUB lounge, each group representing a different type of online discrimination. Posters about each issue remained for the rest of the day.
"Open Rights Mic: Let Go, Let Flow"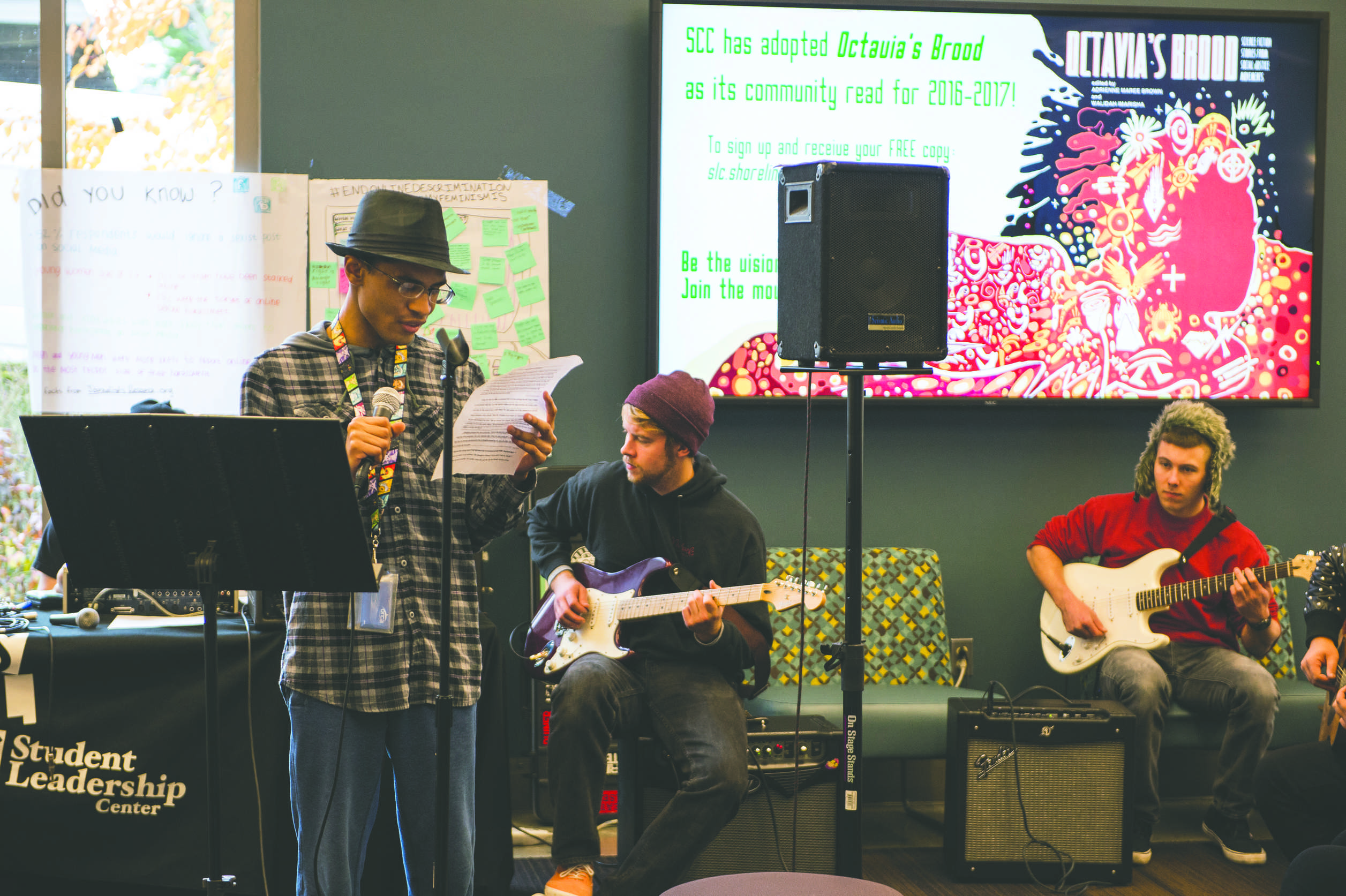 Photo by Kemmathiti Suayrup
CMST 203 students performed music, poetry, stories and created visual art around issues including race, gender, ability and sexuality. Students performed original work or other work they found relevant, including poetry from the Civil Rights Movement era. Esquibel, who says she does not have experience writing or performing poetry, shared a poem as well.