Buffalo Soldiers Fighting for Freedom
SCC screens 'Buffalo Soldiers Fighting on Two Fronts'
Pounding horse hooves and men in crisp blue uniforms blanketed the rolling emerald hills at Seattle's 2018 Juneteenth celebration. In attendance was Dru Holley, a Vancouver, Washington based filmmaker and his family.
"I was at this Langston Hughes event with my daughter and we saw these men in Union uniforms; they were on horses, galloping up a hill in the distance. She asked me, 'Daddy, who are the soldiers?' I wasn't sure, but I think something came to me from a Bob Dylan or Willie Nelson song and I said, 'I think those are the Buffalo soldiers.'"
Holley would later find out that those soldiers were part of The Buffalo Soldiers of Seattle, a group dedicated to preserving Black American history. "I was sad about how this history has been forgotten by so many and that it wouldn't be taught in schools," said Holley. This sentiment sparked the inspiration for his third documentary "Buffalo Soldiers: Fighting on Two Fronts" (2020).
SCC's theater was one stop on Holley's screening tour spanning throughout Washington, Oregon and California. 75-100 attendees made up of SCC students and members of the wider Shoreline community gathered at 6:30 p.m. on Feb. 16.
A reception was held before the screening in the theater's lobby. The crowd of people made the usually spacious room feel small as excited laughter and chatter drifted all the way to the rafters.
"I was really excited to see that SCC had an event honoring Black History Month. As an international student, I love to explore different parts of American culture. I can't believe I hadn't learned about Buffalo Soldiers in my American history classes," said Fahad Alhajeri.
Catering provided by Shorewood high school and bustling SCC faculty made for a more formal atmosphere than what usually materializes on campus.
Adjacent to the theater doors stood three members of The Buffalo Soldiers of Seattle behind a table of historically significant objects. Some were real memorabilia like furs, parts of uniforms and books while others were present-day maps and infographics.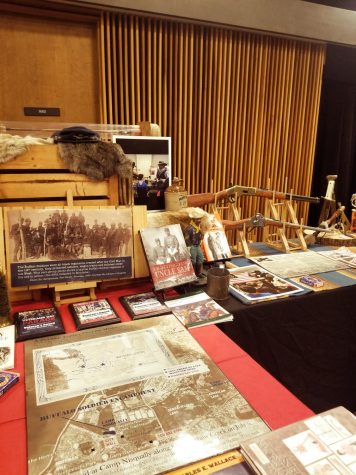 Many attendees waited to get a picture with the costume-clad historians. One Buffalo Soldier jovially reassured a concerned mother that all of the weapons were just replicas. They were happy to discuss the rich history of African American soldiers' enlistment on the western frontier with anyone who was interested.
The Buffalo Soldiers of Seattle have a deep connection to Holley's documentary. They were one of the first organizations he reached out to when beginning his research. The members had such a large effect that they appeared on screen. "My role in this [documentary] is so important to me because I get to serve as representation; This representation is what shows Black kids what is possible and what they can achieve," said Geordan Newbill, the president of The Buffalo Soldiers of Seattle.
He portrays Moses Williams, a soldier who served in the 9th U.S. Cavalry's Buffalo Soldiers for 31 years. Williams signed his enlistment forms with an "X" when he joined at 21 years old. During his time in the army, he learned to read and write. Five years later, when his enlistment was up, he rejoined and signed his full name.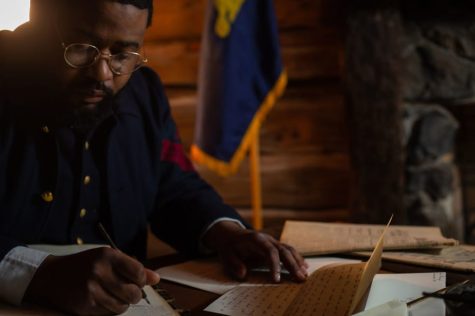 In 1881, Williams fought against the Apache tribe and rescued fellow soldiers that had gotten isolated in the middle of the crossfire. He later found out that some of the other soldiers in that battle had received medals of honor while he hadn't. Williams wrote to a lieutenant who agreed to recommend him to receive his own Medal of Honor.
Although Williams fought for recognition and eventually received it, he wasn't viewed positively by all. In the documentary, Quintard Taylor, history professor at the University of Washington said, "Native Americans don't necessarily see the Buffalo Soldiers as heroes." Dru Holley emphasized that people think Black soldiers and Native Americans would have some sort of alliance, but that mostly wasn't the case during the western expansion.
Moses Williams was just one of many Black soldiers that Holley's documentary highlighted. "We drew from the stories of Moses Williams, Charles Young and many other soldiers to try to cover the vast experience of the Black soldier. I hope it will be used as a resource for future filmmakers. We need to support BIPOC films so we can expand these stories out of just one month a year," said Holley.
After the documentary showing, SCC hosted a panel composed of faculty members, the owner of Black Coffee Northwest, members of The Buffalo Soldiers of Seattle and Dru Holley. Attendees had a chance to ask the panel questions about the documentary.
Many questions were raised about how to get the documentary out to more people, specifically in school systems. "Don't think that these stories were left out accidentally. It was intentional. These are the stories that we need our children to know," said Darnesha Weary, the owner of Black Coffee Northwest.
Holley assured the audience that "Buffalo Soldiers: Fighting on Two Fronts" will be available on PBS Juneteenth of 2023. Diversity, Equity and Inclusion President at SCC, Melanie Dixon, urged attendees to do what they can in their communities. "You lose the opportunity to learn this rich history when you suppress the true American history in schools," she said.