Booming music, wide smiles, and plenty of snacks and candy: dozens of students milled about at Shoreline Community College's Block Party Resource Fair on Oct. 3, an outdoor event held in the courtyard next to the PUB Building. Several SCC departments set up informational booths allowing students to learn, connect, and get a jump start on their college careers.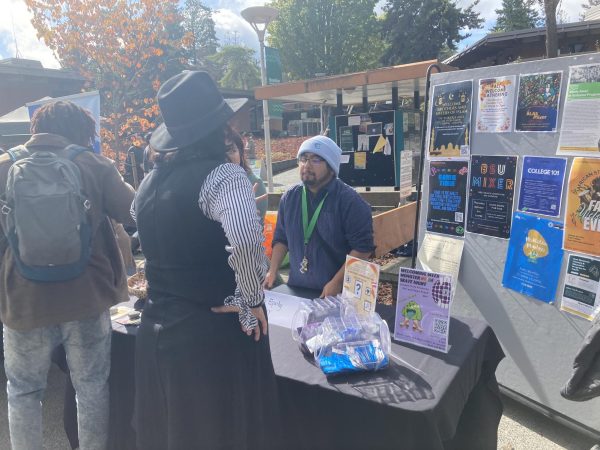 Grace Underhill, a freshman, was especially taken by the Gender Equity Center. "I used to be a gender women's studies minor when I was in school before, so that caught my eye," Underhill said. "Though Seattle and Shoreline are very accepting places, in this political state, the equality of genders, having people be seen, and bringing justice to all is very important."
SCC's director of Student Leadership, Sundi Musnicki, worked with her fellow college leaders to coordinate the colorful event for students.
"This is the second year we've done what's been deemed a 'Block Party Resource Fair'," Musnicki said. "We're trying to share as much as possible with students about different ways for them to connect with valuable resources or information, and/or get involved in some way."
She said the college is planning a similar event, a Club and Resource Fair, from 2:30 p.m. to 4:30 p.m. on Oct. 18 in the main dining room of the PUB Building. The club fair is held later to allow the clubs time to get started and organized during the fall quarter.
The Block Party gave students a chance to learn about resources such as financial aid, the benefits club, and Student Life. Another intention behind the fair was to encourage students to pick up on-campus jobs.
"We have a number of folks who have this badge on their table tent, indicating that they're hiring," Musnicki said. "That's an added thing this year [and] a product of the partnership with the Career Center. We added the way for folks to tell people that they're hiring because the Career Center is trying to set up some stuff on Handshake, an online platform where offices can post on-campus jobs and community employers can post jobs.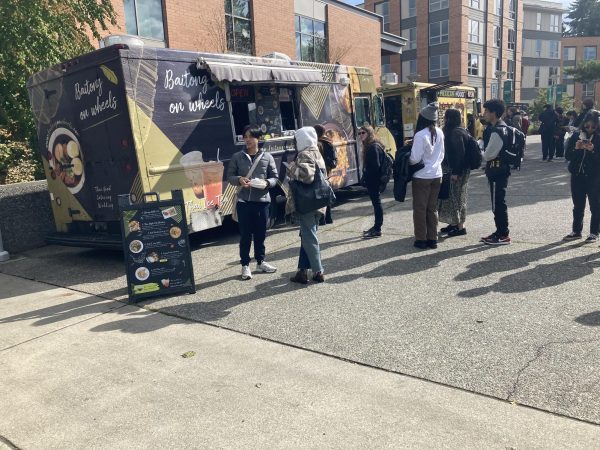 Musnicki and her team took advantage of students' appetites to increase engagement with college departments.
"We know students are excited about snacks; we recognize not every office has the resources to provide that, so we brought a bunch of different goodies that folks could distribute as a way to draw students to their tables. Once you get over that initial hump, [the students] may be more likely to ask questions and get the information they need." Two food trucks, "Mexican Food" and "Baitong on Wheels," were also present and generated lengthy lines.
One of the many SCC departments that attended the Block Party was the Honors College. Meg Siaw, a sophomore in the Honors program, represented the department.
"We have smaller classes, so our professors are more focused on us compared to normal classes," Siaw said. "We also have an honors research track program where you do research and collaborate with [the University of Washington]. Our students present their research at the UW Symposium."
Though the Honors College is an excellent opportunity for rigor and intimate classroom dynamics, Siaw encouraged Honors students to make use of "the counseling center, because it's pretty important for students to manage their own stress because our classes are more challenging."
Information for all of the departments present at the Block Party Resource Fair:
SAS (Student Accessibility Services)
https://www.shoreline.edu/oss/students-with-disabilities
5000 (FOSS) Building, Room 5226
206-546-4545
Hours: 8:00 a.m. – 5:00 p.m. Monday – Thursday, 8:00 a.m. – 4:30 p.m. Friday
Student Learning Center: Math & Sciences and The Writing Studio
https://www.shoreline.edu/apply-and-aid/learning-support-centers
4000 (Library) Building
206-546-4776
Hours: 10:00 a.m. – 5:00 p.m. Monday – Thursday, 10:00 a.m. – 4:30 p.m. Friday
Gender Equity Center
https://www.shoreline.edu/gender-equity-center
https://linktr.ee/genderequityscc
9000 (PUB) Building, Room 9202
206-546-4715
Hours: 8:00 a.m. – 5:00 p.m. Monday – Thursday, 8:00 a.m. – 4:30 p.m. Friday
Q-Collective
(Club for LGBTQIA+ People and Allies)
https://linktr.ee/genderequityscc
9000 (PUB) Building, Room 9202 (the Gender Equity Center)
Meets Fridays at 2:00 p.m.
Workforce Education
https://www.shoreline.edu/workforce
5000 (FOSS) Building, Room 5101
206-546-5882
Hours: 8:00 a.m. – 5:00 p.m. Monday – Thursday, 8:00 a.m. – 4:30 p.m. Friday
Career Center
https://www.shoreline.edu/job-career-services/career-center
https://linktr.ee/careercenterscc
9000 (PUB) Building, Room 9203
206-546-5281
Hours: Drop In 10:00 a.m. – 1:00 p.m. Monday – Wednesday (other times by appointment)
Honors College
https://www.shoreline.edu/honors
5000 (FOSS) Building, Room 5336
WAVES (Worthy of Achievement, Validation, Empowerment, and Success) for AANHPI (Asian American Native Hawaiian Pacific Islanders)
https://www.shoreline.edu/asian-and-pacific-islander-student-center
1300 (API Student Center) Building, Room 1305
206-533-6661
Hours: 10:00 a.m. – 5:00 p.m. Monday – Thursday, 10:00 a.m. – 4:30 p.m. Friday
eLearning Services
Director Amy Rovner's contact information:
1000 (Administration) Building, Room 1203
206-546-6937 
Instructional Designer Justin Baggott's contact information:
1000 (Administration) Building, Room 1202
206-546-4643
Office of Financial Aid
https://www.shoreline.edu/apply-and-aid/funding-and-aid/financial-aid
5000 (FOSS) Building
206-546-4762
Fax: 206-533-6609
VMSS (Veteran & Military Student Services)
https://www.shoreline.edu/oss/veterans
5000 (FOSS) Building, Room 5226
Program Specialist Fernando Sanchez's phone number: 206-546-4645
Study Abroad
https://www.shoreline.edu/international/study-abroad
9000 (PUB) Building, Room 9302
206-546-4697
Hours: 8:00 a.m. – 5:00 p.m. Monday – Thursday, 8:00 a.m. – 4:30 p.m. Friday
Music Department 
https://www.shoreline.edu/music-dept
800 (Music) Building, Room 807
Administrative Assistant Tamami Eggers' contact information: 
206-546-7632