The Return of Parking Passes
The resuming of SCC campus parking and permit this winter quarter
What happened at the Cashier's office after the resume of SCC campus parking enforcement?
Shoreline_international announced on Instagram that the campus parking enforcement will be resuming after almost 2 years of free on-campus parking. This announcement started trending and spread awareness to students. This led to some occurrences that happened at the cashier's office on the first day of this winter quarter.
It was extremely crowded compared to previous quarters. Most of the people came there for one significant reason: purchasing a parking permit, and individuals had to wait in line for at least 35 minutes just to buy a quarterly parking permit.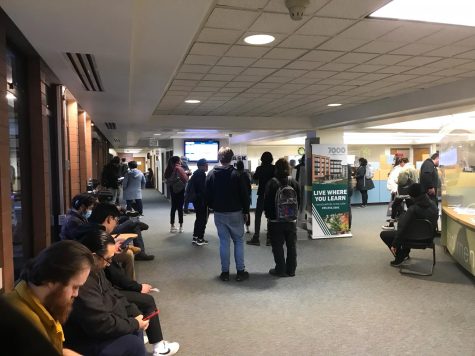 Paco Cheung, an international student from Hong Kong doing an associate degree in Business and also working as a Welcome Desk Assistant in the cashier's room, said, "It has been overwhelming, and this crowd happened because of the resuming parking permit." Cheung also said, "Security would not give out tickets until the 20, so just get the parking permit by the 20."
"Students who are looking to come here should get your ctcLink ID ready, because that is what we initially asked for." said Fiscal Analyst Shobha Malawarair, at the cashier's office. It is mandatory for SCC students' who own or drive a car to have that permit in order to have a legal permission to park on campus. Students can either do the quarterly permit or daily permit which can be purchased at the pay stations around the parking lot located around campus. For students with particular parking cases, namely carpool parking and campus residence, further information can be found here.
If for some reason a student doesn't get their pass on time they may face a "Traffic/parking Citation Appeal" which will be cited for traffic and parking violations committed while on campus. "The fine will be depending on where students park, and it is the same amount as the parking permit price of that zone," said Lieutenant of Department of Safety and Security, Emiliano Gamboa. And he continuously said that, "These parking permit fees will be used for parking maintenance including the cleaning, the parking line, the signal and so forth."
Students with unpaid fines will have a hold placed on their records, which will prevent them from registering for classes and obtaining college transcripts or financial aid.
Students can purchase a quarterly parking permit from the cashier, located on the middle floor of Building 5000 (FOSS) or Room 5102. Daily and hourly permits can be purchased at the pay stations on the campus. For more information, please visit www.shoreline.edu/safetyandsecurity/parking.aspx