AUTO TECH PROGRAM STANDS OUT
Many SCC students have never been to the far northwest corner of SCC, where a cornucopia of cars marks the site of the automotive department. This is where students receive training in state-of-the-art technology and where they are matched into paid internships, ultimately graduating with full-time jobs.
In fact, upon entering any of the several training programs, students must commit in advance to internships and full-time employment upon completion, according to Executive Director Corey Ratner.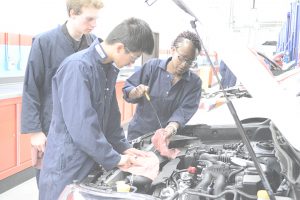 For instance, a student in the Honda program trains on brand new Hondas, works as an intern in a Honda dealership, and continues on as a career employee of Honda.
New cars are donated by Chrysler, General Motors, Honda, Nissan, Subaru and Toyota, an investment made to train their future employees as experts in the the latest models.
"If a student makes it through our program, that student has a job," Ratner said.
The National Automotive Dealers' Association, the parent group of all new car dealers in the country, estimates 220,000 new technicians will be needed by 2022.
"There are jobs available for everyone in this industry who has the skills and the work ethic," Ratner said.
Ratner is new to SCC as of August 2017. Ratner was recruited by President Cheryl Roberts who was impressed with the programs he had created in the New York State University system.
Jacob Parisi, a third quarter student, said he has known he wanted to be an auto technician "since I was little." He chose SCC's program because it is "the biggest in the Northwest, has the best and most cars, and (has) the most and best teachers."
William Jones, also a third quarter student, said he is enjoying his internship at Campbell Nelson Nissan in Everett as a lube technician, as well as his classes. He asked to "give a shoutout" to his teachers and also said he is grateful to "the really good companies supporting the training."
Natalie Tjok, one of only two women enrolled in SCC's automotive programs right now, said she really appreciates "the mix of hands-on work and theory — understanding it and physically doing it." She said the learning environment in the department is "really supportive — no one puts anyone down for not knowing something; instead, everyone helps each other learn."
She also said her parents, who emigrated from Indonesia, are proud of her "and support me in every way." Tjok was recently featured in an educational movie shot on campus by Toyota for use in middle and high schools.
Amber Avery is the automotive department's first woman instructor, and is herself a 2016 graduate of the Toyota Tech Ed program, currently teaching primarily Nissan and Subaru.
"I've always been super passionate about this facility," Avery said. "I loved going to school here, and between graduating and teaching here myself, I came back often to see my teachers."
This is her first quarter teaching solo, after co-teaching last fall and winter. She said she "went from fixing cars to breaking cars" — taking them apart so students can diagnose them.
In addition to training students, the Automotive Department also provides continuing education to professionals, awarding various Automotive Service Excellence certificates and master certificates, according to Ratner.
Automotive classes are available only to students accepted after the formal interview/application process, so registering for Fundamentals of Automotive Service Training is not like registering for other classes.
If students are interested in applying to any of the programs in the automotive department, Secretary Jacquie Ogilvie is the person to talk to. Ogilvie refers students on to meetings with instructors for help in narrowing down career choices.
"SCC is the place to start your career if automotive is what you are interested in," said Mark Hankins, who has been an instructor for 28 years.
However, as instructor Betsy Binnian pointed out, "This is about internship, not for anyone who wants a hobby."
---
By LeeEliza Owenz,
Staff Writer