Snowpocalypse: DID SCC DO ENOUGH?
Students returning to campus after the storm first had to climb over a pile of snow. Metro transit workers had cleared the snow from the parking lot, but had then piled it up on the sidewalk of the main campus entrance.

SCC administrators had decided they were ready to open campus, but a lack of coordination made that difficult. "(Metro has) their own crew to make sure the buses work, and they just plowed and put all of that stuff up on the sidewalks — and then that froze," said SCC President Cheryl Roberts.

"It's more of a county and city issue," said Maria-lynn Olsson, Program Coordinator of SCC's Community Employment Program (CEP).

"Roads will get plowed, but the sidewalks won't," Olsson said. "It's great, but how do I get to my bus stop?"

But Olsson acknowledges SCC's predicament: "I do think that they tried their best," says Olsson. "There were people here at 4:30 in the morning de-icing and shoveling and making pathways."

Higher Stakes

The CEP serves students on campus with disabilities and some individuals need a clear traveling path on campus, especially if they have wheelchairs or physical hardships. "I made contact with Safety and Security and made sure that we were on their de-icing list," Olsson said. "And that was really appreciated."

SCC has a beautiful, wooded campus, but many of the criss-crossing paths are already too steep to be Americans with Disabilities Act (ADA) accessible. The snow isn't helping either.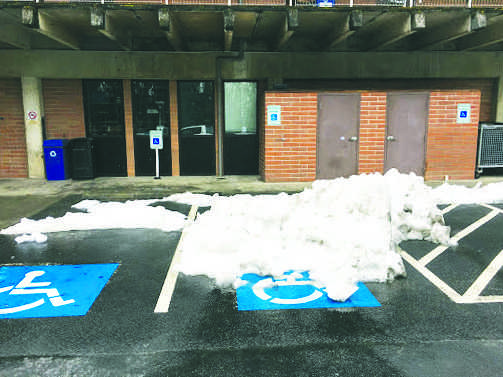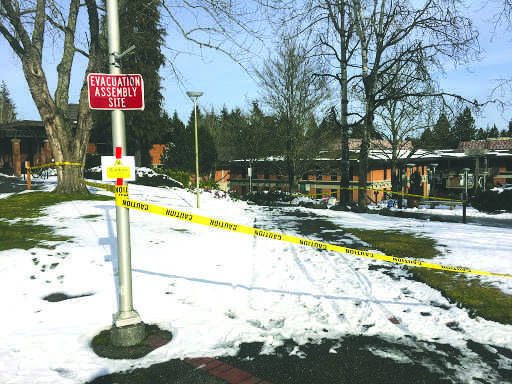 Signs point out these shortcomings, but it seems unlikely to be fixed any time soon. Many of these paths are pre-ADA, and SCC is so big that it would require be a lot of work to regrade and repave.

Furthermore, the snow and ice showed just how difficult campus accessibility can be every day. For students needing an accessible route, the snow limitations are exactly like what they have to deal with regularly.

Accessibility gives everyone, including students with disabilities, the opportunity to get around campus safely and efficiently.

What's Left?

Despite workers plowing the paths and some good, old-fashioned shoveling, campus was still hard to get around. Only a few main routes were available with other paths being taped off. The steeper paths were still icy and treacherous even when classes started operating.

On any given day, people already find their options limited due to everyday barriers such as steep hills, rough ground, or otherwise inaccessible paths.

Of course, the pile of snow at the front entrance provided its own barrier. Students get off the bus at one of the most heavily-trafficked areas on-campus, and SCC should ensure that it's clear.

After a few days, the front entrance was returned to regular use, and some of the trickier slopes were cleared of ice. But that doesn't mean campus was fully functional.

Snow and ice remained packed in the parking lot of the 2900 Building, home to SCC's Community Integration Program. People found piles of snow blocking the disability parking spaces and the accessible loading zones, even a week after SCC had reopened.

This kind of low priority shouldn't be business as usual. Accessibility should be the standard to strive for, and there should be more done every day to ensure those goals are met.
This last round of storms shows that we aren't prepared for the next one, but it also shows how much more we need to do to make sure SCC lives up to the lofty promise that everyone is supported and valued.