Mr. Worldwide
RECRUITER SHOWS THE "GOOD" SIDE OF SCC
Rylan Good is something of a journeyman.
At six months old, Good, originally from Korea, was adopted by a white family in a small town in Pennsylvania. He hasn't stopped traveling since, as shown by the souvenirs from his travels that fill his office: prayer flags from Nepal, pen holders from Colombia and decorated truck replicas from Pakistan. Good has been around.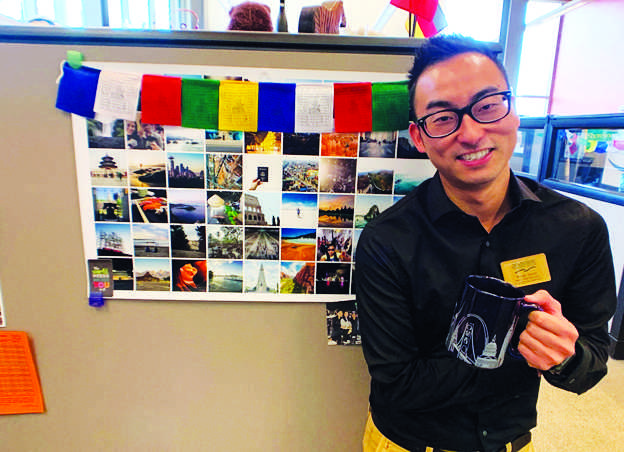 As part of his job as SCC's assistant director for international marketing and outreach, Good travels the world on behalf of SCC to promote a certain brand of outreach, meeting students in order to encourage them to come to America.
Many times, parents are wary of sending their kids to the United States. According to Good, these worries have been exacerbated by anti-immigration rhetoric and gun violence. "It helps parents and students to send their kids away when they put a face on the place they're sending them to," he says. "It reassures them."
Good is assigned to South Asia and South America. In most of his travels, Good is just ending his day as his peers at SCC's International education office start theirs. "Emails start flooding my phone as I'm preparing to go to bed," he says. "It's exhausting. It really takes a physical toll on you."
Coffee only takes him so far, Good says. "I'm getting old."
According to Good, people regularly engage in misconceptions about his job. "I think sometimes people look at our jobs and just assume, 'oh, this guy is just going on vacation for two weeks'," he says. "That's so far from the truth. It takes you away from your life for a long time. Yes, I get to travel, but it's not as glamorous as you think."
Despite his struggle with airports, jet lag and time zones, Good says he cherishes his job at SCC because of his passion to see students succeed and grow. His desire to see people flourish is exemplified by a trophy sitting on top of a shelf in his office. As an undergraduate in Shippensburg University, Pennsylvania, Good created an organization to bring support to his fellow students that suffered from mental illness, which won him the award currently in his office.
Moreover, Good revels in watching international students step out of their comfort zone and work toward their goals. One example is seen in Mashaal Shameem, a student Good met in Pakistan. "Shameem came to SCC in January and is now in the Honors College and has a job at the library," he says. "That's what I love about my job at SCC."
Shameem, one of the many students that Good has helped bring to SCC, highlights him as the main reason she chose a community college education to help her reach her academic goals. She met Good at a college fair in Pakistan. Even though the 4-year-universities present at the fair gathered more attention from students, Shameem says Good's approachability and kindness caught her and her mother's attention.
"Nobody was as devoted to helping me in that fair as Good was," Shameem says. "I wasn't even thinking of a community college … I wouldn't have come here without his support."
Good also has a habit of keeping in touch with the students he helps bring to SCC. He's constantly helping students by reaching out to them with academic propositions, projects and making them feel seen. Going the extra mile, keeping students engaged and putting their parents at ease is an important part of Good's job.
However, not everything has been rosy.
International enrollment rates at SCC have been dropping for some time now, which is one of the main reasons for the budget issues the school is currently facing. Good's department has been devising strategies to get more international students to come to SCC, such as identifying new potential markets, coaching students in preparation for their visa interviews through Skype and creating more short-term program opportunities for prospective students.
As for Good's next destination, his travels will take him to India on a 3-week trip, where he will continue to be the face of SCC abroad.