Guest Photojournalist Presents at SCC
19 students got the opportunity to learn from a professional
When Jennifer Buchanan, a photojournalist from The Seattle Times, shared her favorite photography horror stories, the sympathetic students in the room groaned along with her. Buchanan was invited by The Ebbtide's adviser, Jim Davis, on Dec. 5 to talk about her profession with photography and journalism students. Davis collaborated with photography professor Zachary Mazur, bringing the two groups together for an intensive Q&A session.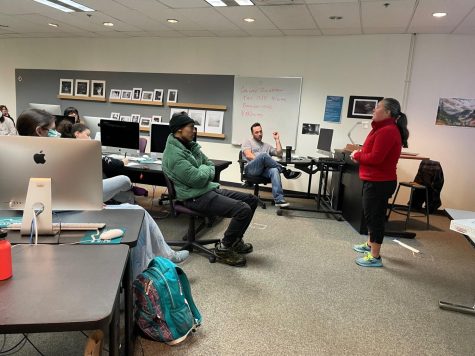 Buchanan started with a modest introduction, saying she works in "what [she] appear[s] to be decently good at," then stunned the class with a slideshow with decades of her work. As a sports photographer, most of the pictures were dramatic action shots at sporting events but a few pictures demonstrated her range: soldiers, protests and just regular people at work.
Theoretical knowledge for students in fields requiring extensive on the job training like journalism and photography is helpful, but there's no substitute for an experienced senior's advice, so students hopped onto the opportunity to needle her.
One student asked, "Do you ever go through your photos and you're not happy with them?"
"Oh yeah, you're always dissatisfied," said Buchanan, going on to mention that although she might shoot 10,000 photos in a single game, only 50-100 might be keepers. She answered a variety of questions, some practical, like getting into the industry and others technical like lens types or how to anticipate a shot.
"I thought she was really interesting and engaging. She answered questions really well and it was cool to hear about the ins and outs of her job with a level of detail I'm not sure could be easily found [in] many other places," said photography student Giana Reed. If the class didn't end, it's likely that Buchanan would still be there answering questions and telling stories.