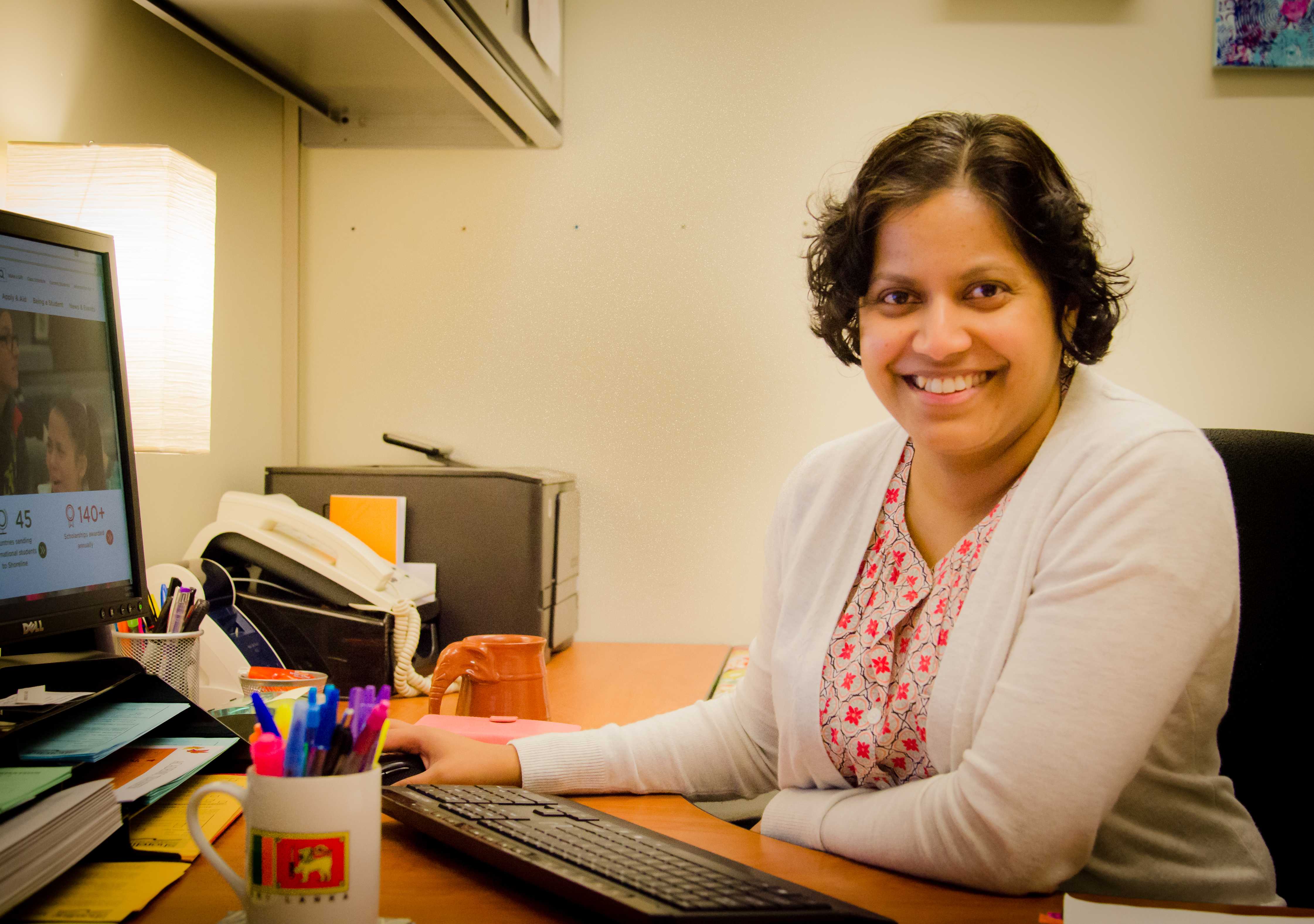 By Adelia Sindunata
Kanchana, International Student Adviser Extraordinaire, prepared to help.
Photo by Martin Musialczyk
By Adelia Sindunata
Twelve years ago, Kanchana Kularatne decided to follow her then husband-to-be to study abroad in the United States; she flew thousand miles away from her home in Sri Lanka to become an international student.
Now, she is the newest addition in SCC's International Education advising team.
From a young age, Kularatne was given the opportunity to be exposed to cultures different from her own. When she was four, her family decided to move to Europe. They lived in England for a while, and at one point visited Germany. The family then moved back to Sri Lanka where Kularatne spent most of her time as a young adult.
As a child, Kularatne never thought that she would become an education adviser. Her dream was to become a doctor or a pilot because those two professions were held in high esteem. However, she was unable to fulfill her dreams.
"I wasn't doing very well in my math classes, yet those two jobs need strong mathematical skills," Kularatne said. "In addition, Sri Lanka did not have education programs for girls who wanted to be pilots at that time."
Recognizing her weakness in math, Kularatne went into a different field after she graduated high school. She majored in social studies at Open University of Sri Lanka at Colombo.
Years later, when Kularatne was 25, her husband-to-be decided to study in the United States. Kularatne couldn't use a tourist visa to stay in the United States so she chose to go back to school.
In the beginning, she wanted to continue her studies at the University of Washington; however, due to financial limitations, Kularatne decided to get her associate degrees in nursing and medical anthropology. She enrolled in Edmonds Community College at the age of 25 and was the oldest student in her year.
"It was like a downhill for me because I have to start over [at the] associate degree level after [I had gotten] my bachelor's degree," Kularatne said. "I was lost and clueless."
However, she got help from her college advisers. According to Kularatne, those advisors helped her "figure things out" and find the right path for her future. Now, as an IE adviser herself, these people are her biggest inspirations.
"I was once an international student enrolled in a community college, so I understand the struggles of being an international student," said Kularatne, recalling her experience as a student. "My advisers helped me a lot, so now, I want to help as many students as I can."
Kularatne applied to be an adviser after she finished her master's degree in education at University of Washington – Bothell in March 2016. She was hired and started working in SCC since August 2016.
"I didn't expect [to] get hired," said Kularatne, giggling. "But I've enjoyed working here since day one. The other advisers and staff in the IE department gave me a warm welcome, and I have also learned many things from them."
Lianne Almughirah, the assistant director for international student success at SCC, met Kularatne for the first time during her interview. Almughirah's first impression about Kularatne was that she was "friendly and approachable."
"I also felt like she could really inspire people," Almughirah said. "Her education and work experience is so diverse and so interesting."
Cynthia Okawara, the lead academic adviser in the IE department, had a similar opinion of Kularatne.
"I met Kanchana for the first time when I was on the screening committee." Okawara said. "I liked her right away!"
According to Okawara, Kularatne is "really good at connecting with people" and a "great contributing member of the advising team." Okawara also described Kularatne as a quick learner and a good problem solver.
When Kularatne has free time, she likes to garden with her mother and spend time with her daughter. Kularatne also volunteers as an English teacher for immigrant workers in Swedish Hospital in Edmonds.
Her future plans?
"Well, I hope that I can still be an adviser for a long time." Kularatne said with a smile.