Combatting Sexual Assaults on Campus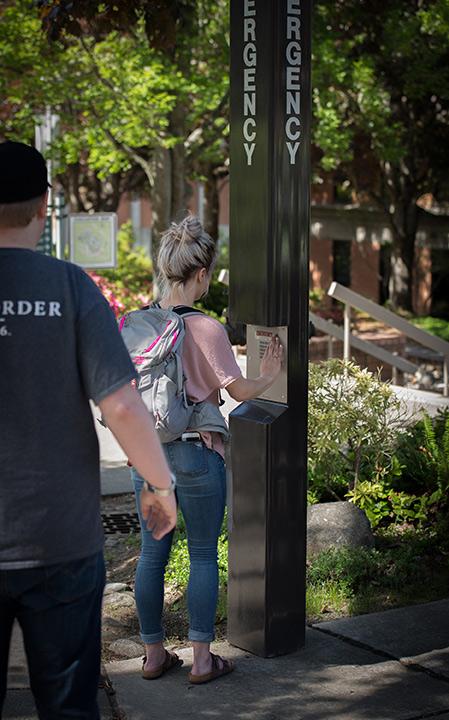 One in five female undergraduates experience sexual assault during their time in college. And according to the Rape, Abuse & Incest National Network (RAINN), women ages 18-24 are three times more likely to be sexually assaulted.
But it's not just women — one in 16 males report having experienced sexual violence while attending higher education as well.
A study from the National Center for Education Statistics reported a 205 percent increase in sex crimes on college campuses from 2001-2014, despite the decrease in crime overall.
Statistics like these are what have caused the nation to turn its attention to universities, but while people are looking for answers at four-year universities, community colleges are also being challenged to meet higher standards to accommodate the ever-changing student body.
Student Body Diversity
Community colleges are known for the diversity of their student populations and SCC is no exception, with around 6,000 students enrolled and about 54 percent of students being full-time.
But while diversity can foster a great learning environment, it can cause issues when it comes to getting information to all of the students. Age, economics, language and enrollment status may all be factors in making it more challenging for students to get the same information on preventing and reporting assaults.
Inaccurate Reports
The reason the number of reports can be skewed is because most victimization happens off-campus in places such as residences near campus or bars and nightclubs, according to a report done by the U.S. Department of Justice in 2000.
"We don't even know if it is happening between students unless students report it," said Rachel David, a gender and women's studies instructor at SCC. Prior to teaching, David worked for a rape crisis line which helped survivors of sexual assault.
"Typically if you're a student at a community college and another student assaults you, if it happens at someone's house or away from campus, you're probably not going to report it to your college," she said. "That's usually not your first thought of who needs to know about this or who do I go to for help."
If most victimization happens off-campus, sexual victimization may be reported to police rather than staff on campus. This data is shown in the 2015 Annual Security Report for SCC. The report shows no incidents of rape or domestic violence in the 2013-2015 school years, but in those same years, there was one incident of dating violence on campus property and two incidents of stalking, one in 2013 and one in 2015, on campus property.
Just because SCC's reports don't show any incidents doesn't mean they aren't happening. With numbers unexpectedly low and counter statistics on other campuses so high, it could prove that incidents affecting community college students are reported to local law enforcement instead.
According to the SCC Security Report, students aren't required to report incidents to campus security if it happened off campus. It is left to the student's discretion if they want to report. However, if students aren't reporting these incidents, then the reported rates are probably skewed which may cause people to believe sexual assaults simply aren't happening to students at community colleges.
Reporting
As is standard of most colleges, SCC has specific people students can report incidents to; SCC has chosen to make every faculty and staff member a mandated reporter for Title IX violations.
"The college has a duty under the law to hold perpetrators accountable and to help support survivors and I think figuring out the best way to accomplish those things is tricky," David said about how SCC interpreted the requirements. "So in the meantime what we're doing is this kind of overkill. Every incident needs to be reported to these administrators."
Requiring administrators to report assaults to someone else could be further traumatizing to the student because they may not have wanted anyone else to know – maybe they simply wanted someone to talk to.
David described showing one of her classes the Title IX poster SCC produced two years ago. The poster lists Title IX contacts at SCC students could talk to if they were assaulted. She asked her students if they would feel comfortable going to the people listed, and students replied in the negative: they would rather go to someone they already had a relationship with, someone they trust.
While the standard to have everything reported makes it easier to follow, a student who may seek solace in an adult on campus may want to simply talk to that person, rather than have it be reported.
Some other schools have gone about reporting in different ways. David said she researched some schools with certain faculty members who were designated confidential resources while the rest of the faculty were mandated reporters.
If a student spoke with a designated confidential resource faculty member, they would not have their information reported. Having support like that on campus could cut out the trauma that could happen to a survivor by having their story told without their permission. This would be the main avenue for that student and they would be able to gain the resources and contacts they need through that person.
Prevention Training
According to U.S. News and World Report: Education, 38 percent of students at SCC are entering the community college as full-time, first-time undergraduates. These are students who have yet to go through prevention and bystander intervention orientations from a university, which only increases their vulnerability in an already vulnerable time.
The U.S. Department of Justice created a minimum standard for mandatory prevention and education for universities in 2005. It requires campuses to create a mandatory orientation for all incoming students regardless of whether they are first-year or transfer students. Two-year colleges, however, are different because it isn't mandated.
SCC provides a New Student Orientation (NSO), where students are introduced to faculty and staff and can learn about resources that the community college offers. NSOs, however, currently don't require any education for campus sexual violence prevention.
Community colleges in Washington have started implementing some training, but none is required for the whole student body.
David said employees and some students at SCC went through one round of training a few years ago. The students involved were part of ASG and athletics, but without requiring all students go through some sort of prevention training, some students may never get the chance to learn those skills.
Without that knowledge, first-time freshmen may transfer to another school without taking courses to help prevent sexual assaults while missing out on valuable information to be an informed citizen.
The only way to reduce sexual assaults is to raise awareness on prevention for potential victims, increase access to resources and promote bystander intervention.
Solving the problem
If we want to solve the issue of campus sexual assault, we need to get all colleges and universities on the same page.
The number of different groups this training could reach may change how the community handles sexual misconduct. We could create a culture of holding everyone to a standard and looking out for one another.
If there is open communication with campus security, local law enforcement and designated confidential reporters, we could create an environment where students and faculty feel comfortable reporting assaults.
We need to realize the potential community colleges have to foster a culture which won't allow for sexual misconduct, and instead allow for respect, prevention, awareness and bystander intervention.
And maybe by the time we finally reach a culture that is comfortable with reporting, perhaps the numbers on sexual assault will already have started to decrease.
-Sidney Shea
Photo Illustration by Martin Musialczyk