Chilly Treats for Students are Secondairy to None
Many students attended an ice cream event hosted by the helpful inhabitants of the PUB building.
Student assistance programs in the PUB building constructed a foolproof plan to lure in the starving student. All they'd wanted to do was share all they had, a kindhearted endeavor, but students are notoriously flighty and unmanageable creatures. Except when it came to free food.
So, they'd use ice cream.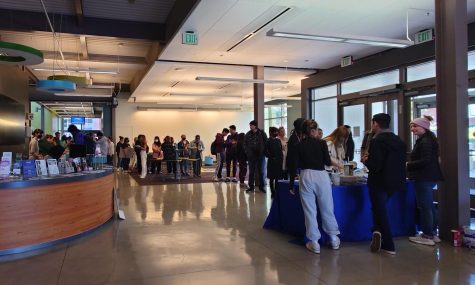 While lines are generally considered tedious, not many appeared bored during their wait.
Most students came with friends and laughed as they anticipated their ever-approaching treat. The hum of chattering students made for a boisterous and warm environment that could be heard from all floors of the building.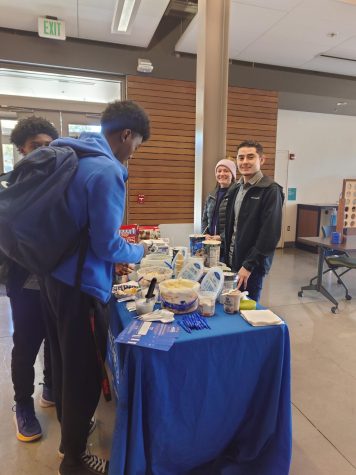 Serving from a lone table in the middle of the room, the Benefits Hub was the Blue Bell of the ball. Students self-soft-served themselves a variety of flavors including Marble Fudge, Lactose-Free Cookies and Cream, Almond, Strawberry and Moose Tracks. When asked about which ice creams were popular, the hosts answered that students played no flavorites; most sampled many different kinds.
The Benefits Hub provides students with information and services including financial coaching, paying for college, housing resources, accessing public benefits, paying for emergencies, accessing mental health services, tax preparation and accessing legal services. That day, though, they provided cones, bowls and spoons.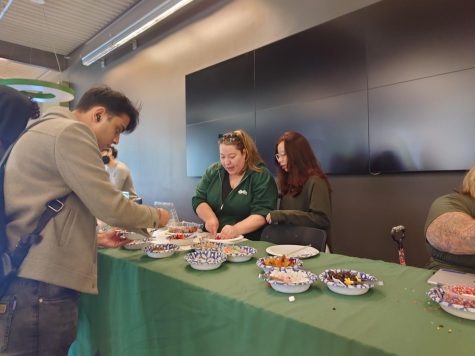 Having braved the line and claimed their prize, students moved to claim their toppings from the table manned by Student Life and International Education. Offerings included sliced strawberries, marshmallows, cookies, sour gummies and brownies.
The toppings table also had a veritable wealth of knowledge provided by Student Life on display. Like their function for the school, Student Life is a department that organizes and displays opportunities for social, academic, professional, and personal development. Here, they showcased future events and hiring opportunities.
Moving down the table, Yushin Wong, assistant director of International Student Services and Operations, gave an optimistic insight into what is currently going on with the department.
One cool scoop Wong offered was that the department was currently working on new plans for study abroad programs. No, not just for students; those have already resumed. Fortunate faculty members may also have the opportunity to instruct abroad in the upcoming years.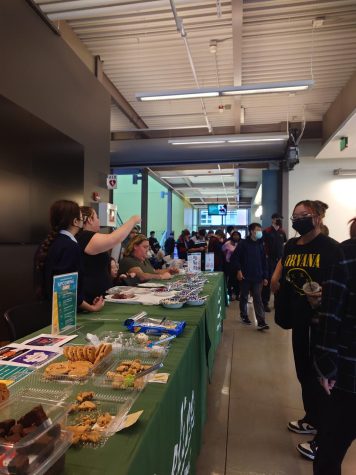 International Education focuses on providing international learning opportunities and assistance for local students looking outwards or international students wishing to learn at SCC. They host exciting and friendly bonding events open to local and foreign students alike.
The final stop on a student's dessert track landed them at the Gender Equity Center, the metaphorical and literal cherry on top. As it so happened, National Coming Out Day took place on the same day, so a cheerful group of students sat inside conversing. Goodies were given to those enjoying the festivities within. Outside, the table offered stickers and information about scholarships for LGBTQ+ students next to syrups, whipped cream and, naturally, rainbow sprinkles.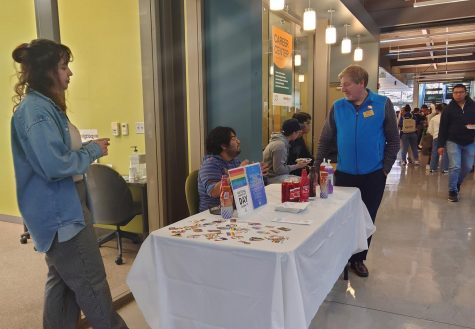 The Gender Equity Center advocates for people suffering gender-related discrimination as well as fostering a supportive and inclusive environment for students and staff. The center has many new projects in the works, such as providing menstruation comfort items for those with periods and an ambitious role-playing game.
Overall, the Sweet Steps for Success event was great for the promotion of helpful resources on campus and perhaps an even greater promotion for ice cream socials.