Ain't no Sunshine When It's Gone
SUNFEST RETURNS
If you have been deep in your studies, you may not have known that every year, spring quarter at SCC is home to the almost-end-of-year celebration known as SunFest.
This year's SunFest featured three days of festivities and activities, like the Amazing Race, Gameday, musical performances and more.
Day one kicked off with the Amazing Race, where five-person teams, assembled from SCC's many clubs, were tasked with unscrambling clues before heading to the next test. Each clue sent them to a different location around campus with a new obstacle.
The delicious first task was to move a cookie from forehead to mouth without using hands. And the last one kept the sugar rush going, with teams racing to get 10 Whoppers, placed in spoons held by mouth, into a bowl located across an obstacle course of cones. They then had to eat the Whoppers with chocolate and caramel without hands.
"We thought we were going to come in first," said Marin Wiseman, a member of the Hiking Club. "But we were beat by the veterans team, who are our rivals."
In years past, Gameday activities have included bubble soccer and laser tag. But this year's Gameday had a climbing rockwall, giant Twister, a bungee challenge and food. You may have had the opportunity to have a free pupusa or gyro from one of the two food trucks.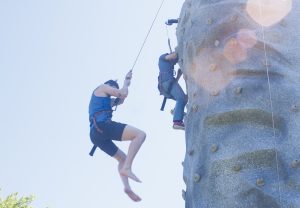 And if music is your jam, day three was all about it. In the PUB and the courtyard, there were several performances from different musicians and bands.
---
By Nick Molsee