A Love of Chemicals
Professor Clarita Bhat never really dreamed of teaching, but it was one special moment that changed her life.
While getting her doctorate at Georgetown University, Bhat had to choose between teaching and medicine, but chose not to take the path to medicine after seeing cadavers while visiting Duke University. Ever since then, Bhat continued her journey with chemistry, being inspired by and committed to organic and general chemistry.
She started at teaching and was immediately inspired by the students that attended and waited for her chemistry class lecture. After seeing the dedications on their faces, Bhat decided to continue her journey in as a chemistry professor.
Born in Hungary, Bhat and her family escaped the country after the outbreak of World War II and lived in Austria and Venezuela before coming to the United States, where she lived in Mississippi, Alabama, Virginia and Washington DC. She finally settled in Seattle in 1971.
Bhat has a clear love for Seattle: "I love Seattle. I wish I could be one of the PRs that would tell people how great Seattle is," she said.
"I love chemistry," Bhat said, "because everything is made of chemicals."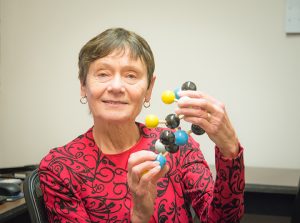 Chemistry Professor Clarita Bhat shows a fictional molecular compound called "Shorelenium," as a joke. (Photo by Martin Musialczyk)
Today's SCC chemistry department reflects Bhat's pioneering work, from developing SCC's first organic chemistry program in 1973 to launching the first class in 1976. Since then, Bhat is always excited to see new science faculty and progressing changes in the science division and the campus overall.
"I would love to especially credit Linda Kuehnert (who) took over the organic chemistry program and raised standards," she said.
Bhat can always be found with positive attitude and a bright smile. Greeting everyone in the science division as the first thing, Bhat has a philosophy of being positive and believes no student or person deserves a grumpy person.
"Nobody needs to be part of my grumpiness," she said.
As Bhat testified that she's surrounded by positive and friendly people, Bhat tries not to project any unhappiness.
When Bhat chose to commit to teaching, she occasionally taught at the University of Washington during the summer, but she expressed her preference for the closer contact with the students available at community colleges.
"I have respect for community college students, especially because they have more on their plate, more responsibilities," she said.
Bhat believes in high standards because she also believes in her students. Part of that belief comes from the environment and the support at SCC.
"Believe in yourself and do not hesitate (to take) a professor's help or offer," she said.
Bhat has seen students start with doubt, but she has also observed that SCC students come out with better grades than those at four year universities in the end. Bhat takes great pride in hearing lots of success stories and getting cards from her previous students.
Bhat has always identified herself as a teacher. She is attracted to teaching and feeling an adrenaline rush every time she lectures — Bhat still gets nervous to her stomach like it's always her first time standing in front of her students.
A word of wisdom that Bhat would give to all students?
"Persevere and believe and you will achieve."
-Jerry Choi